Hola friends. Welcome to another week of gratitude, another week of #ThankfulThursdays – the weekly Thankful Blog Hop that I host with Amrita. Last week we saw pretty interesting link ups on the prompt and had a great time reading through all of them. And we obviously have winners! Everyone loves winning, don't we?
The winner of #ThankfulThursdays Week 1 is Aseem from Transition of Thoughts and here is his winning post. He is a consultant, an avid traveler having traveled across 20 countries and wants to visit all on the world map. I tell you that is a wonderful list to have Aseem.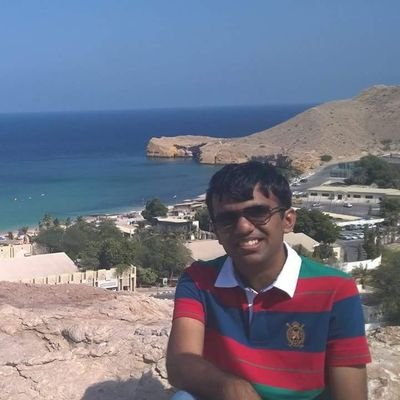 And we have a first runner up in Manisha of Zarahatkeblog.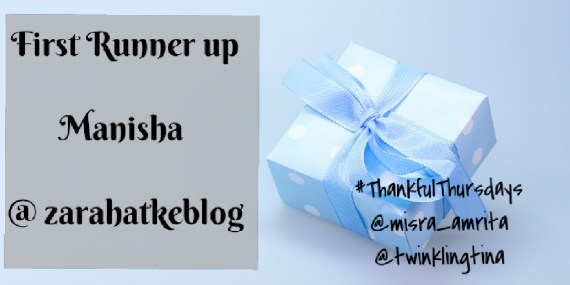 Congratulations Winners! We'll DM you for Prizes.
This Weeks Prompt
That brings us to our Week 3 prompt and here it is.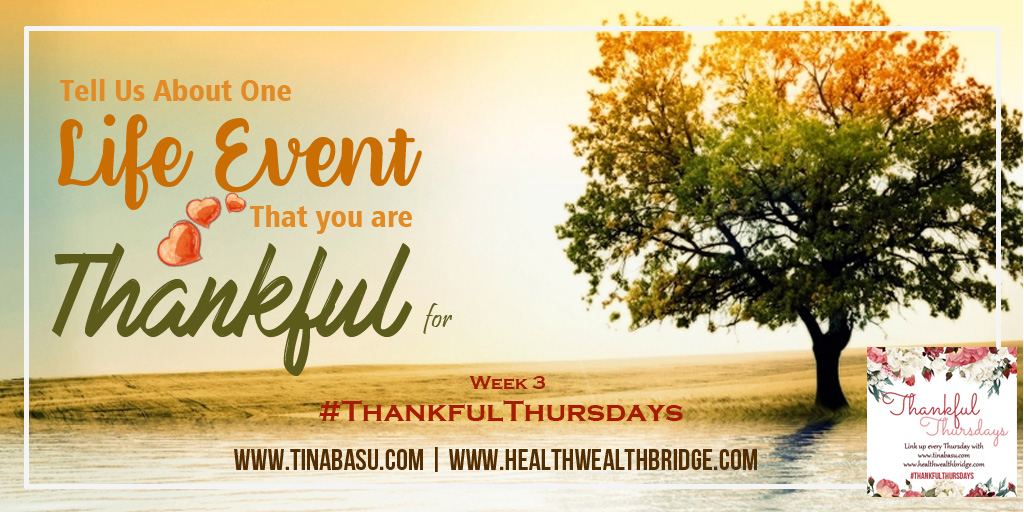 Cultivate the habit of being grateful for every good thing that comes to you, and to give thanks continuously. And because all things have contributed to your advancement, you should include all things in your gratitude."

– Ralph Waldo Emerson
Life in itself is beautiful, isn't it? Have you ever thanked life for making you what you are today? Or have you thought of life as your teacher – perhaps the best teacher. I consider my experiences to be the best teacher. Everything that has happened in life – good or bad- has had a lesson in it. I consider these lessons much more enriching than anything else.
Being an only child, I have grown up in a protective environment and the list of things that I 'wasn't allowed to do' was longer than what I 'was allowed to do'. So there were almost no movies, no sleepovers, no visiting friends (like really) but there was a lot of extracurricular stuffs that I used to do. The car was always with me to take me to various places. I used to accompany my parents for various parties, clubs but yes it was all under their nose.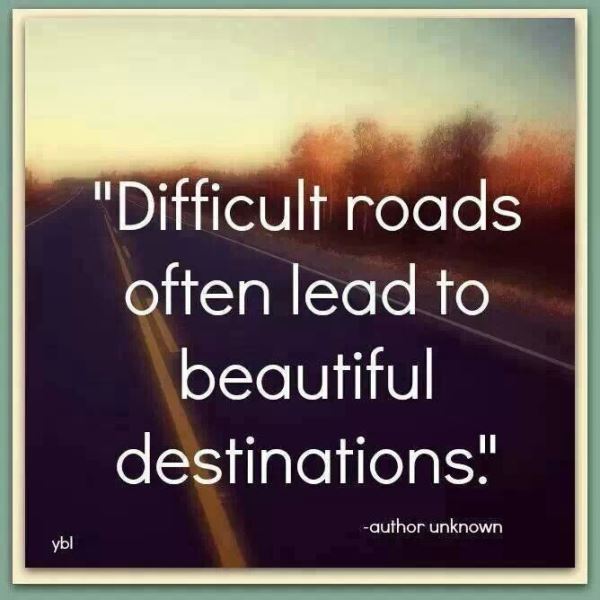 Source – Good Morning Quotes
For the longest time I knew I had to learn to live – like living on my own, bracing the hardships of life, facing the challenges that were to come on my path. That's when I decided to move away from my city and do everything on my own. I needed that. I went to Delhi and Bangalore for the post graduate exams on my own. Selected Bangalore over Delhi for safety reasons! (Yes I wasn't too impressed with Delhi, in the first place). Came down to Bangalore, went through the admission process on my own and handled a lot of cash. For the first time I had taken out so much cash from an ATM.  Bangalore was a new city for me. But I knew at heart there is no stopping me.
It is when I started living on my own that I saw life from close quarters. I picked up several life skills which I was not even bothered about before.
This meant, managing a home, managing finances, not running back to people for advice instead I turned a good listener to my friends. I started doing freeelance work for some extra pocket money. Today I am thankful that my parents trusted me with handling my own life in my way. I also made myself strong enough to realize nothing can put me down in life – whatever that is. I will hold my ground and stand by myself. Life does teach you a lot – doesn't it?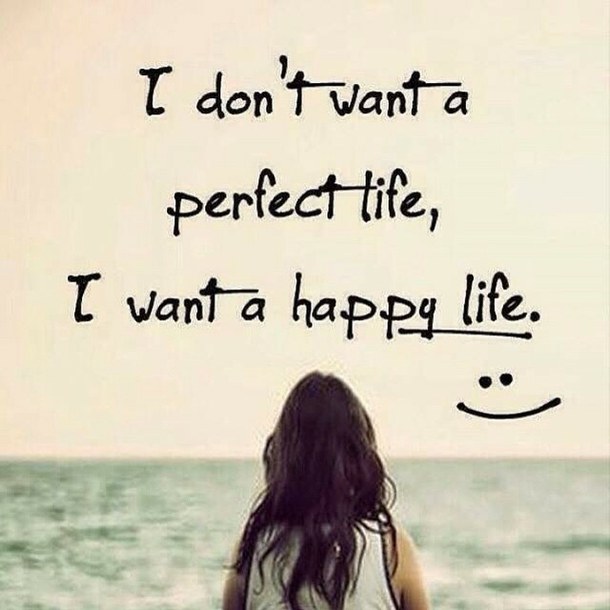 It is good to take the charge of your life in your hands and not wait for someone else to make you happy. Do what makes you happy.
How to Participate in #ThankfulThursdays?
Follow @twinklingtina and @misra_amrita on Twitter
Prompts will be announced every Wed 20:00 hrs IST
Read, comment, share on host and co-hosts posts and at least two more posts linked in the party Pro Tip – Networking and commenting is good for your blog's health and ranks.
Use #ThankfulThursdays in your post and share in social media using the same hashtag.
Every week we will have one featured blogger who is the best reflection of this community spirit
Grab the Badge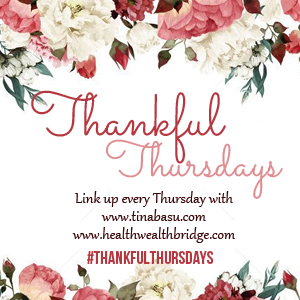 So wait no more. Be Thankful, Write a Post, Link Up Here. We'll visit everyone