We are at the fag end of 2017 already. While 2017 has been nothing short of a mayhem all across the world there are enough reasons to be thankful for 2017. Here's why I need to say thank you 2017.
2017 has been a year of events – we have a new president in our country, we have a new questionable president in another faraway land, numerous cyclones across the country, Assam and Chennai being under water for days together, controversial Aarushi verdict, a barrage of pseudo-feminism with their multiple cards, monstrous humans deriving pleasure by abusing and killing children in schools and many more. And the just recent #Virushka wedding of the year. It might sound like 2017 was terrible and thank god it's getting over. But what about the good part? There's enough to be thankful for 2017. You have the new iPhone X for the starter!!
So why am I thankful for 2017?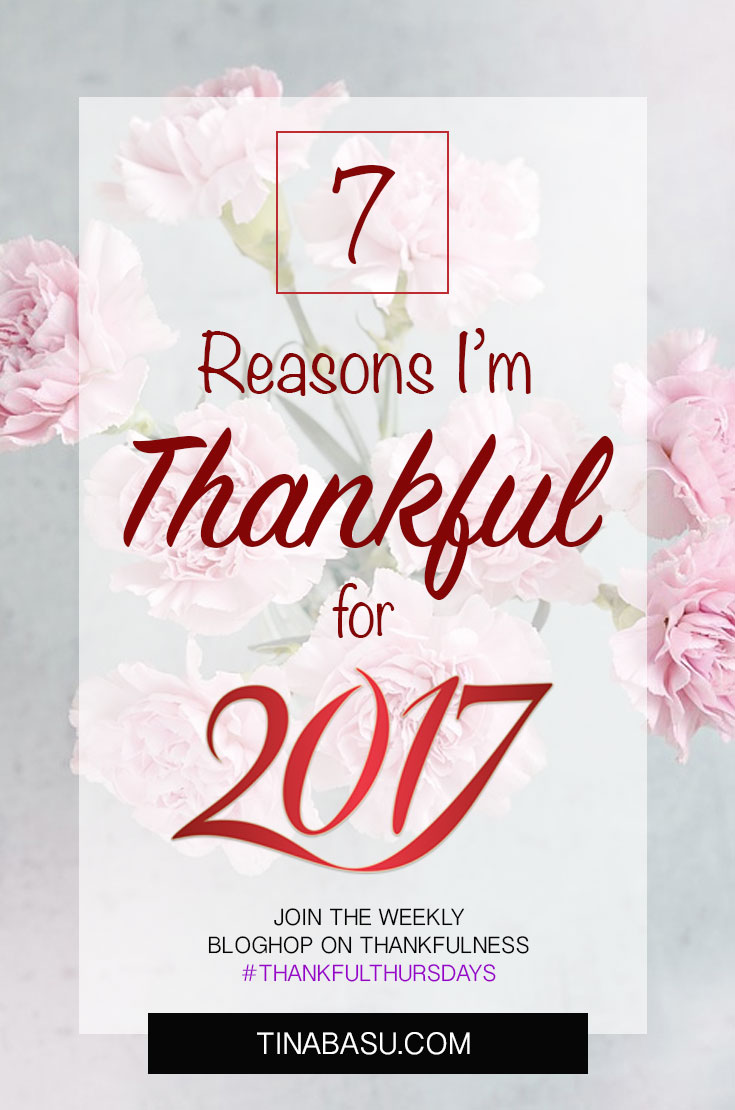 Thankful for Business
On the personal front, 2017 was a very good year for me and my venture. I started my own biz in Aug 2016 and have been growing my blogs both this one and my food blog along with my design business. God has been kind that it's working well * touchwood *. The best part is being your own boss. I am building my own home office with the #LadyBoss theme and hopefully, it will be ready by year-end.
Thankful for Bluey joining Playschool
Mr. Bluey started playschool this June. I faced a lot of flak for putting him in a playschool so early. He joined school when he wasn't two yet. He is the youngest in his batch but I went against all odds to put him in the environment where he'll have other kids of his age group. And seriously I am thankful I took that decision. He's quite an inquisitive guy, he had self learned alphabets, numbers, colors, and shapes even before he joined the playschool – all from YouTube. To keep him away from the learning environment would have been a sin. He is 2 years and 4 months currently and corrects me if I ever call a bell pepper, capsicum!! Since he's the YouTube generation he calls them bell peppers, jalapeno (the correct way)! And then also tells me there are 3 varieties of pears – green, yellow and red!! **rolls eyes**
Thankful for words
One thing he has learnt is to speak. I thought he was a late speaker because he never called me mom, ma or anything that remotely sounds similar to M. He instead referred to me as papa – much to my dismay! But now he's calling me mummy – that he's picked up from the rhyme Five Finger Family and Peppa Pig's Mummy Pig! But I'm happy at least he is not calling me Papa!!
Thankful for Gadgets
2017 was also a year of gadgets for me – the iPhone 5s has been taken away by son and the iPad has always been under his control. My only function regarding the iPad is my humble thumb that he requires to unlock it!! So got myself a new iPhone 7 (yes, can't afford iPhone X, need to win a lottery for it if you know of any you can let me know), invested in a new DSLR for my food blog. The thankful part in it is – both were paid by the blogs! Then husband turned romantic suddenly (which happens once in 6 years) and gifted a Mac Book Air.
Thankful for 'Saat Saal'
Coming to husband – we turned 7 together! How don't ask. Both of us probably have the same question. Saat Saal only no Saat Janam please!!
Thankful for #ThankfulThursdays
#ThankfulThursday my weekly blog hop with Amrita on spreading Thankfulness turned one! One year of saying Thank You to different aspects of life. I specially enjoy it because it's a step towards of being grounded. Thankfulness is a way of life for me. Our #ThanYouNote Contest saw 51 posts in a month's time which I think is incredible. Read on for the results of the contest.
Thankful for #FridayFotoFiction
The second weekly blog hop that I host with Mayuri on Flash Fiction Writing – #FridayFotoFiction is doing great too. We are slowly building a tiny tribe of flash fictions. I have many plans with my blog hops – let's hope all those come to life soon enough.
I might have some more reasons but let's not get them in this space.  2017 has been a great year for me and I am thankful for 2017. Are you too? Let us know.
#ThankfulThursday Prompt Decemeber end
Tell us why you are Thankful for 2017. Links open till December End.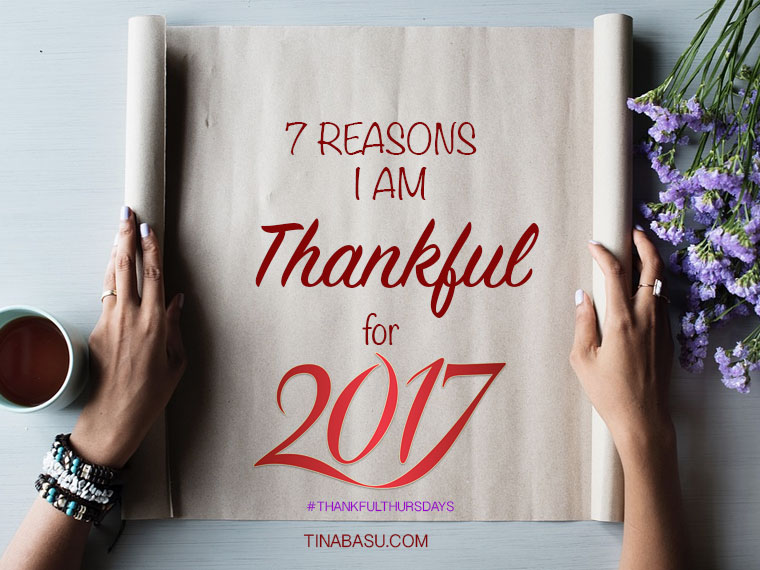 #ThankYouNote Contest Winners
Last month we hosted our first ever #ThankfulThursday contest because we turned one and it was Thanksgiving Month. I still remember our discussions on DM about blog hops, taking up days etc! We had 51 entries for the 5 prompts throughout the month. And here are the shortlisted participants who wrote every week on every prompt.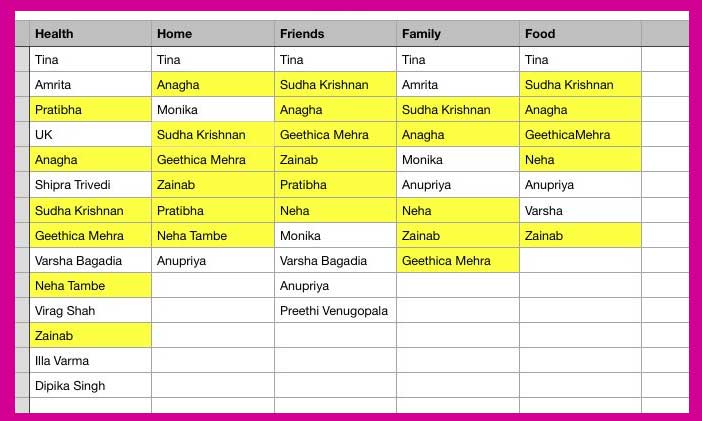 Our first winner in #ThankYouNote Contest is Anagha from Canvas with Rainbow. Congratulations Anagha. Thank you for all your lovely posts. Please DM us your email address for the voucher.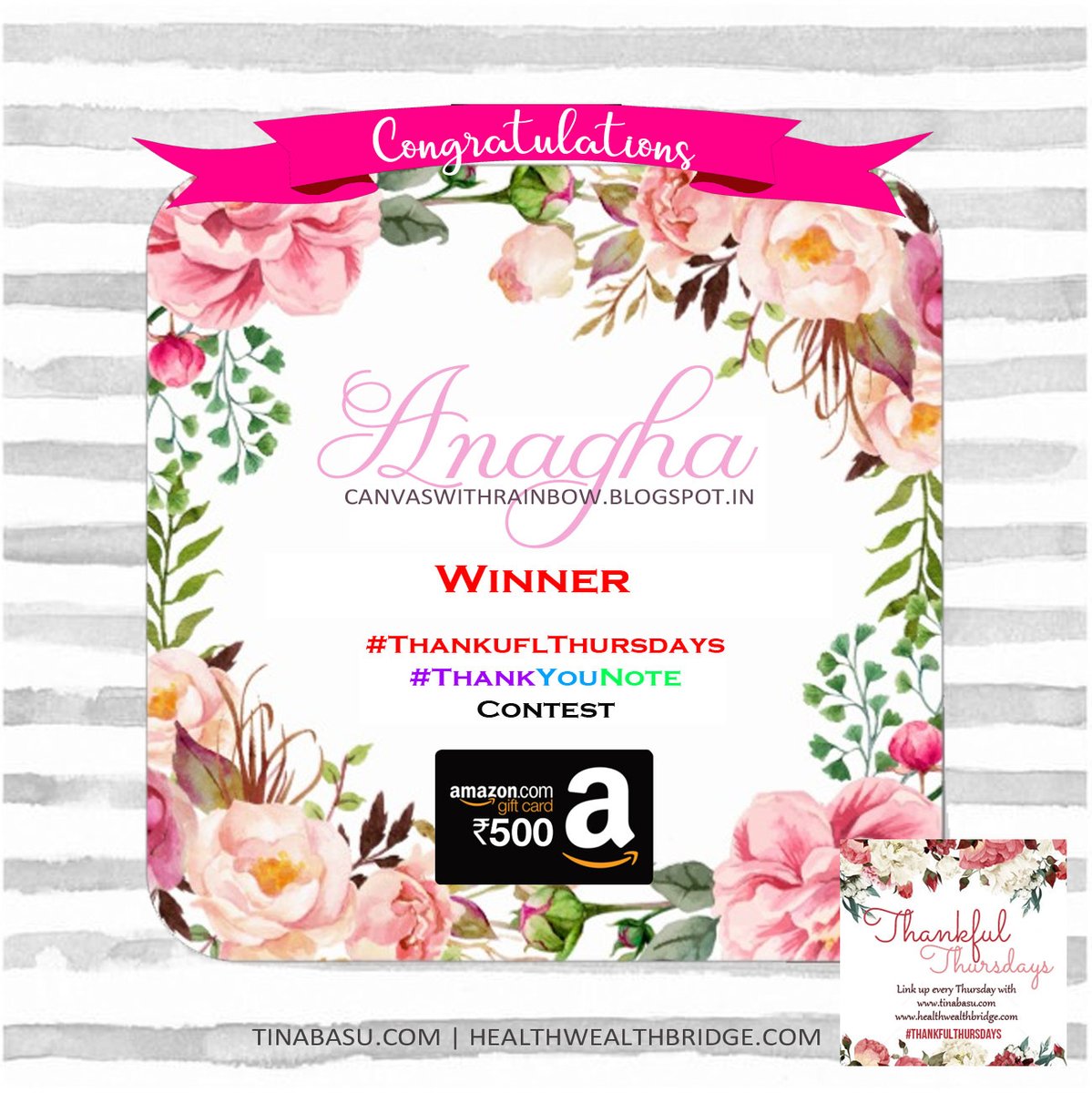 Our second winner in #ThankYouNote Contest is Zainab from Slim Expectations. Congratulations Zainab. Thank you for all your lovely posts. Please DM us your email address for the voucher.