Hello people, welcome to a brand new year and a brand new #ThankfulThursday Month! Wishing all of you a happy and prosperous New Year. May the New Year keep you in good health wealth and see you happy always.
So how has been your first five days of the year? Did you decide on your New Year resolution? I have stopped stressing on the word "resolution" because whenever I think of that word I remember I have never stuck to it beyond a few weeks!!! But this year I have decided fitness is my goal – eating healthy, going off caffeine, reduce sugar, and take less stress. How about that? Doable right? Hope to be on track with it.
#ThankfulThursday Jan Week 1 Prompt
This time we have two prompts for you and you can write on either of them. Tell us about 5 Things you saw that made you happy or tell us about a goal that you have achieved or aced.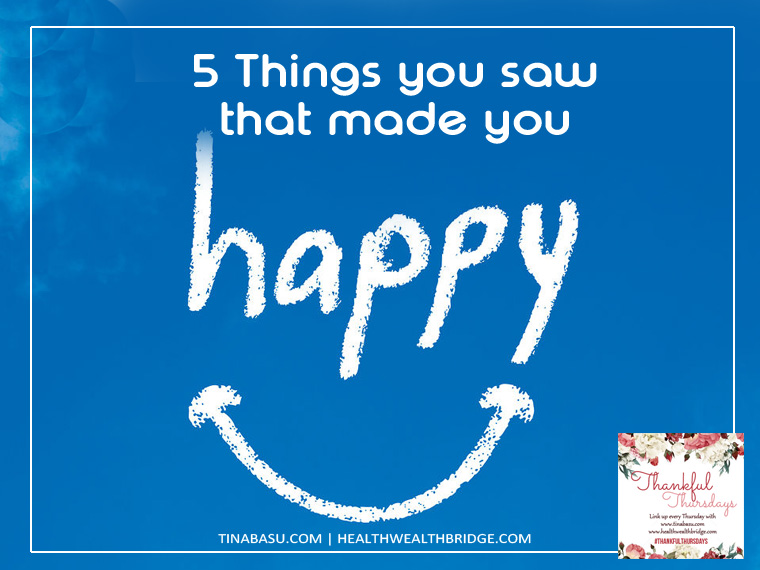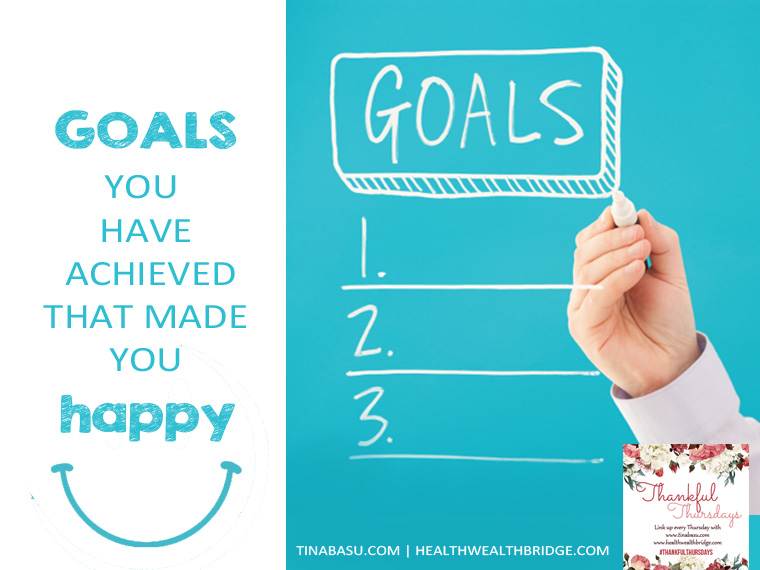 5 things I saw that made me happy in last two weeks
Year-end travel to Kolkata is like a permanent fixture in our life. We make this annual two week break to be with our family and relatives in Kolkata. This December, however, we spent just 9 days amongst family, friends and good food! So what have I observed in last two weeks that made me happy?
My Toddler is a Rock star Flyer
As a kid I always felt scared during take-off. And all the time I have taken my son on a flight have been worried if he would get scared too or have ear pain. But it turned out that he's a rock star flyer. In my Travelling Tips with Toddlers guest post I had mentioned why it's important to keep the kids jaws moving. I myself follow this for my kid and it has always worked. I was happy to see him rather enjoying the boring flight with his personal entertainment (iPad and Teddy and a ton of snack)!
Open Air Gym at Lions Safari Park
Rabindra Sarobar is a famous spot in South Kolkata. It's the favorite morning walk place for South Kolkata residents. The Lions Safari Park in Rabindra Sarobar has seen a major upliftment with an open air gym for public. My mom's a regular visitor and she has been saying great stuffs about it. I loved the fact it has a foot reflexology path too!
Decorating two Christmas Trees in two cities
I decorate Christmas trees every year since I was a kid. This year I saw active participation from my toddler. He was super pumped to see the tiny Santas and stars and the colorful decoration items. He has been watching Christmas videos on YouTube and doing Christmas crafts in Playschool. I was happy to see him help me put up the Christmas tree. We did up another tree at my house in Kolkata which also saw Mr. Bluey participating in the decoration process.
Family Heritage
This time we thought of going through some of the heirloom stuff of my husband's family. His family was Zamindars of Kasimpur (which now falls in Bangladesh) and they have tons of beautiful interesting things in the house in Kolkata. They have trunks full of royal clothing that the Rajas used to wear! We didn't dare open them though! But brought some rare wooden furniture which we plan to restore and keep in our home. These are few generation old priceless items and I don't think carpenters of this generation can even make them. I'll be happy the day I can restore everything.
A Wonderful Year of being the Lady Boss
Mid 2016 I had gone self-hosted in both my blogs and started my design business. 2017 saw it leaping towards the word called accomplishment. It's a year of being a Lady Boss and surviving solely on my blogs and business. I pay my own bills, make my own investments. Absolutely thankful, for being on my own and being my own boss.
How to Participate in #ThankfulThursdays?
Follow @twinklingtina  & @misra_amrita on Twitter
Prompts will be announced every Wed 20:00 hrs IST
Read, comment, share on host and co-hosts posts and at least two more posts linked in the party Pro Tip – Networking and commenting is good for your blog's health and ranks.
Use #ThankfulThursday in your post and share in social media using the same hashtag.
Every week we will have one featured blogger who is the best reflection of this community spirit
Please keep your posts and engagement civil. Adult content or hatred towards any religion/comunity is strictly prohibited.
Add your links below.