Halloween the popular tradition from US is a new entrant in the Urban Indian Culture. Last week we attended our first Halloween party in full costume and make-up. What did you do?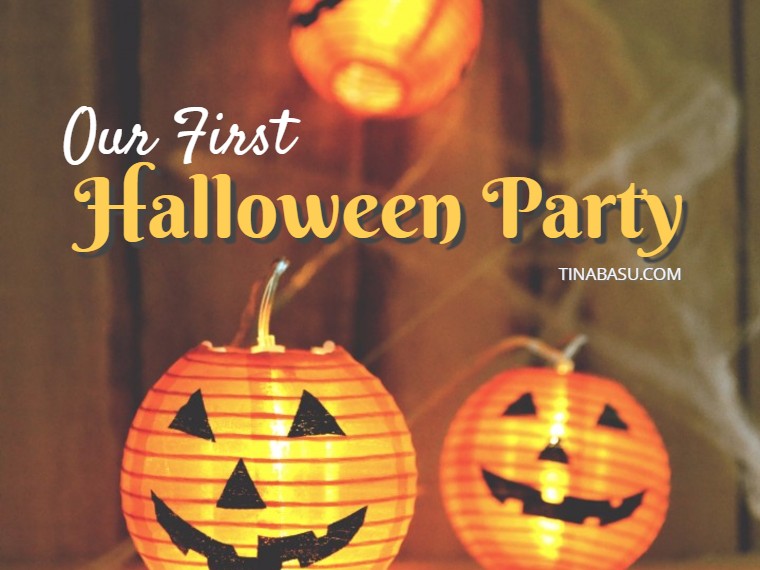 Last week I asked you about your plans for Halloween while knowing I had no plans as such for it. But when you have crazy people around, planning a party can take place in 10 mins over Whatsapp! My son is two and goes to a play school now. I was hoping there would be a Halloween Party there, but unfortunately, there wasn't one. They instead made a cute Halloween craft!
I'm like one of those moms who want to get a slice of everything for my kiddo. And thankfully I am not the only one. Few other moms of his batch were also looking forward to a Halloween Party so that the kids could enjoy.
Guess what, a party was organized and several kids were in attendance with quick costumes! A few years back I did some Halloween Makeup with my friends and thought of keeping that tradition alive! This year I did some quick 10-minute makeup to get in the Spiderman skin! This is of course, inspired by a Pinterest post. But guess what, I didn't have a Spiderman tee, so I had to be happy with my Spiderman do in my Superman tee!
I had no idea what to dress my little man in! So I had to make use of this puppy cap that my mom got back from Berlin, paired it with a spooky jacket which happened to match with a purple pair of spooky shoes!
But it's a tad bit difficult to do makeup for toddlers. Mine doesn't even want to sit for a minute. Somehow I get him in a dress forget about doing any makeup!
Kids were super excited to dress up and go on trick-o-treating. We had scores of visitors at home this time but thankfully I was prepared and it was Bluey this time who gave off their treats!
Next year, I think we should be having our first organized Halloween Party with Halloween Décor. I have a few ideas in mind, hopefully can bring them out in reality! So how was your Halloween? What did you do this Halloween? Let me know in comments below.
Linking this post to #MondayMusing  #Mg Microblog Mondays