Durga Puja Bangalore style – A large population of Bengali means some great Durga Puja happening around Bangalore.
Durga Puja is a special time for any Bengali – at any location on earth. Your calendar year starts with marking the Puja dates. I make sure I am at the Puja pandal soaking in every kind of Durga Puja vibes. Durga Puja in Kolkata is a spectacle to watch with thousands and thousands of people on streets in their finest attires revelling in pandal hopping, enjoying street food and having fun with friends and family. Entire city shuts down for 3-4 days during Durga Puja and almost everyone is on the streets.
It, however, can be troublesome for kids and elderlies to survive the massive crowds and noise. My home in Kolkata is situated on a lane that has three colossal Durga Pujas in a radius of 4 kms. So going out of the house becomes pretty difficult. That's why I suggested my parents to come over to Bangalore where we can enjoy the Pujas minus the enormous sea of crowd. This is their first pujo Bangalore style. And here's what I am going to do. Share a post each day of the puja – on what we did on Durga Puja Bangalore style.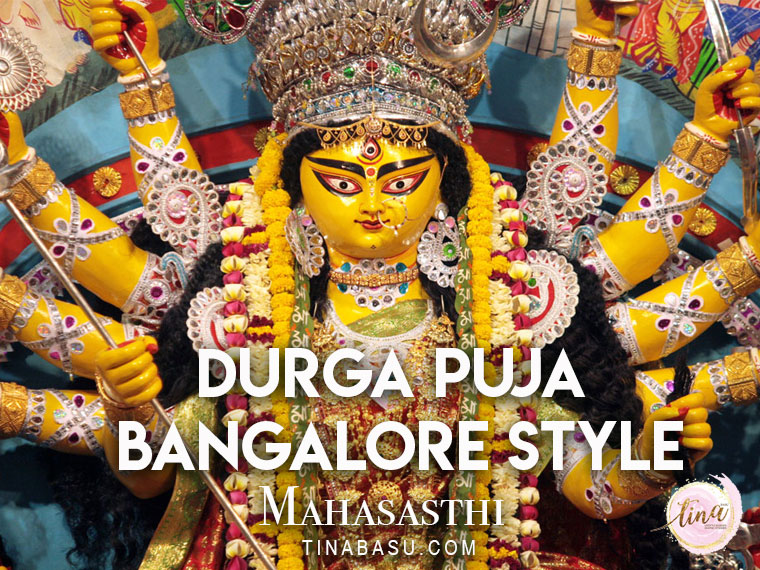 What's Sasthi? Historical and mythical reference
Sasthi, or mahasasthi, or the sixth day of the Debi paksha marks the onset of the puja, traditionally. Traditionally Durga Puja was celebrated in spring and it was called Basanti Puja. The Durga puja, as we know today, is celebrated in October. It was started by Rama before he went on to his fight with Ravana. He performed the akal bodhon – which translates to untimely worship. This bodhon was done by Rama after sunset. Thus the Mahasasthi is celebrated with Ma Durga's bodhon around dusk which marks the onset of the Durga Puja.
You Might Like this:
All you want to know about Durga Puja – History and Mythological Reference
Durga Puja and Bengalis
There are in fact three stages of Puja on Mahasasthi.
Kalparambha – It is an early morning ritual where dealing with Sankalpa to conduct the puja properly by abiding all the rituals and customs. Starts with ghat staphana.
Bodhon – Puja performed at dusk.
Adhivas and Amantran – deals with invocating the Devi in the bel tree and inviting her to accept the puja.
How was our Durga Puja Bangalore Style – Sasthi Outing?
The Durga Puja that we see today in different pandals are barowari pujas or community pujas where traditions aren't the main key. It is more about people coming together to visit Ma Durga and seeking her blessings, getting together with people from your community. When the prabashi Bangali (Bengalis staying away from Bengal) community gets together at one place you know it is going to be a spectacle any which way.
New clothes are synonymous with Durga Puja. So of course we were all in our new "Pujo Collection" clothes. I usually try and wear ethnic on all days of puja unless it is raining and you can expect messy grounds.
For sasthi, we chose to visit Koramangala. This south-eastern part of the city has a huge Bengali population. There are two Durga Pujas that you can visit in Koramangala and they are adjacent to each other.
Puja Name: Sarathi Cultural Association
Where: Koramangala KHB Colony BBMP Grounds (beside Peter England Showroom)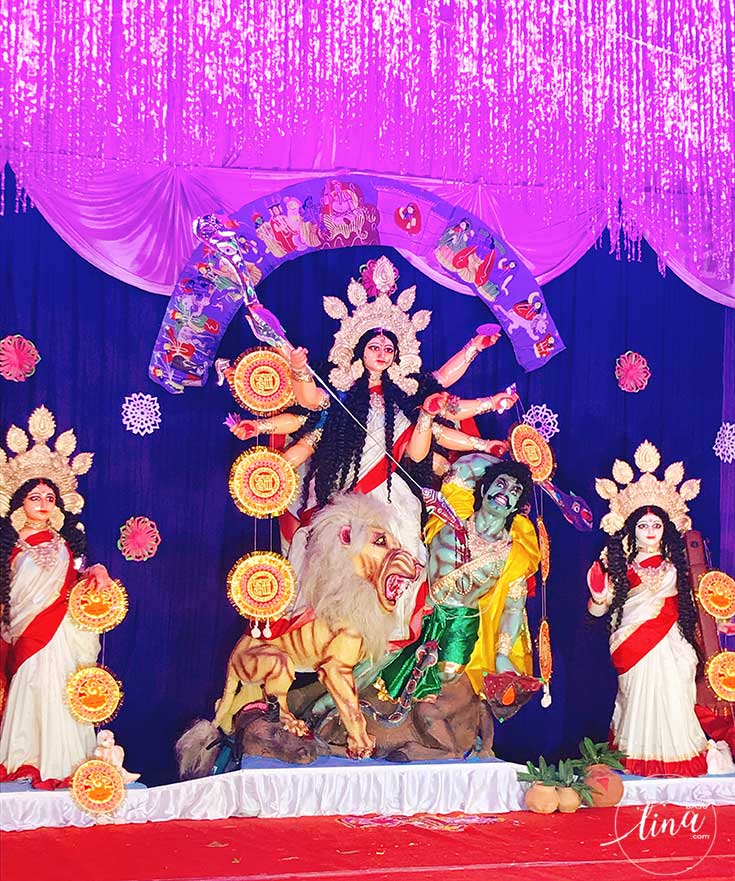 Not only was the idol and décor simple yet beautiful, but it has a big ground and plenty of food stalls to satisfy your Bengali street food craving. One of the important aspect of a Prabashi Bangali Durga Puja is the cultural functions. Each puja in Bangalore has a dedicated space for cultural functions that takes place every day. Music, dance, poetry, recitation, fashion shows – there's no dearth of talent amongst Bengalis. And a perfect place to catch the red and whites of a Bengali woman.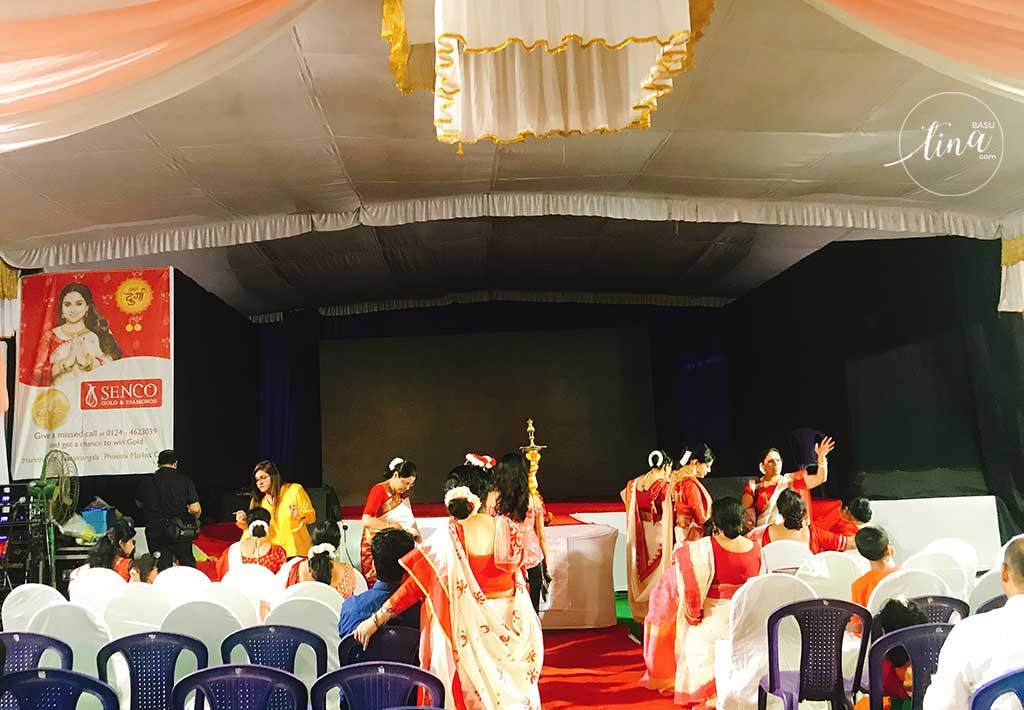 These are ways to get the community together. While members of the association, kids can participate in these functions – there are professional artists and celebs who are invited from Kolkata to perform on multiple days.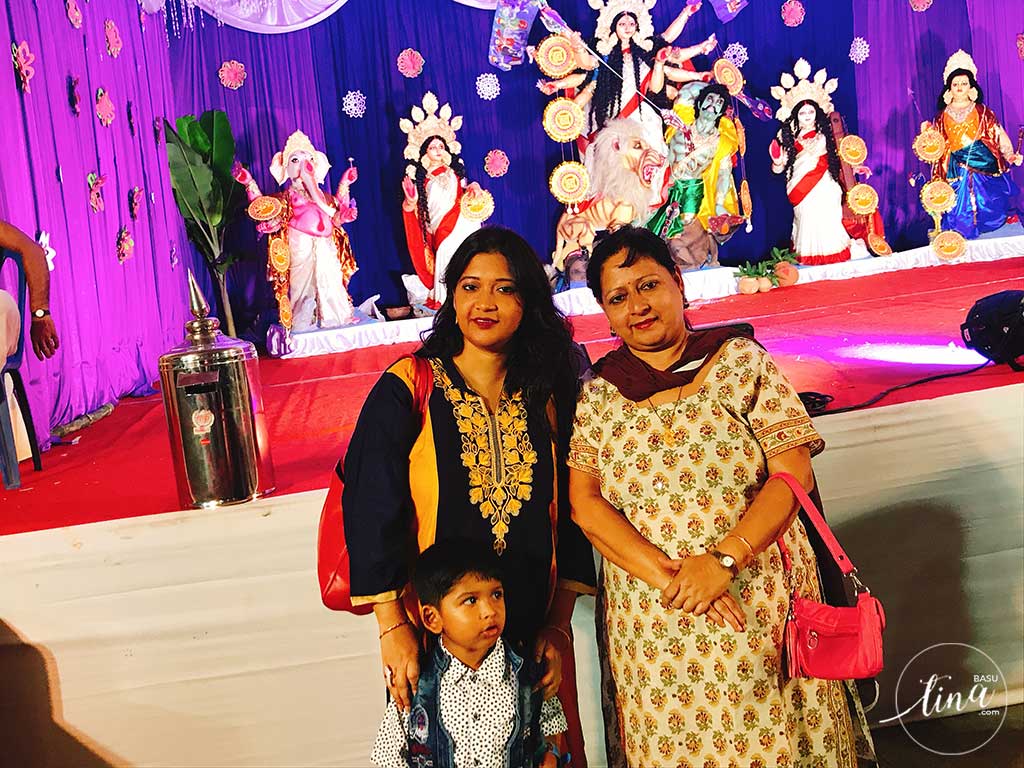 Puja Name: Sarathi Socio-Cultural Trust
Where: Kalyan Mantapa, KHB Colony, 8th Block, opposite Ganesha Temple
This puja, takes place inside Kalyan Mantapa and the cultural functions take place on the covered ground outside the Kalyan Mantapa. Their idol was pretty and the chalchitra was beautiful.
It was relatively less crowded (thankfully) so we could sit and enjoy all relaxed.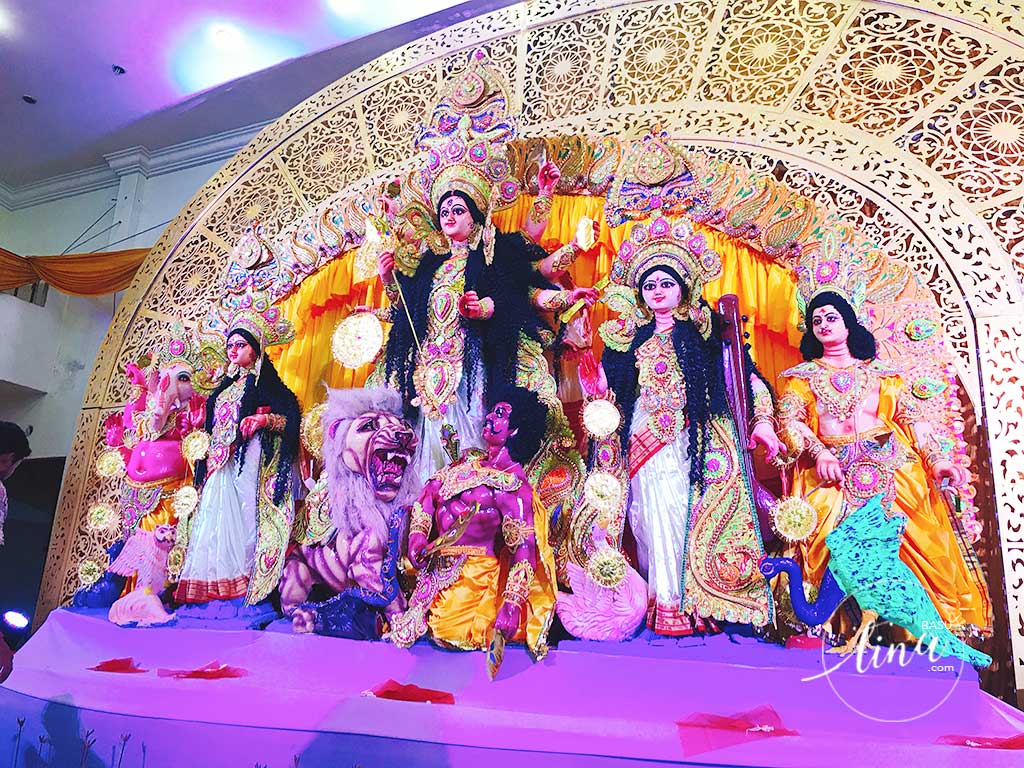 Calcutta's classic street food stalls provides you with the much needed nostalgia. The egg roll, chicken roll, Mughlai paratha, phuchka, fish chop, mutton cutlet, luchi cholar dal, ghugni – everything has a story behind it. For some (like my husband) the food stalls are the more important part of the Durga Puja.
What we ate? Food for Mahasasthi
Like I said we love our food – specially during the festivals. So eating out is mandatory during Durga Puja. We thought of dropping by Dyu Art Café, Koramangala – which infact is bang opposite the Kalyan Mantapa.
Foodie in me, loves this café and its spread. While my son lived his broccoli soup and fish fingers, we gorged on some stroganoff, fish Florentine and sandwich. I leave you to feast your eyes.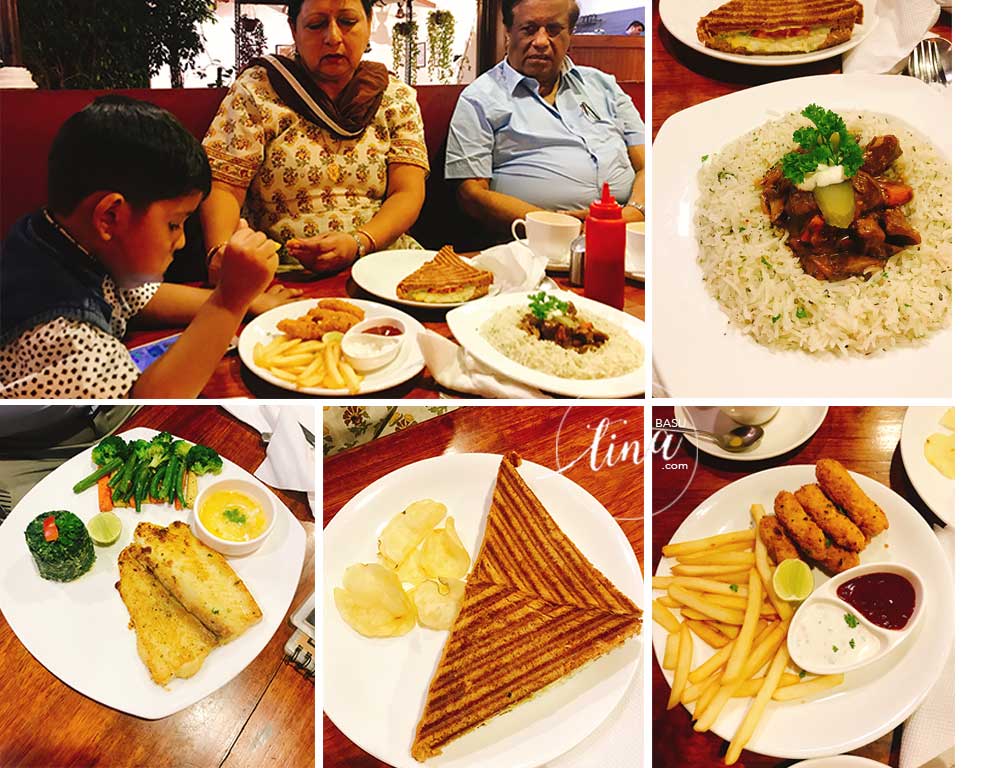 Thus, our Durga Puja Bangalore Style started off with a bang. The sasthi outing was fun. Now lets see what we can do on Saptami.