In India we hardly celebrate Halloween. It's only now that I see kids in my apartment complex come for a treat or trick session in groups! Well I am not sure what tricks they have ready. LOL.
Halloween was not there in my childhood either! But I was always kind of interested in it specially after these Hollywood movies. I was also lucky to witness the Halloween parade when I went to Disney Land, Paris in the month of October. Instead of the regular Disney parade at the end of the day they have this Halloween parade throughout the week. It was pretty cool to see that for the first time.
A year back I had a sleepover at my house. My besties V and R were visiting Bangalore and we had quite a nice time. It was incidentally also Halloween that day. Now, Halloween is never complete without some great make-up.
For last few years I have been trying my hands at make-up. You may say, new found creativity interest of mine. So I thought let's get painted! We all are a crazy bunch in anyway and any crazy idea always clicks with us!
Kohls and lipsticks were out of the make-up box in a flash. And we had some quick crazy make up session! See for yourself and hey Happy Halloween for your next Halloween!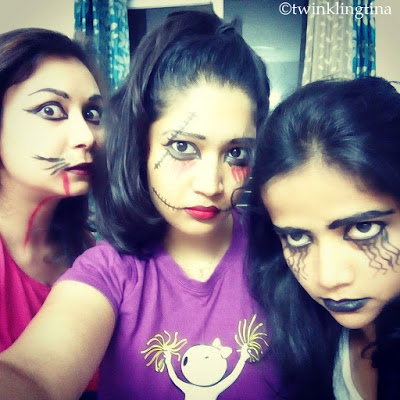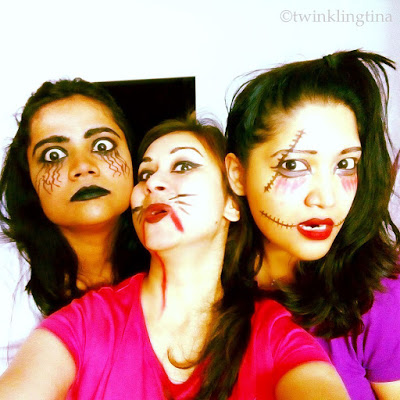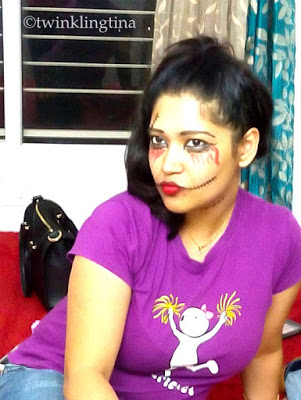 Pouting on Halloween!
Meanwhile check out a refreshing drink