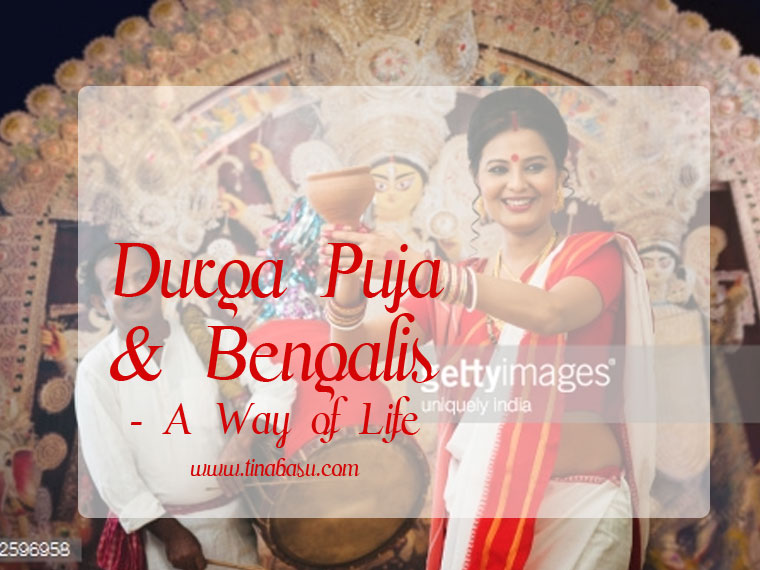 Is that time of the year when not a single Bengali can keep calm. It's Durga Puja time. Durga Puja is not just festival where you worship the goddess, it is a way of life for a Bengali. It is quite well known now that a Bengali always starts his years by marking the dates of Durga puja that year! It is that deep rooted in the minds and souls of Bengalis.
The number of 'probashi bangali', as we call it in Bengali, or the Bengalis staying away from Bengal is extremely high. Blame it on the state governments apathy towards growth, industries – that calls for a separate post altogether. Wherever you go, in whichever country you go you will find a good population of Bengalis settled. That by default means there will be a Durga Puja celebration during October – even if it is highly modified and customized according to their lives in those countries.
My Facebook timeline is now filled with the Durga Puja celebrations in places like Utah, Melbourne, New Jersey, Cincinnati, London etc. You will in fact find it really funny that these highly customized puja celebrations takes place over the weekend and is over within that. So even before the actual Dussehra, they finish up with sindur khela. You can't blame anyone, the weekends are your only friends to celebrate your own festivals in a foreign land.
I left my hometown in 2007 and since then I am settled in Bangalore. The second highest population in Bangalore I guess are the Bengalis. There are at least some twenty pujas that are celebrated across Bangalore. So I still have some places to visit and regale in the festive fun.
This will be Bluey's second Durga Puja, last year he was two and half months this time. We didn't take him out though. I was in Kolkata during the pujas after almost 9 years. This also reminds me, how easy it was to dress him up when he was 2-3 month old. Now he has a mind of his own – can't make him sit still for a minute, forget dressing him up.
Did I mention earlier, we used to have Durga Puja at our home. My ancestors were zamindars in East Bengal way before partition or the existence of East Pakistan or the current Bangladesh. They had this huge Durga Temple in their courtyard which was one of the biggest in the district (or whatever was the demarcation that time of Dakha, actually it was called Dacca that time). Then after partition the family scattered, they lost their land, men, wealth – all that happens when you are caught in riots and displacement. Actually I can even do a series of posts on my ancestral heritage – they have wonderful tales and legends. Let me know if you will like it.
My dad's generation re-started this 'Dewan Barir Durgothsav' again in Kolkkata in the year 1997. Did you ask why Dewan when I am a Basu? Ancestors were the Dewans in the kingdom of Gaur ( I am talking about the Mughal era – yes that old ancestral history). So that Dewan title that was awarded became the name of the zamindari family.
We celebrated the 'Dewan Barir Durgothsav' at our house in Kolkata for a few years but then another displacement of our generation away from Kolkata meant all that coming to a halt. And as I am typing al of this I can remember clearly our enthusiasm in decorations and the festival – miss the barir pujo.
Durga Puja actually starts tomorrow 7th October – which is the sixth day of the Puja. I am thinking of doing a Durga Puja series since I am writing every day this month. What say?
I just hope I can pass on some of these knowledge of our culture that I have seen and learnt to Bluey. He will never know what barir Durga Pujo is (family Durga Puja celebrations) or he won't even know what are the significance of the days, the rituals, why she holds the weapons, the stories behind. But I hope he will learn some bit of our culture.
If you are interested in visiting some Durga Pujas in Bangalore here is the list of Pujas and their addresses. Since it is a weekend you are going to enjoy it, I am sure.
I am taking part in the Ultimate Blogging Challenge, 31 Days of Marathon Blogging with Daily Chatter. Follow me on Twitter & Instagram to stay updated with #TinaWrites and #TinasBongConnection