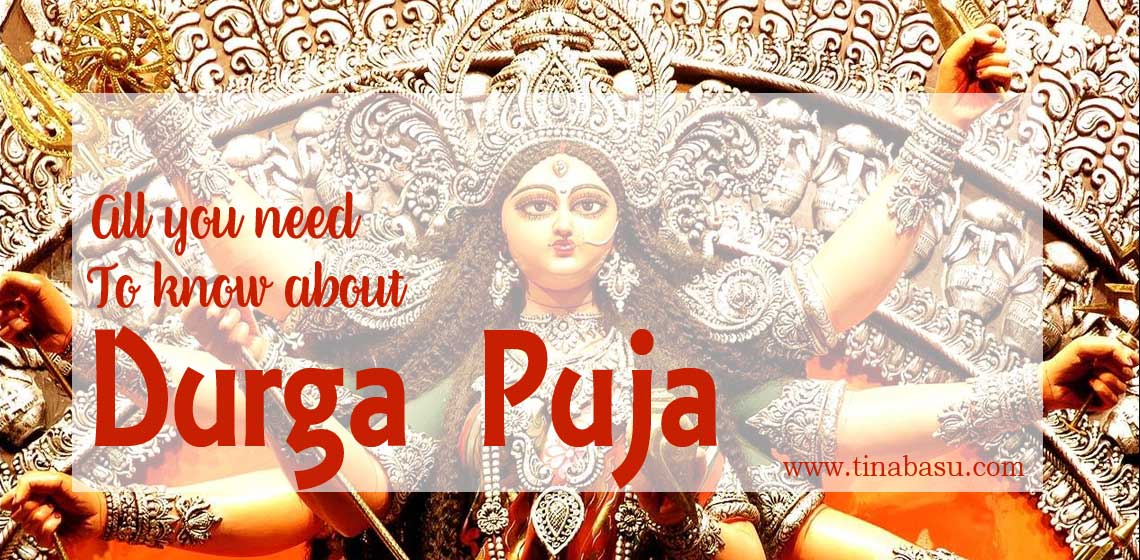 In my last post on Durga Puja, I told you how the festival is synonymous with Bengalis and how it's a way of life for us. Today let me share with you some background history about the festival, the significance of the different weapons that the goddess holds, significance of the days and other things which one might not be familiar with.
Mythological Reference
It is said in Hindu Mythology that a demon named Mahishasura had once pleased Mahadev with his long and hard meditation and as a consequence Mahadev had blessed him that no man or deity would be able to kill him and his death was possible only in the hands of a woman. The arrogant Mahishasura high with his powers created devastation across the universe and captured the heavens driving away the gods. When nothing could stop him, Brahma , Vishnu and Maheshwar – the great trinity of Hindu Gods, came together to concentrate their pure energy in creating a goddess – Durga. She is the goddess of Shakti (power) – the one who will destroy evil and protect goodness.
Akal Bodhon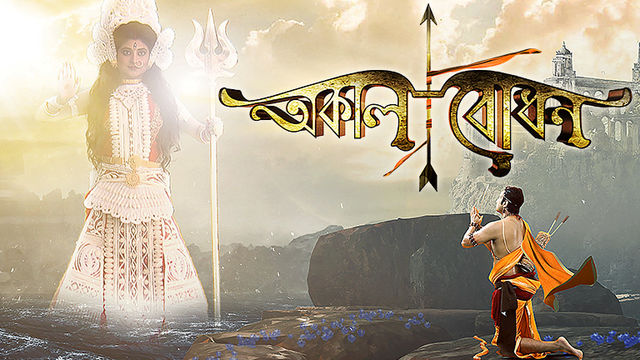 Akal Bodhon is the worship of Goddess Durga in the month of Ashwin. Akal means untimed (kaal – time, A –not) and Bodhon means worship. And this Akal bodhon has a mythological significance again. Originally Durga Puja is celebrated in the Hindu month of Basant on Basant Panchami. In Ramayana, however, Lord Ram decides to seek blessings of Devi Durga before his battle with the demon king Ravana. That was not the time for worshiping Puja. But he goes ahead with the untimely worship (akal bodhon) to seek Her blessings. Ever since that time this Akal Bodhon has become popular with mankind and man decided to follow Lord Ram and celebrate this untimely worship or Akal Bodhon in the biggest way possible than the actual worshiping month.
Significance of Three Eyes & Weapons in her Ten hands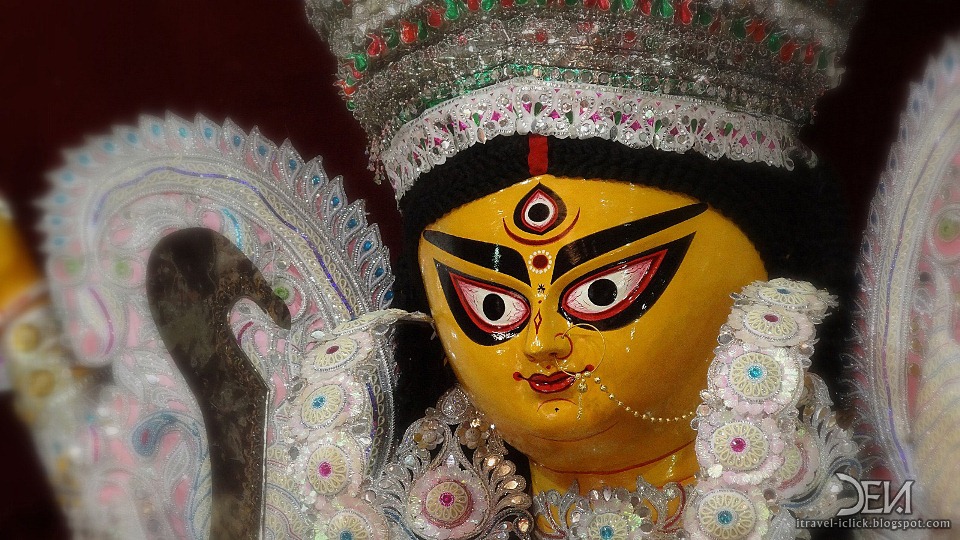 Goddess Durga is the one with 10 hands which signifies that she protects everyone from 10 directions, or from every direction because she is the savior and protector of goodness from evil. She like Mahadev also has three eyes with the third eye in the center of her forehead, for which she is also called Triyambake – or the goddess with three eyes. In Bengali language she is called 'Trinayani'. The three eyes  represents the powers of universe – the left eye represents desire (the moon), the right eye represents action (the sun), and the central eye knowledge (fire).
Not many know that all the 9 weapons that the goddess Durga holds in her ten hands (she hold 1 with two of her hands) have a story behind it. It is said, in mythology, that every god blessed her with a weapon for a specific task.  While Mahadev gave her a trident, Lord Varun gave her a conch shell, while Vishnu gave her his eternal 'Sudarshan chakra' Indra gave her his thunderbolt. There are enough resources on these histories and you can read here and here. No point in my writing the same again. All the Mahalaya programs on Bengali channels show these mythological stories year after year, so every Bengali knows by heart!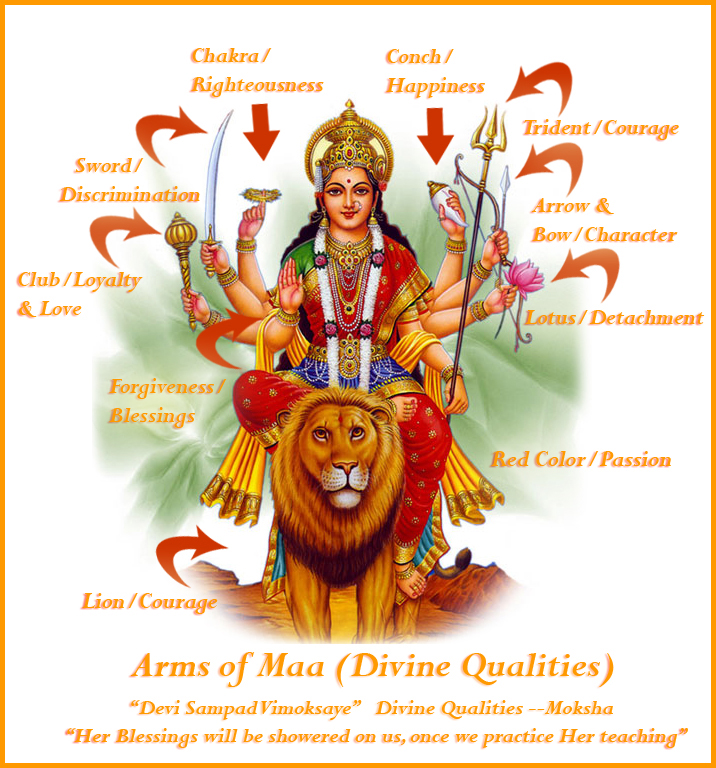 What we see today
Durga Puja during the 18th century was celebrated in the households of zamindars and jagirdars as they were the crème of the society under British Raj. Local people visited these pujas and worshipped the deity in these zamindar's houses. These were called the 'Bonedi Barir Pujo'. Later with modernization and disintegration of the 'Babu Culture' of Kolkata, the 'Barowari' puja or the community puja which are organized by the public or groups of people. This transition from household puja to a community puja has been a long one. Now you have a Durga Puja in every nook and corner of Kolkata or anywhere in Bengal. The Barowari festival is organized with funds raised from the public at large through donations or subscriptions. But now you have corporates and brands sponsoring heavily in exchange of visibility of their brands. You can understand their scope of marketing when you have millions of footfall at a single area on any given time, any given day during the Durga Puja.
Durga Puja is equally popular among non-Bengalis because of its extravagant celebrations. Read how Mayuri enjoyed her Durga Puja this year, inspite of being a Punjabi.
Deepa from Kreativemommy shares a photo blog on how she celebrated Durga Puja this year. She isn't a Bengali either but participated in the Pujas like any other Bong including the much coveted 'sindur khela'.
Theme Puja
For last few years though Durga Puja in Kolkata has become a race for Theme Puja. Every club and every association decides on a theme and their idols, pandals, lighting, decoration every damn thing is according to the theme. While some are tastefully done some can be bizarre and really weird. Last year I was in Kolkata and witnessed some of these weird themes – Have a look.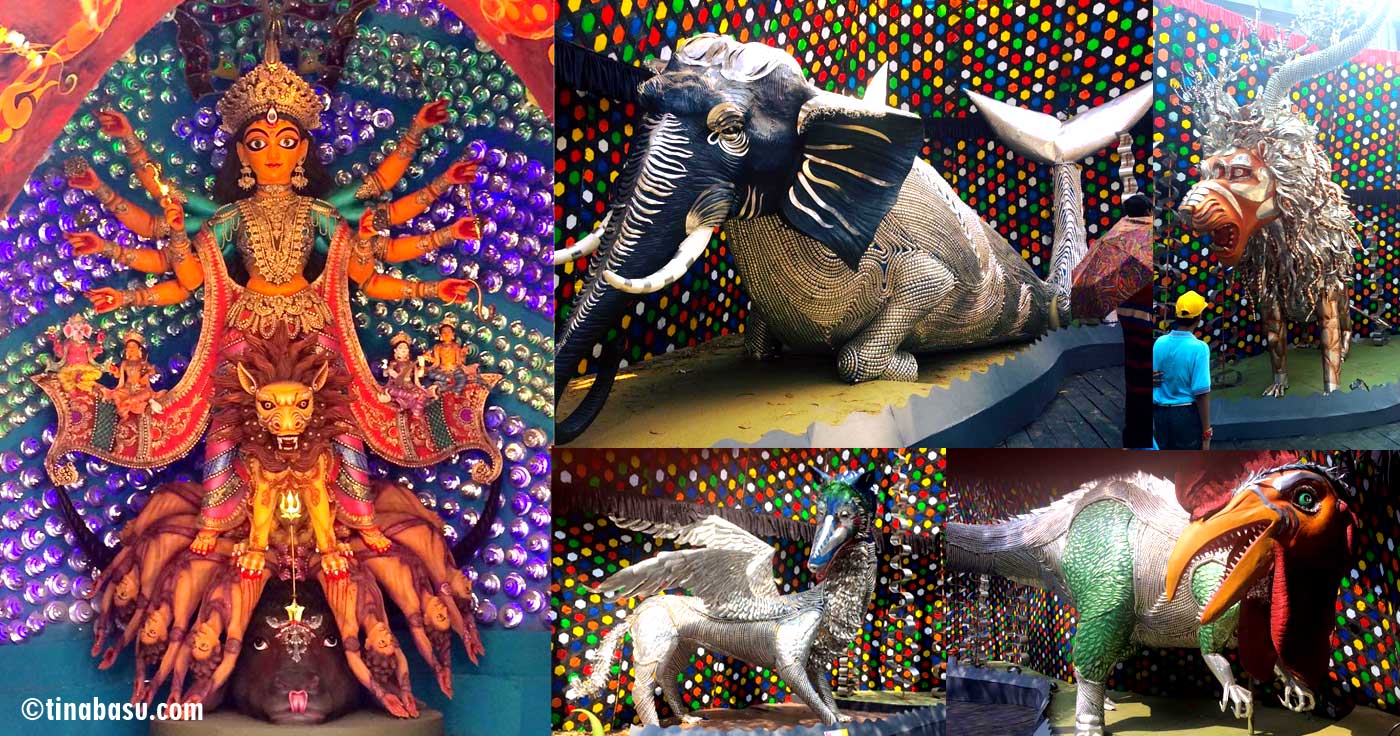 This was last years Durga Idol and decoration of Tala Barowari Club and their theme was 'Hybridashuramardini' as is hybrid-mahishashura-mardini. Entire decoration was made from sheets of steel and everything was a hybrid. Can you spot the hybrid between an elephant and whale, Dinosaur and rooster? Weird but creative.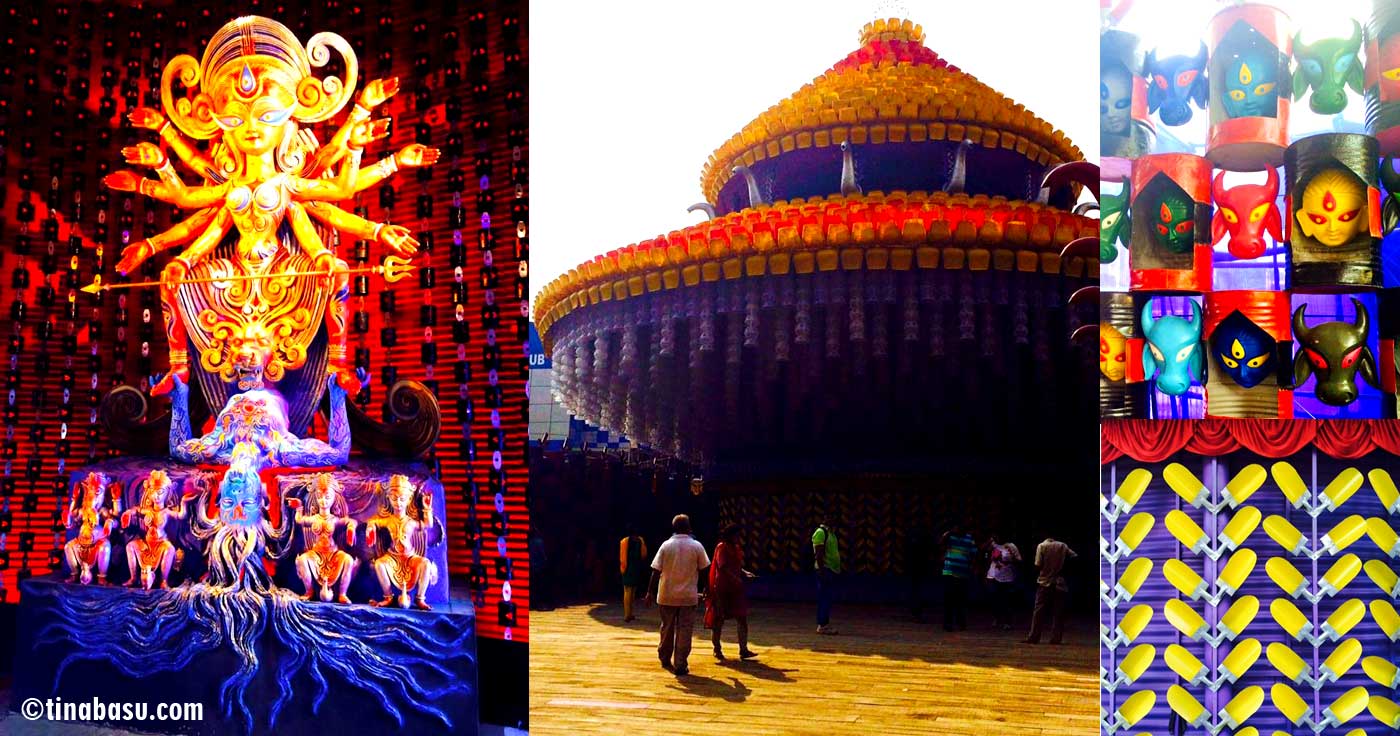 This was the Durga Puja by Chetla Agrani Club, which is quite famous for their different themes. Entire pandal and decoration was on theme of masonry – so everything was used in decoration – drums, scrap metal, masonry tools. Creative isn't that.
In my next post I will be discussing about the significance of each day of the Durga Puja and the rituals that are followed during the Puja.
P.S.  I have been trying to do a Durga Puja series and write everyday about Puja – but can a Bengali really sit and write during Durga Puja and not be present at a puja. That's what happened with me. Durga Puja is over but my posts are not. But what the heck – why not finish what I started. So read even if the Puja is over.
I am taking part in the Ultimate Blogging Challenge, 31 Days of Marathon Blogging with Daily Chatter. Follow me on Twitter & Instagram to stay updated with #TinaWrites and #TinasBongConnection