Hello peeps, this entire month of March we are celebrating women. This week we have an interesting prompt for #ThankfulThursdays yet again. We are discussing Womanly Quirks! What are quirks, did you ask? Quirk is the peculiar aspect of your character – something that is unique to you. These quirks almost define us. Like one of my quirk is I can be ready for a dessert in the middle of my sleep!  So this Thursday we ask you to write about your quirks.
#ThankfulThursdays Week 19 Prompt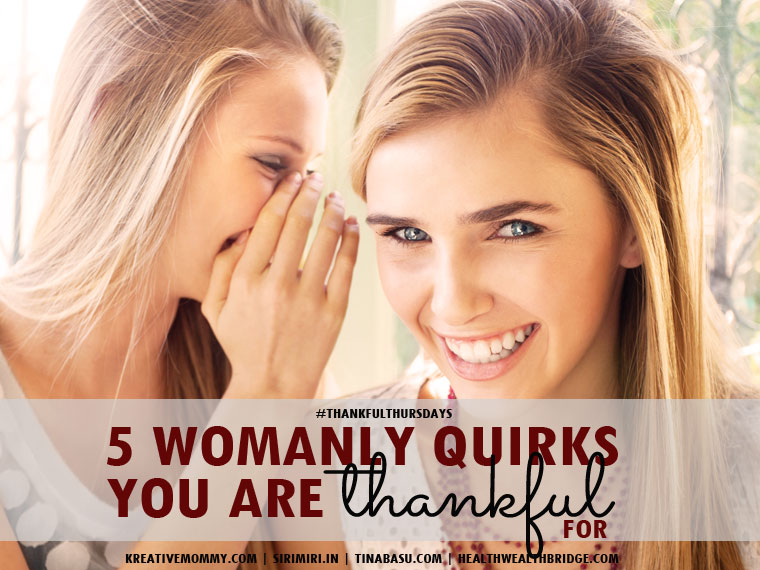 Its nice to have quirks. Sometimes these quirks are also enjoyed by men – though many don't tell us on our face! I of course have a gazzilion number of womanly quirks (okay some are quite un-lady like). But let me tell you about the ones that I am thankful for.
I like to Talk
Yes, and talk a whole lot. I was an introvert child but someday somehow I became the complete opposite of it. I could talk non-stop on important, un important and random stuffs. One of my colleague asked me if I could talk to the wall! This quirk (my husband declares is too much) is quite helpful in return. Communicating is a good thing – without communicating no work happens. When you can talk effortlessly in any situation you never shy away from public speaking, a presentation at work, addressing a client meeting or introducing yourself to a stranger! [Well introducing to a stranger is not always safe, you have been alerted.] I am absolutely okay with me being talkative. I even talk to myself and counsel myself quite a lot.
I Love the Camera
This is something that I picked up while I was in high-school All my photos of childhood are horrendous where I simply hated the camera. I am either sulking or brooding or slouching in some corner. I had no idea why I was dressed up and made to sit in a certain way and asked to smile. Who smiles at strangers, and why exactly would I do that – thought the 10 year old me. Fast forward to high-school and college I was pretty much the photo queen and now I am the selfie queen in the family. But I don't have the selfie disorder that some women have who takes 64 selfies in a movie hall washroom or 79 selfies at a restaurant. I like selfies and groupvies and babyfies in moderation. At restaurants, however, I am more interested in clicking the food than myself.
I laugh if I fall down!
I have fallen down on streets, roads, mud, from the bike, in an empty swimming pool, on dry floor, in the snow and almost every place possible. Why don't ask me. And each time I have fallen down I have laughed at myself. I remember getting down from the school bus and walking towards home when I tripped and fell down on the footpath. I got huge bruises on my knees, people rushed to help me and found me laughing at myself sitting on that damn footpath! Now I guess this humpty-dumpty disorder has reduced considerably but I still don't know why I used to fall down so frequently and in most unappropriated times. But it is good in a way. At least I am girl enough to laugh at myself, pick myself up and start life from there without getting too embarrassed.
I have 32 sweet teeth
I guess you all know it by now. I can have a dessert at any time of the day – any kind of dessert. Without a good dessert I don't leave a restaurant. And if a restaurant doesn't have a good dessert on its menu then it scores way below in my list!
I have a major fetish on shoes
If I could have a room sized shoe case I would have that. I currently have a massive shoe case cupboard the ones that you call wall to wall. An entire wall of the foyer currently is my shoe cupboard with a few racks for my husband and Bluey and the rest all are my shoe fetish place. At one point of time I had just about 74 pairs of ballerinas, stilettoes, wedges, peeptoes, boots, sneakers, pumps, flipflops, kohlapuris, jutis and just about anything that you can name from the shoe world! My friends used to think I am mad. Actually my fetish is for all good things – shoes, bags, lipsticks, makeup. All of these make me happy.
So what are your womanly quirks that you are thankful for? Share with us, we'll love to read.
Say HI to your #ThankfulThursdays team
How to Participate in #ThankfulThursdays?
Follow @twinklingtina  @misra_amrita @Mayuri6 and @Deepagandhi1 on Twitter
Prompts will be announced every Wed 20:00 hrs IST
Read, comment, share on host and co-hosts posts and at least two more posts linked in the party Pro Tip – Networking and commenting is good for your blog's health and ranks.
Use #ThankfulThursdays in your post and share in social media using the same hashtag.
Every week we will have one featured blogger who is the best reflection of this community spirit
GRAB THE BADGE