Last week we had a lot of fun with our nature prompt. There's no way we can miss nature in our daily lives – and if you are giving nature or natural things a miss then you are at the losing end, my friend. I told you in my Weekend Diaries Post that I was revamping my balcony garden. And I am happy to share I have successfully revived two of my dead plants. That's how cool nature is, always by your side. I'll share the story in a separate post.
But there's a lot of news I want to share.
We are expanding #ThankfulThursdays and spreading a lot of love. Both me and Amrita thought it would be great to make our Thankful community bigger and Mayuri from Sirimiri and Deepa from Kreativemommy are going to join our community and co-host #ThankfulThursdays with us henceforth. So it's going to be bigger and mightier!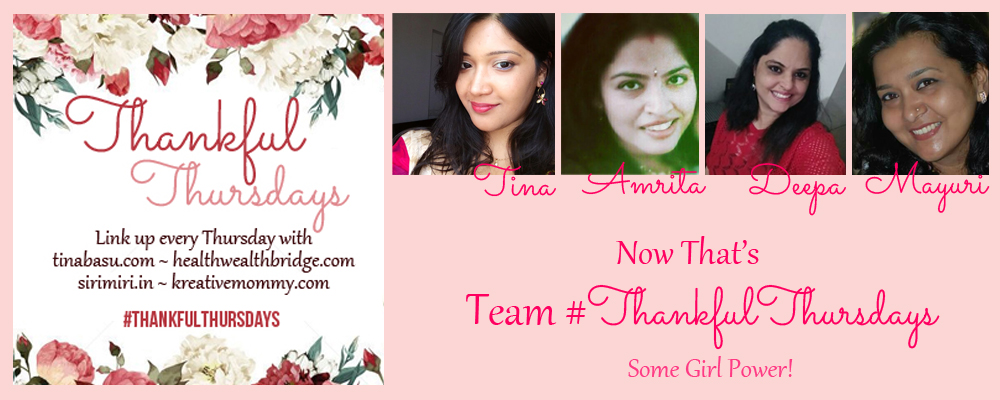 Watch out for the first week of the month #ThankfulThursdays post for a little surprise from us. You are going to enjoy it, I can assure you on that.
Now time for another fun prompt. This week we have not one but two prompts. You can write on both or anyone of them and link at the submission form below.
#ThankfulThursdays Week 13 Prompt 1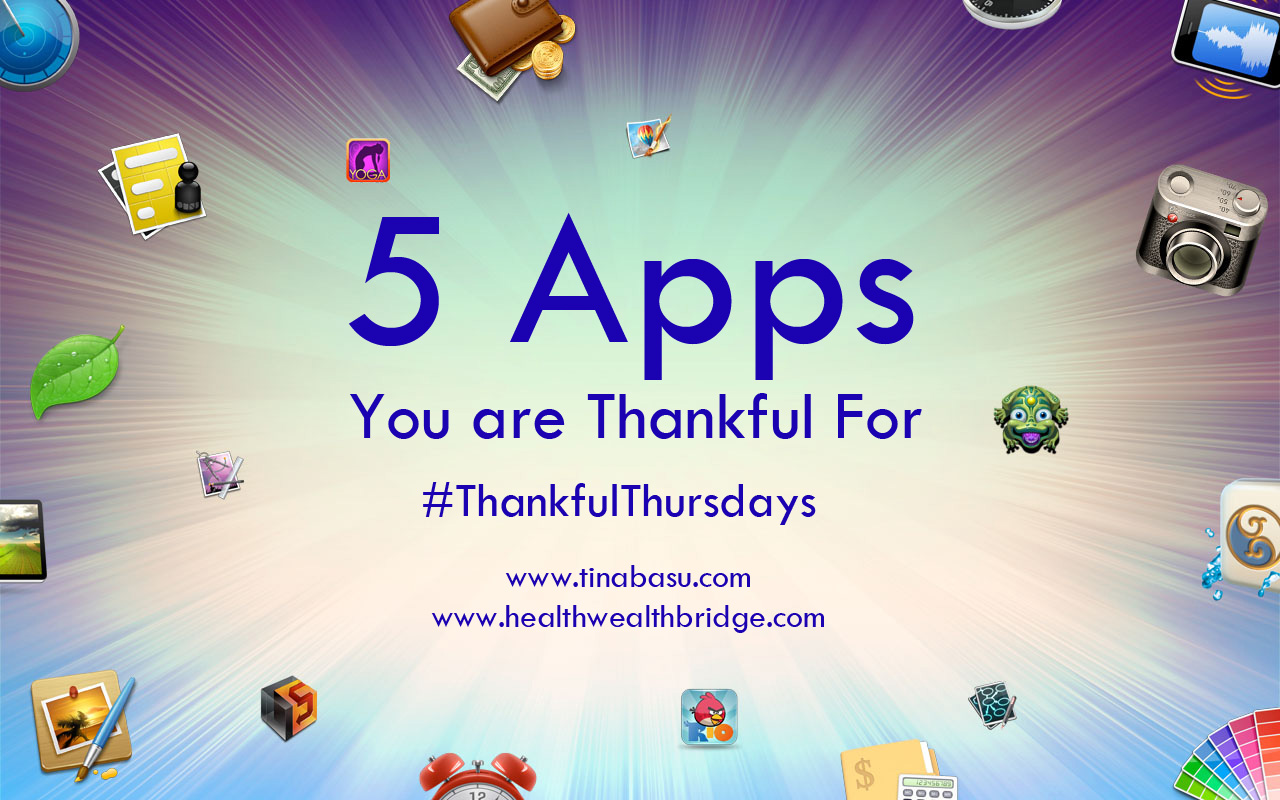 #ThankfulThursdays Week 13 Republic Day Special Prompt 2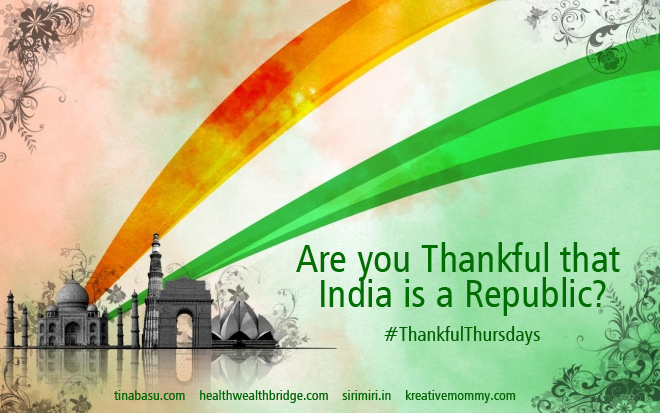 I am completely dependent on my iPhone and now the iPad for almost everything I do – online or offline. I hardly visit stores to get things for the house – it's a waste of time and energy. If not for apps it would be a very hard time for me and the work that I am doing. Now there's Gmail, Whatsapp, Twitter, Facebook, Instagram, that one uses these days like oxygen. Of course I am always online on these, so I'll skip chosing a favourite between these – ALL ARE GREAT! But let me tell you about the other apps that are pretty helpful and I won't be able to work without them.
5 Apps I am Thankful For
WordPress
While I was on Blogger I tried a lot to post from the phone but was never happy with it.I
t was very very basic. However, the WordPress app is a life savior when you are on the go.  It is extremely helpful to reading, commenting, liking, replying on posts through the app. It directly takes you to the web dashboard too – which I think is very helpful. When I am posting from the device I use both the app and web dashboard to have a decent looking post. Without the WordPress app
It is free to use and available on Android and iOS.
Buffer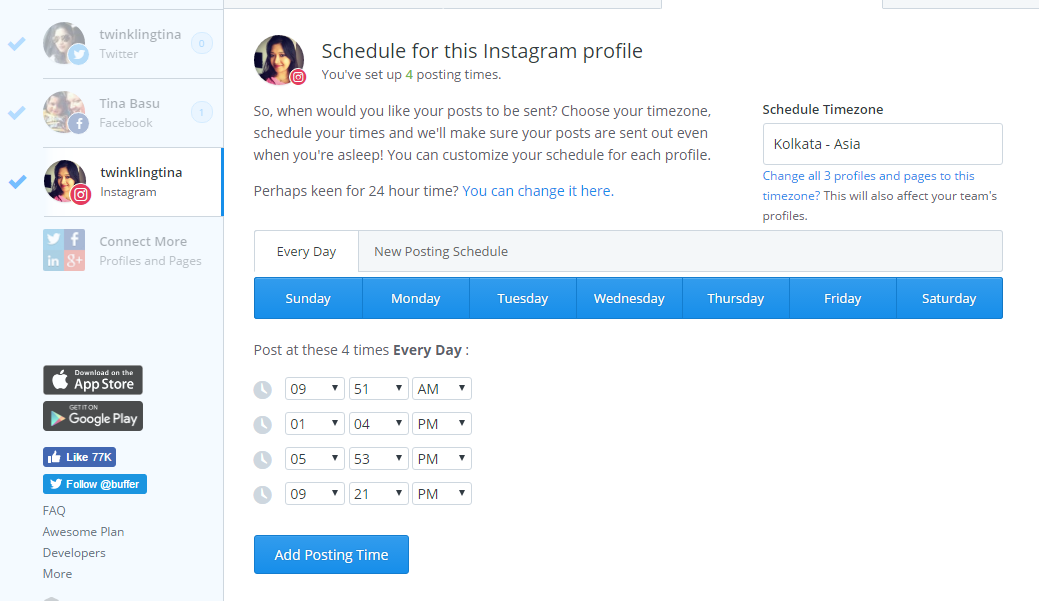 When you are a blogger you know how much social media presence mean to you. Unless you are present in social media you are living on Mars. And constantly updating your feed can get tiresome. I can't thank enough to the makers of this app for the ease and functionality that they bring to a blogger or anyone present on social media. I schedule tweets, FB posts and even Instagram posts (sometimes – I prefer something else for scheduling Instagram, actually!). You can schedule and forget about it because Buffer will take care of it.
Buffer is available on iOS and Android both and you can sync three social media accounts under their free plan. It's such a useful app that if you have to upgrade to use more than three accounts I am sure you won't regret that.
Camera Awesome
If you are a food blogger then you got to have this app. Inside story – no food photo is posted online just like that without some editing. Some people even Photoshop photos before posting them on Instagram. It gives you a lot of freedom in choosing depth of field, better exposed photos. You will forget the regular phone camera once you have this. It's available on iOS and Android both.
Canva
A person like me can't post a photo without some styling to it. And when I say photo I mean all kinds of photos and graphics. Canva is simply awesome if you don't know PS and other photo editing softwares. It's free and you can create practically everything. When I need a quick fix on a photo/ graphic on the phone Canva is my go to place. But when I am on my laptop nothing can beat Photoshop and Illustrator ( they give much more flexibility). If you are not using Canva already, go sign up now.
Amazon
Now, what can I say about Amazon. I sometimes even search for things like safety pin and paper clip on the amazon app if I don't find any at home. I get most of the household stuff from Amazon and almost every other day I have an Amazon delivery guy ringing my bell. Going to stores has become history for me – not just for deals but just to save the time and petrol and parking fee! Not just the Amazon app but also the Kindle app is a life savior when you have a toddler who wants to take away your book every time you want to read. I read most of my books on the kindle app in the iPad.
Those were my Favorite Top 5 apps on the device. Let me know which are yours.
Today India celebrated the 68th Republic Day. For me the Republic Day has been synonymous with waking up and watching the parade on DD National since childhood. Today was no different. Only I had someone running around and not wanting to have breakfast!!
It is nice to be living in a free country – you may have different political opinions and may be having a lot of criticism for the nation, the government, the system – but at the end of the day you are not living in a country that's ruled by some rouge military general or some religious leaders! Imagine if you were living in North Korea! When compared to that – you are living in heaven!
My son is going to be one and a half in two days and I want to instill in him the respect for his nation. If you can't respect your parents and your nation then you cannot be a better human being (that's what my wisdom says). While the National Anthem was being played at the end of the parade I picked up my son and sang the anthem to him. He probably doesn't realise what's happening around but for a minute at least he was silent and watched what was happening in the TV. The Mom in me has the solace in it – at least I could make him participate in the anthem.
How did you spend your Republic Day? Are you thankful that India is a Republic? Let me know.
Last Week Featured Blogger
Last week we loved the post by Natasha of natashamusing.com
Read her winning post here.
IN NATASHA'S WORDS….
Writer, Communication Consultant, Fitness enthusiast, avid Cyclist, Nature lover, Home diva, Dog mom + mom to 8 and 18 year old angel brats and a Spiritual Buddhist with streaks of crazy.
How to Participate in #ThankfulThursdays?
Follow @twinklingtina  @misra_amrita @Mayuri6 and @Deepagandhi1 on Twitter
Prompts will be announced every Wed 20:00 hrs IST
Read, comment, share on host and co-hosts posts and at least two more posts linked in the party Pro Tip – Networking and commenting is good for your blog's health and ranks.
Use #ThankfulThursdays in your post and share in social media using the same hashtag.
Every week we will have one featured blogger who is the best reflection of this community spirit