Lifestyle blogger? Not sure what to post next? These 50 blog post ideas are perfect for lifestyle bloggers when you hit the writers block.
Bloggers face the writers block pretty often. I do that too. There are times when you are thinking what do i write next. This post however is not about the writers block, this post is about a list of prompts that you can keep handy for every time you hit writers block and don't know what to write next. These 50 blog post ideas are perfect for lifestyle bloggers – keep these prompts handy so that you can write a post quickly without too much of an effort.
Did you ask why a prompt list is good?
If you like your blog and care about your SEO, you don't want to be sitting idle too long without updating your blog. To be able to be found by the search engines you need to update your blog regularly  – that is at least twice a week. So keeping this blog post ideas or prompts will be great if you are a lifestyle blogger.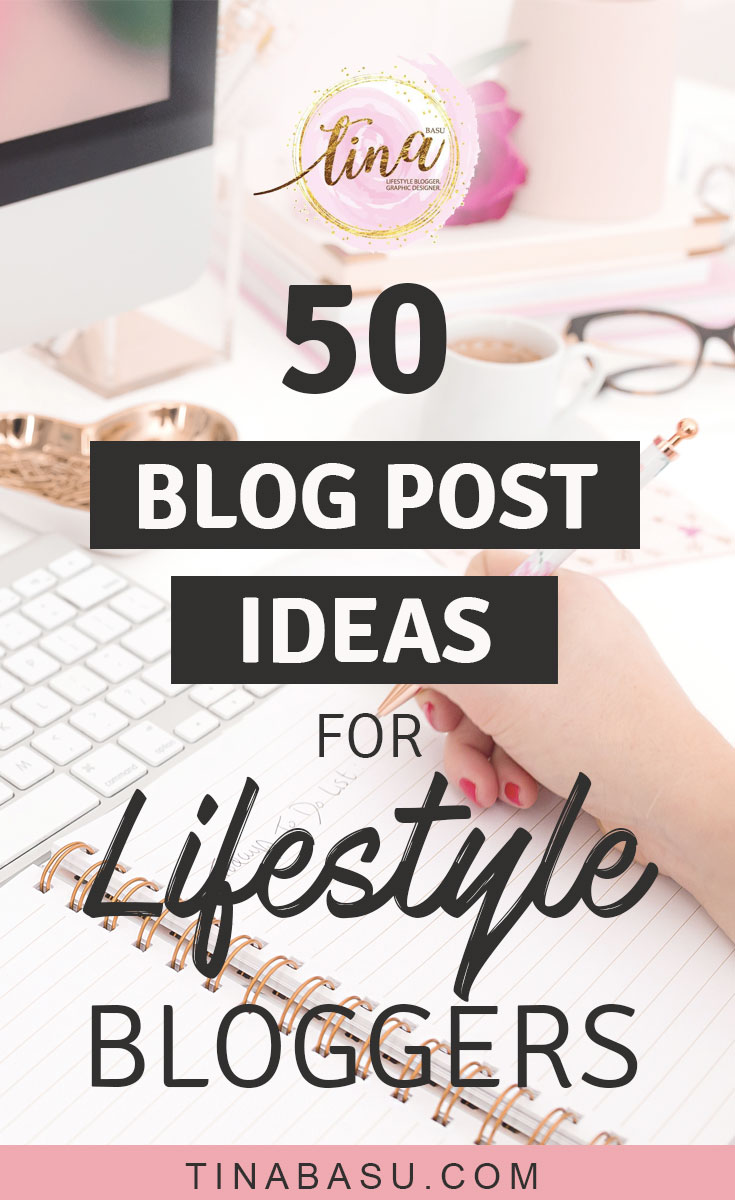 Okay now give me the 50 blog post ideas are perfect for lifestyle bloggers, right away!
Write about why you started blogging
Write a book review / movie review
Write about 5 movies that changed your life
5 classic novels you are fan of
Write about your favourite social media platform
Do a tutorial on how you edit your Instagram photos
What are the essential apps that are must haves on your phone
Write a letter to a 16 year old you
Do a room tour of your living room
Write about five healthy things you did this week
Give a shoutout to fellow bloggers you admire
Write about some anecdotes from your school life
Do a list post on your favourite lipsticks
Do a tutorial post on how you designed your logo
Update your travel bucket list
Do a DIY post on your workspace organisation
A day in a life of Lifestyle blogger
What's in your bag
Share your morning routine
Share 10 facts about yourself – good or bad
Write a post on Life skills that you have mastered
Free write – write whatever comes to your mind for 15 mins
Your favourite shopping websites
Review a restaurant you visited last weekend
How you manage budget
What is your work out routine
Share your travel tips
Share your go to recipes
Things that you love about your pet
What is your current hair care routine
Share an outfit of the day look
Your favourite handbags
Write about your love story
Give relationship advice – things that you follow yourself
What to gift your partner
Holiday gift ideas
Latest gadget you have bought
Which pants are there in your garden
List of favourite perfumes
An event that changed your life
A photo story post
Your favourite cocktail recipe
A round-up of your most popular posts
Share your self care tips
How to throw a dinner party for friends
Any recent DIY project
What is your workout playlist
Weekend skin care routine
How you keep stress away fro life
Write about a camping experience
Now aren't these blog post ideas just cute and perfect for a lifestyle blogger who might have hit the dead end and doesn't know "what do i write now"? I always turn towards some prompt lists like these when i need to update my blog quickly or I hit a writers block!
Do you have any other blog post ideas for lifestyle bloggers? Share them in the comments!