Sensory stimulation helps to form Brain synapses in babies. These are essential for brain development in babies. #FeedIQ
Did you know, spending time with your infant is the best thing you can do for their brain development? All the time that you spend talking, singing, playing with your infant actually works as a stimulation to form brain synapses leading to better brain development in babies.
So next time you're thinking your new born is too young for your songs, or your toddler is too young for puzzles and games, think again. When you offer brain stimulations for infants and babies, you are in fact, helping in feeding IQ. Want to know more about #FeedIQ and ways to form Brain Synapses in babies through stimulation? Read on.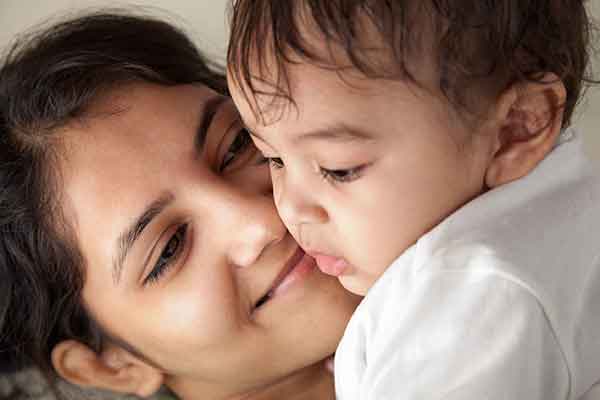 What are Brain Synapses?
The human brain is like a complex machine that works on wires connected to each other. Neurons in the brain cells, communicate with each other by sending electrical signals across a small space called a synapse. At birth a baby's brain is almost 70% of adult size of the brain.
At birth a baby has 50 trillion synapses
In the first three months, the synapses multiply more than 20 times
By one year a baby's brain has 1,000 trillion synapses
Stimulation helps in baby's brain development and when you help in forming these brain synapses early on, you help in infant cognition.
How you can help Brain Development in Babies?
Research shows, the physical and emotional experiences that a baby receives in the first five years of their life directly reflect their learning ability and brain growth the rest of their life. Keeping your child in an environment where they receive love, care, and various stimulation for developing sensory neurons and synapses is very important. Don't shy away from playing with your baby. You might be actually helping him to become smarter.
5 ways to form Brain Synapses in babies through stimulation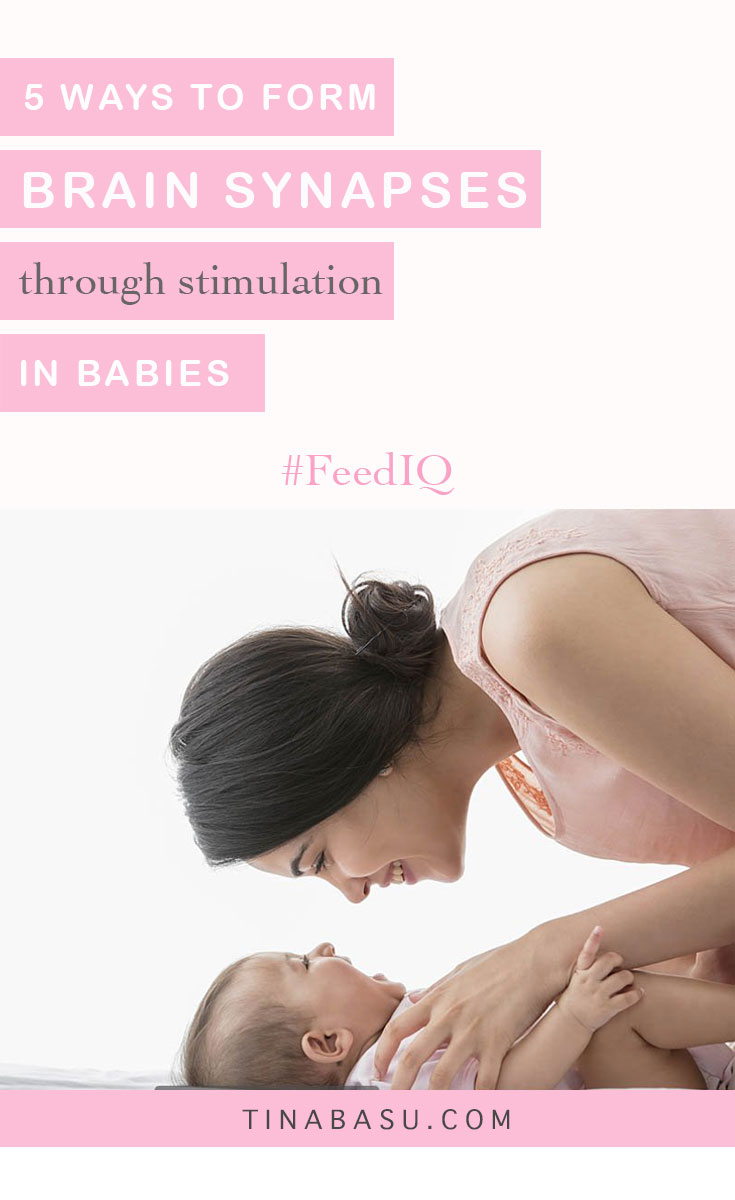 Use sensory stimulation
At birth babies don't have clear vision and it develops over a time. But they have strong sense of hearing. They often can recognize a mother's voice. Research has shown many infants recognize the songs the mom used to sing while she was carrying him. The mothers voice has a calming effect on babies.
Use touch as a sensory stimulation. Give gentle massage to your new born for a calming effect and getting him familiar with your touch. Don't keep him swaddled all the time, let him throw his hands and feet in the air.
Use breastfeeding time to encourage interaction
Breastfeeding is not just a way to provide the best nutrition for your baby. Breastfeeding also helps in brain development.
Use this time to encourage interaction with your new born. Babies don't have a good far sight but they can see things near them. Make eye contact with your baby, the baby is more likely to focus on your face while he's breastfeeding. This is an active way to #FeedIQ in your baby. This is your first form your communication. Breastmilk has DHA, Natural Vitamin E which are essential nutrients for brain development. When added with brain stimulation with interaction, the feeding time can become an exciting time for babies.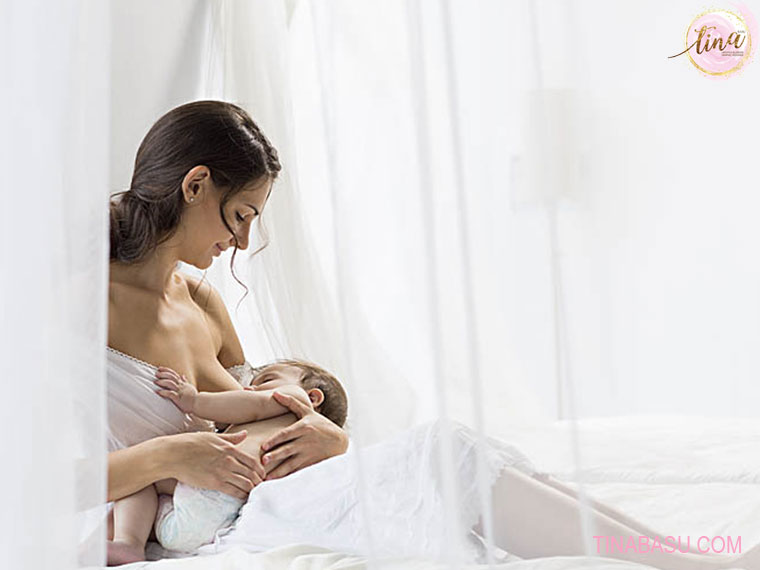 Shower your baby with love and affection
Don't shy away from showering love, affection and care to your baby. There's no such thing called 'too much love'. A baby needs that emotional security, the feeling of being loved for forming positive brain synapses. Try to engage with your baby throughout the day where he feels your love and touch. Simple things like massage, bath time, hugging, kisses help throughout his childhood.
Studies show, negative forms of stimulation in form of neglect, stress, trauma, abuses can all have a tragic effect on brain development in babies.
Talk, Read, Sing to your baby
Babies love when you speak to them animatedly, sometimes in high pitched voice. Sing little songs to your baby – it can be a rhyme, a folk song or even a tune. These are early forms of stimulation for developing language. The more they hear words, the faster they will try to talk.
I started reading to my son, when he was only 6 or seven months old. He used to look at colourful photos. Now at three, he absolutely loves his story times. We have two to three story times through the day and he has his own library. He knows characters from several books. He can't read words yet, but every time he opens a book he has to say "once upon a time…".
Toys are important to develop motor skills
Age 0-3 months – Allow tummy time for a few minutes every day to strengthen their neck and back muscles and look at his surroundings.
Age 3-6 months – take them out for strolls outside the house for new sights, sounds, experinces
Age 6-9 months – let them crawl and touch different things around the house
Babies need mobility to explore their surroundings when they are at an age to sit and crawl. Let your baby play with toys of different texture, shapes and colors. Stacking toys, rattles helps them in gross and fine motor skills.
For toddlers, let them get messy – let them try finger painting, playing in sand, allow him to take his toys in bath tub. Learning while playing is the best form of education.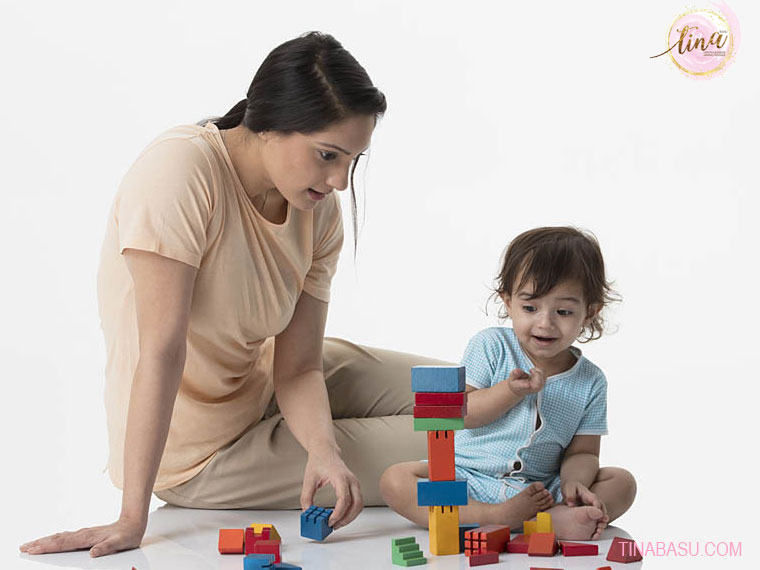 When you provide these stimulations they help in forming brain synapses leading to better brain development in babies. Repetition actually works best for babies. It helps your baby build neurons and create lasting memories. Make them feel loved and cared, stimulate a positive environment – because after all as a parent you only want the best for your baby, don't you?