Cars are your best friends! Isn't that true like the truth itself? For a long time I had this wish to have my own car – bought with my money. You start loving your car when it's bought with your money and not dad's money! And I did accomplish that as soon as I started working! My first, a hatch-back, came into my life some five years back.
Now I am thinking of upgrading. Though my first car will always be with me, but why not a second one. Should I go for a sedan? Should I go for a SUV? There are lots of options these days. I keep a tab of the new models that are going to get launched.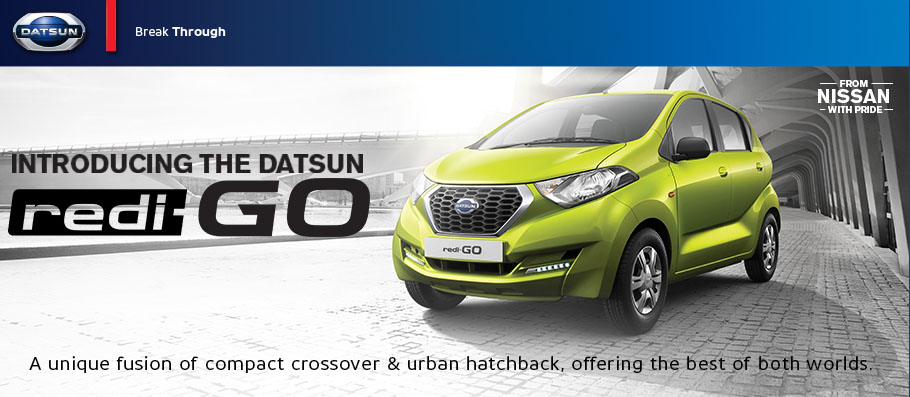 I came across this Datsun Redi – Go recently which is an urban cross. It looks and sounds interesting to me. It's a fusion of compact crossover and an urban hatchback. Totally works for me. It looks wide, roomy, sturdy and sporty – just the car for this ready-to-go generation.
My drive till work used to be long and tiresome but since I am taking a break now for some time, I am more inclined towards a weekend drive or a long drive somewhere in the outskirts. I think the Datsun Redi-Go is going to fit that requirement perfectly.
I did a quick check on it's site and figured out the Datsun Redi-Go has a lot to offer. I think the safety features are quite robust. It has performance augmented brakes – which is brakes at the shortest distance. You know how people on the roads are – specially bikes and autos – you need to keep your foot on the brake almost all the time.  It also boasts of a reinforced crash protection shell. The strengthened Datsun body structure is optimized for Torsional Rigidity and stiffness and better Frontal Offset Crash performance. The H shaped Suspension System also looks good. It has double pivot arms to give high stability and cornering performance.
And it obviously has better legroom, sporty looks, spacious and beautiful interiors. I always look for good safety features in the cars. Taking it out for a spin would be really nice
I think it will be a pleasure to drive this one. I am thinking of booking a test drive soon. I love driving on the Electronic City Elevated Flyover. It's a long flyover without a traffic signal! That's like a heaven for all who love to drive. Just drive little faster than your normal traffic laced roads. You get to feel the power and smoothness of the car. But seriously I would like to drive all the way till Hosur or somewhere on a highway where you can drive for long uninterrupted, without thinking too much. I just want to feel whether the Redi-Go is going to give me as much love as I am willing to give it! Isn't that a great idea?
I think it will be good to test it sometime soon. It looks like it is going to give me a good day of drive –  Fun. Freedom. Confidence. The ultimate 

Urban Cross 

– Datsun redi-GO – the capability of a crossover with the convenience of a hatchback.