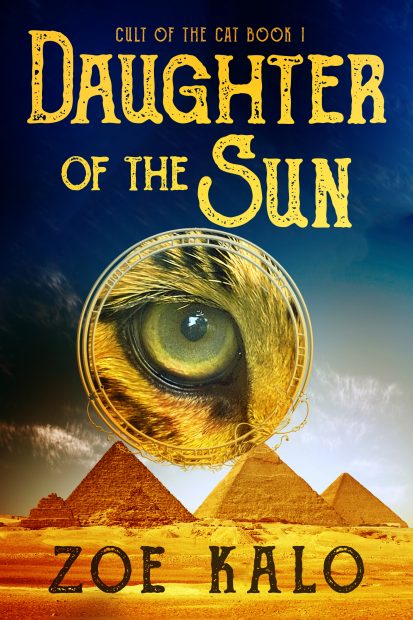 Mythology and fiction always bring out a lot of imagination and creativity. I am a fan of this genre. I have loved a lot of reads in this genre. Daughter of the Sun, by Zoe Kalo is a mythological fantasy fiction with a backdrop of Egyptian mystical theme. After a long time I had a good fantasy read. Let's see how the book was.
Cult of the Cat series blurb
According to ancient Egyptian prophecy, three feline goddesses—Bastet, Sekhmet, and Mafdet—would one day be reborn as triplets during a solar eclipse. But someone—or something—separated them at birth. Because if ever they were reunited, they would unleash a blistering power that could destroy the world. In an adventure where the past confronts the present, and blood, betrayal and secrets abound, the triplets face each other for the first time. And discover they're the only force able to stop the evil god Apophis from enslaving humanity.
The Story
Trinity was left at an orphanage with a sealed note as a kid. She is raised by the nuns in the convent and for sixteen years she grows up with other orphans. Her life starts becoming eventful when one day Dr. Nassri comes searching for her at the orphanage and wants to take her to her grandmother who was alive and has been searching for her all her life.
She has a fleeting meeting with her grandmother in the Island of Cats, a small island near Istanbul, in the Sea of Marmara. But before she gets to know her the grandmother passes away. All that Trinity is left with was a mysterious eye-shaped ring and an island full of grieving cats. The sealed note that she was left with in the orphanage happened to be a papyrus with mysterious symbols which Trinity can't decipher.
Trinity tries to solve the mystery of the papyrus and discovers a whole world of curses and sacrifices and a prophecy that points to her and her feline abilities.
She meets a handsome young man Seth and there is an instant connection. She is pulled into a vortex of sensations that forces her to confront her true self—and a horrifying destiny.
My thoughts
I like that fact how soon the author gets you engaged with the story. For some reason the way Trinity behaves her bravery, her open mindedness, her clean attitude in the first few pages makes a strong connection with the readers.
The story is intriguing – island of cats, feline affection, prophecy, mystery it's all so enticing.
The plot thickens as you keep reading and the twists and turns only keeps you hooked to the book. I like the fact there is a romantic angle too in this mythological fantasy.
I like the author's writing style and use of language. Sometimes when an author uses good words yet keeps the narrative simple it gives the reader a great joy in reading.
I am definitely looking forward to the second installment in the series. I am sure all readers would be looking for the same answers – what next?
About the Author – Zoe Kalo
A certified bookworm, Zoe Kalo has always been obsessed with books and reading. Reading led to writing—compulsively. No surprise that at 16, she wrote her first novel, which her classmates read and passed around secretly. The pleasure of writing and sharing her fantasy worlds has stayed with her, so now she wants to pass her stories to you with no secrecy—but with lots of mystery…
A daughter of adventurous expats, she's had the good fortune of living on 3 continents, learning 4 languages, and experiencing a multicultural life. Currently, she's working on a Master's degree in Comparative Literature, which she balances between writing, taking care of her clowder of cats, and searching for the perfect bottle of pinot noir.
My Rating: 4/5
I will give 4 stars for the use of wonderful language and keeping me engrossed till the end.
It is releasing today!
You can purchase it on Amazon
Book Details

Title: Daughter of the Sun
Author: Zoe Kalo
Version – e-book
ASIN: B01DRDUQW8
Language: English
Release Date: 1 May 2016