Lalbagh Flower Show 2019 Bangalore – a spectacle showcasing hundreds of varieties of flower – Poinsettia, exotic orchids, chrysanthemum, you name it and its there.
What happens when you have an unexpected holiday in school and your kid doesn't let you finish work? Wrap up everything and get out of the house and spend some quality time. That's exactly what I did today. It was a date with my son and we checked out the Lalbagh Flower Show 2019. If you have been in Bangalore then you will know January and August are the times when the Lalbagh Botanical garden, Bangalore hosts the bi-annual flower shows – showcasing hundreds of species of flora.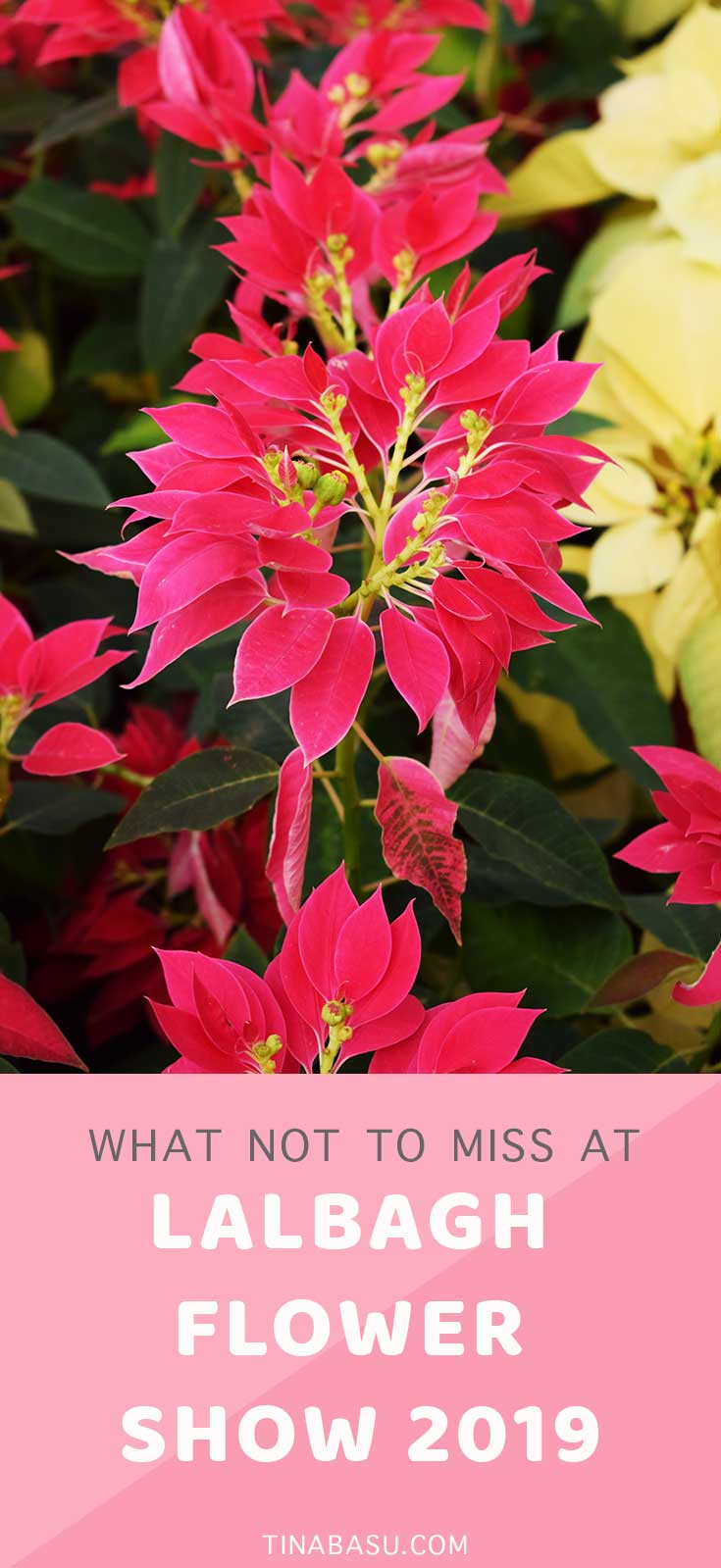 My son is very fond of gardening (something good he has picked up from me). He follows me to the garden often to water plants and dig the soil. Thus I wanted to take him to the Lalbagh flower show 2019. And if you are in Bangalore around this time you shouldn't miss it too.
Lalbagh Flower Show 2019 – What do you need to know
Dates: The flower show is taking place at the Lalbagh Botanical Garden, Bangalore between 18th January to 26th January 2019. It's open from 9 am to 6 pm
Entry Fee: Adults Rs. 70/-, entry fee for children on public holidays and weekends Rs. 20/- You can enter from any four gates of the Lalbagh Botanical Garden.
Parking: There's ample parking space at the adjacent Hopcom grounds at a fee. Entry of cars inside the garden is restricted.
Lalbagh Flower Show 2019 Theme – Gandhi
The 209th chapter of the Lalbagh Flower show is a tribute to Mahatma Gandhi and is celebrating his 150th birth anniversary. While you can spot a 12-foot-high Gandhi statue meditating amidst the garden you can also hear Raghupati Raghav playing in the background.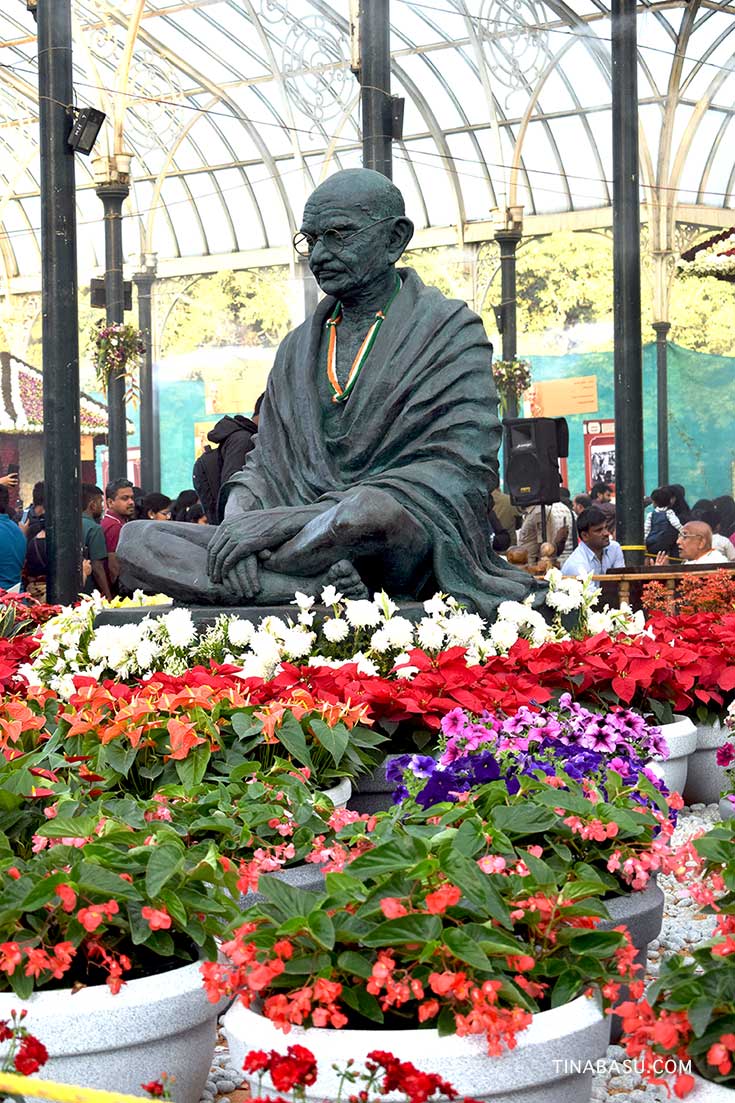 Be prepared with your walking shoes because Lalbagh Botanical Garden is a vast expanse. There are buggy services too that you can avail to go around the garden. The flowers are arranged and displayed inside the glasshouse. As you approach the glasshouse you are greeted with giant replicas of Gandhi's trademark glasses and charkha on the either sides of the glasshouse.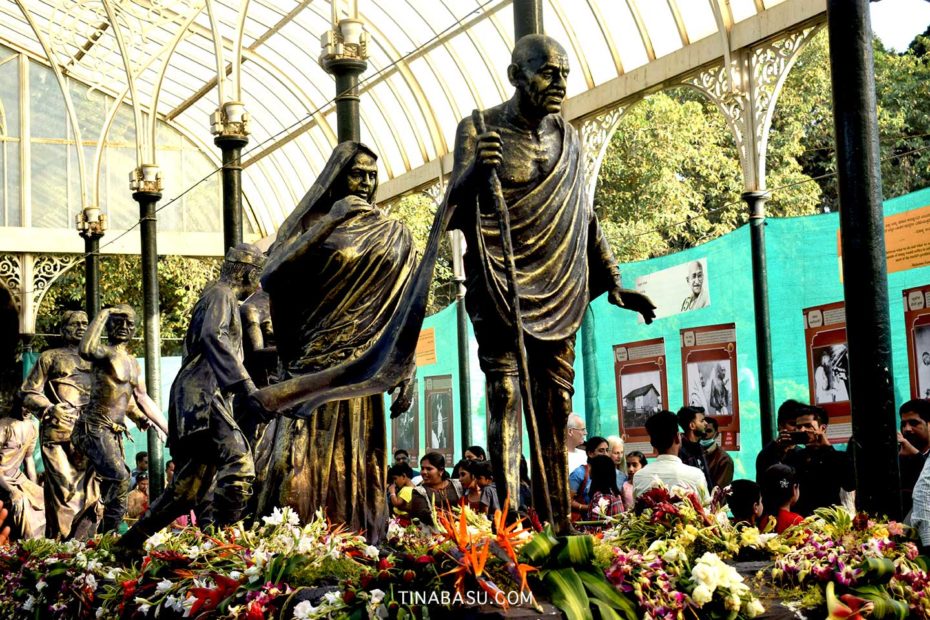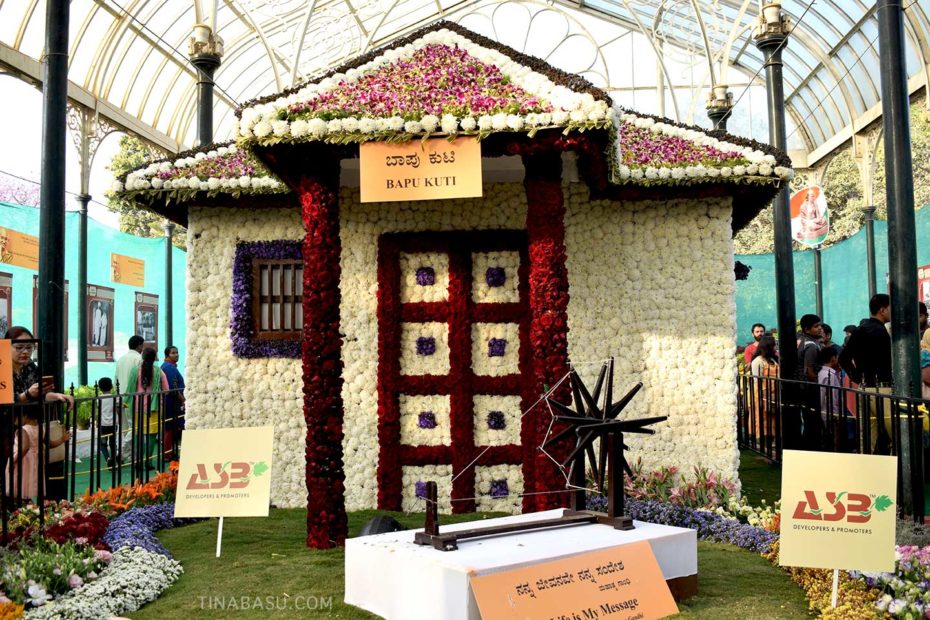 Flower species you can spot at the Lalbagh Flower Show 2019 Bangalore
There are more than hundreds of varieties of exotic flowers displayed in this flower show. You are greeted with 250 varieties of orchids in several hues in a pyramid followed by a large expanse of colourful Poinsettia. If you love flowers you will love the arrangements of Rose, Chrysanthemum, Gerbera, Darjeeling Cymbidiums, Lilly, Carnation – you can spot them all.
There are plants for sale too that you can get for your garden. Apart from plants you may find handmade décor items, organic food, garden utility items up for sale in stalls around the glasshouse.
Now let's leave you with some beauties that I spotted at the Lalbagh Flower Show 2019.