"Color possesses me. I don't have to pursue it. It will possess me always, I know it. That is the meaning of this happy hour: Color and I are one. I am a painter."

– Paul Klee, Swiss painter
Colorful things have always attracted me from childhood. I used to be amazed with the red colored old fashioned phone we had when I was a kid and the blooms of all color in the small garden we had on terrace. I still like playing with bright colors in my designs than being dark, dull, pastel or conservative.
However, you don't get to see many colors of nature in a metropolitan city anymore. What you can expect to see more are the bold colorsof brandings and advertisementson every street and every corner of a city and n number of neons. The town gets painted in red during the Valentine's week and Christmas; orange, white and green during our Independence Day and with all sorts of colored banners/posters/flags(orange, red green, white, yellow – you name it and it is there) during the elections making it a cluttered spider web. But with some initiative of a few creative people you get to see colors in different faces.
This January, I witnessed a bright sunny day with a riot of colors after a long time. The Directorate of Horticulture, Government of Karnataka does one thing good apart from a few more – organizing a bi-annual flower show in the coveted Lalbagh. Missing all the last three editions of the show for various reasons this year I was determined to visit the flower show. The beautiful pictures in the newspaper motivated me more towards the visit. Taking time out from the busy work life looked challenging since the show takes place onlyfor a week. 26th January came as a relief as it's a holiday for us (our Republic Day) so we zeroed on that day for our visit. My armed force enthusiast husband was initially reluctant to go as he was more interested in watching the Republic Day Parade but he still kept his words and took me to Lalbagh, [sadly, he missed the parade on TV because we got stuck in traffic while coming back, I think he caught up with it on YouTube].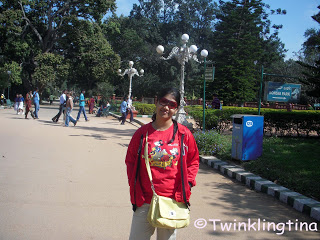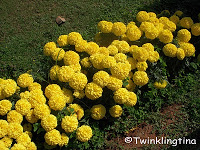 In between the lush greenery on both sides bordered with bright yellow marigold lay the straight road towards the glasshouse which housed the main flower show. Leaving a number of stalls behind we walked towards the glasshouse and came closer to the bustling area where people had queued up to enter. Obliging to a number of security check-ins (as if we were in the airport on the Republic Day) we could finally enter to catch a glimpse of the lovely flowers.
First few flower arrangements didn't excite me much as I felt the flowers were already dry, maybe because we went on the last day, but stretches of color that lay ahead surely brought a smile on my face and I got busy clicking. Interestingly,I found the number of photographers more than the onlookers.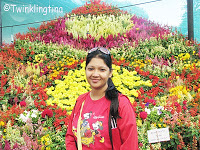 Almost everyone armed with their Cannons and Nikons with various types of lenses and a few amateurs who either love their mobile phones to death or think there isn't a better cam than their phones (I am not talking about iphones or other smart phones here). Somehow, pushing them aside I managed to peep through quite a lot of beauties and clicked a few with Indro's SLR and my lil cam. So enjoy some of the photos which I feel are nice.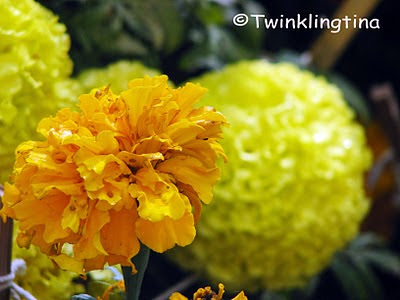 It's not the first time that I visited a flower show, we used to go to a similar one in Kolkata in winters long back. But I remember only colorful Dahlias, various roses and huge marigolds, and some others which I am not quite familiar with. This time around I saw some kind of flowers which I have never seen or heard of and now that I am writing this post almost a month after visiting it I don't even remember the exact names.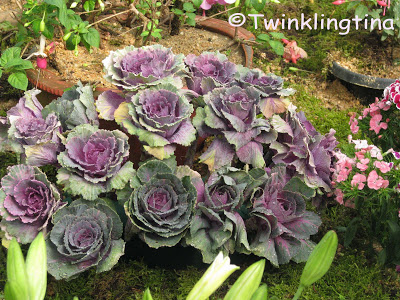 More than individual flowers kept in huddles what engrossed me were the different formations made with flowers. But the hyped structure of Namma Metro was quite a dampner, I thought. They had decorated a coach of the soon-to-be-launched metro (I don't know when though – it's been months now) and in the run of making it look majestic, I thought, there was overdose of flowers with almost no creativity or formation, it only hid the coach inside. Because of this blanket of flowers we couldn't even see how our Metro's gonna look like!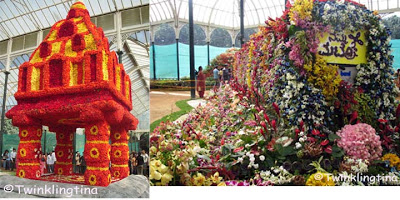 Nonetheless, the experience of coming across some unseen species of flowers and their beautiful colors surely added a smile to my face as we left the venue for home. Next time around I'll try to visit on a different day when I can enjoy the innocent flowers more… when they would not get dry… when flowers will not have photographers becoming bees for a change…