Friday Foto Fiction is a weekly fiction writing challenge where we give you a photo prompt and ask you to write a 100-150 word flash fiction about it.
Hello, beautiful people, are you having a great Diwali? How was your Diwali? Did you burst loads of crackers? There's always time for #FridayFotoFiction and fiction writing challenge if you are bored of the celebrations anytime! Fiction Writing Challenge always helps. So let's go to prompt right away.
Fiction Writing Challenge – #FridayFotoFiction Oct20-25 Prompt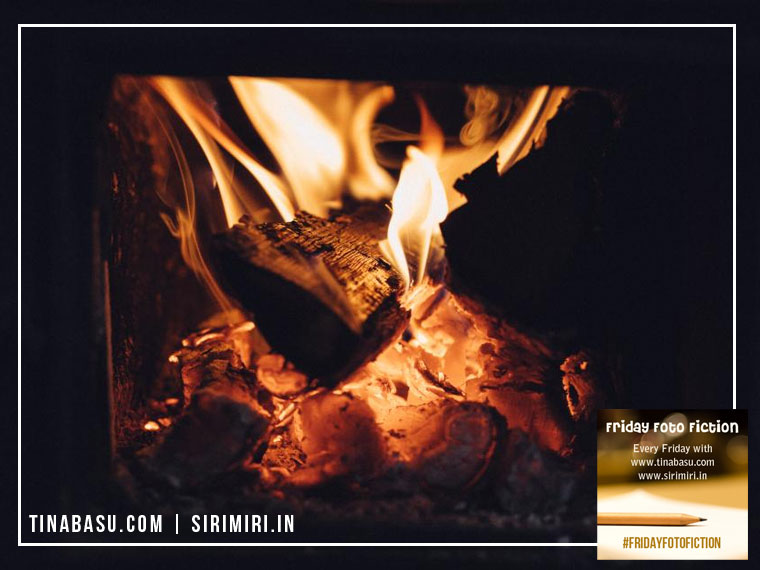 Did you Know? This was the Top Post on Indiblogger on Oct25th and trending on homepage!

The Demon – Fiction Writing Challenge – #FridayFotoFiction
She can breathe now. She was free.
Free from the clutches of the demon.
Years of agony had made her a stone.
If they want to take me away – so be it. If they hang me now – so be it. I have nothing to lose anymore. She thought as she sat amidst the ruins.
When he entered the room tonight, drunk, she knew she could do it today. All she needed was the lighter! She was lucky he was completely sloshed today while he forced himself on her, yet again.
For a minute she managed to gather enough strength to strangle him with her shackles. As he burnt in the fire, she let out a scream. She had finally defeated the demon, the demon who was her father. The demon who kept her alive in restraints in the cellar for seven years! Seven years that ruined her life forever.
©Tina Basu
Word Count – 150
#FridayFotoFiction Featured Blogger Oct 13-18
Last week we had 11 wonderful stories in the #FridayFotoFiction Fiction Writing Challenge. We, without a doubt love reading through them. But we do pick up a featured blogger every week.
The featured blogger for Oct- 13-18 is Monika from AluBhujia. Like her wonderful blog's name, she has been sending us spicy fiction pieces almost every week.
Monika is a teacher, homemaker and a mom. She loves writing amidst the daily routine work. And we already love her blog! Read her featured post Car Parking.
Congratulations Monika.
How to participate in #FridayFotoFiction Flash Fiction Writing Challenge
Follow @twinklingtina & @Mayuri6 , your hosts for #FridayFotofiction, on Twitter.
Every Thursday evening Tina and Mayuri will share a Photo Prompt with you on Twitter and on their respective blogs.
Write a 100-150 Word story based on or relevant to the given Photo Prompt.
Use the #FridayFotoFiction badge at the end of your posts.
Read, comment, share on the host and co-hosts posts and at least two more posts linked in the party.
Pro Tip – Networking and commenting are good for your blog's health and ranks.
Use #FridayFotoFiction in your post and share in on social media using the same hashtag.
Every week Tina and Mayuri will pick one featured blogger whose post impressed them the most.
Every month one winner will be picked from the participants. This winner will be picked on the basis of regular participation through the month and will win a cash voucher from Amazon.
Keep your fictions and engagement civil. Adult content/ affiliated links/ derogatory remarks/ hatred towards any religion is not allowed.
Grab the Badge