Hello hello… recently I wrote a flash fiction on Hashtag. And then saw even more posts on FB by people writing #Happy #Onam #Friends etc etc. So I thought I should dig out some details and information on the correct usage of a hashtag. I am in no way telling you I have mastered the art or am the Hashtag professor or anything. But there's no harm in sharing some knowledge.
# This symbol that you see on your key board, on your phone is the Hashtag symbol. Till some time back it was one of those silent and idle symbols which used to be present on the landline number pad on the right side of 0. And this symbol also denoted number while writing address, as in #3 so n so road. But now in the life and times of social media this tiny symbol # is quite the queen itself.
Now when you are putting # followed by a word without a space you are making that word a metadata tag. For instance, #HappyOnam. Now whenever someone is searching this metadata your tweet/post/photo appears in the search list. It is quite helpful in group searches.
Hashtagging is done across social media platforms to make your post/tweet more search friendly and more relevant. You could use it on Face Book, Twitter, Google Plus, Instagram etc etc. But hold on, you gotta use it differently across these platforms.
You could build your own brand/topic, you could follow a trend and see who's thinking what on a particular topic. You could run a campaign and ask people to join in. The latest being the #RiceBucketChallenge on twitter.
Check out this infographic on the History of Hashtag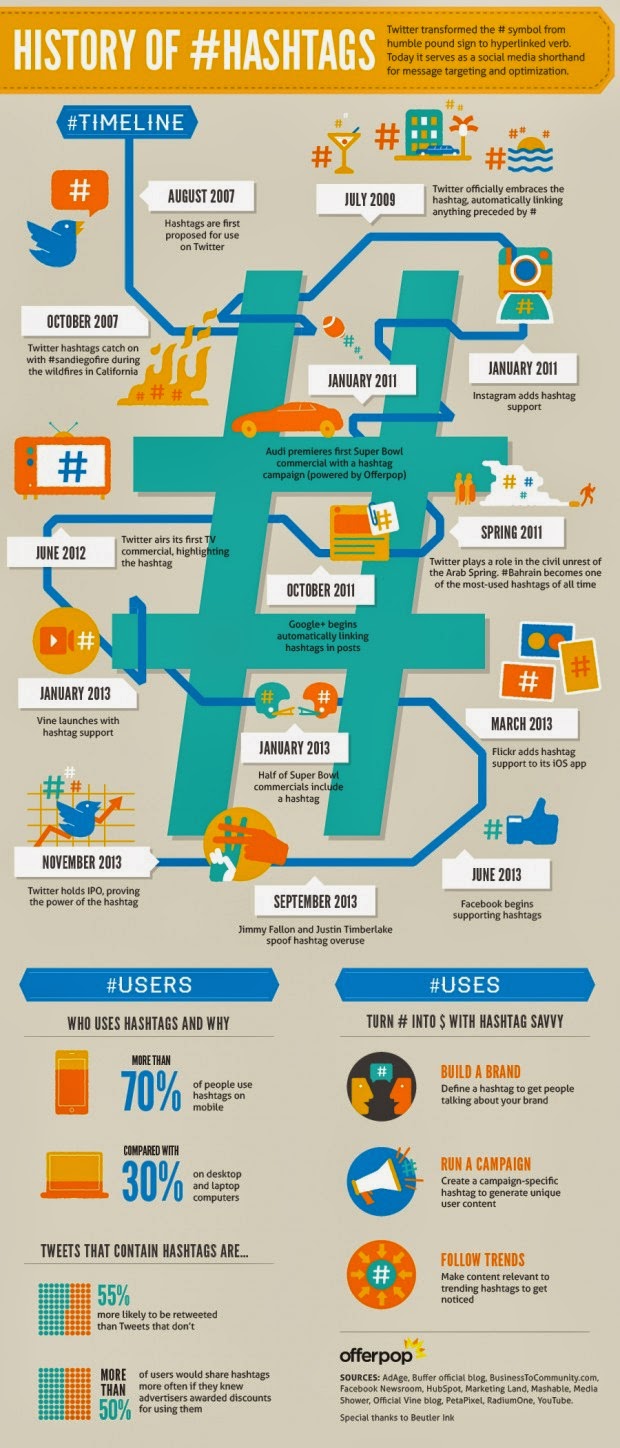 Infographic by
Offerpop
. Click image for full size.
The easiest way to make your tweet visible to the world other than your followers is to use a hashtag. So if I were to wish Onam or New Year to everyone and not just my followers on Twitter I would tweet it as #HappyOnam or #HappyNewYear and not #Happy #Onam or #Happy #new #year. Because no one will search to see a trend with only Happy or year! Well right now #HappyNewYear can also give you the search result of the Shah Rukh Khan's latest by the same name. hmm.. ok stop that grin.
While we were all going crazy over the World Cup Football in Brazil you would have noticed for every match FIFA gave out the Hashtag of the day #BRAvsGer or #ITAFRA or #CROMEX. Now these were the hashtags that you would use in your tweets so that they appeared in the search and people saw who is talking what about that particular match. Same is the case when Colours Tv gives out #JummeKiRaatwith Salman for the Friday Salman episodes of Big Boss. No it doesn't mean I watch it every time!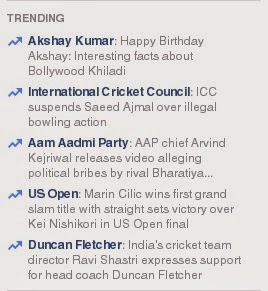 This is how the Trending Topics of the day appear
on Face Book. Not necessarily everything you put a
hashtag on will start trending.
Add hashtag to trending topics rather than adding to almost anything and everything you post. All hashtags will have a clickable link and your relevant post will appear in the trending topic. But as I said, go easy with your hashtags.
Even if you have Friends Only posts with Hashtags they are visible to Friends and not to the world. So you could be happy about that.
Now G+ is something I use rarely, may be only to connect with bloggers and blogging communities at times and never for connecting with friends and family. They don't even use G+, anyways, you could use hashtags for your blog topics as well. If you are dropping your blog link add a description with a hashtag, it is more likely that your link will appear when someone searches for a niche topic. Like if I were to submit my 100 word story link in a G+ community I would write "My latest #100WordStory up on blog" followed by the link.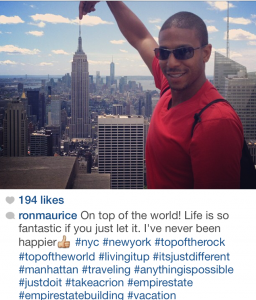 People also go crazy and sometimes put a
hashtag before every thing under the sun
Source
Hashtag on Instagram works in a completely different level. You may use as many hastagged words which is relevant to your picture. Because in Instagram you can search only with hashtag or by the username. So people go crazy and put #Beautiful #Moonlit #night #full #moon #Instapic #Indiapic etc etc etc. Practically, you should have a description or a caption for the photo followed by the hashtagged words so that they appear on search.
On Instagram, however, if you search and get your photo in the search list in the first few pages you are lucky!! People pour in with pictures and hashtags by seconds across the world. I find it quite difficult to figure out my photo in the search list if I have used a hashtag #selfie!!!
So you have loads of hashtag info here. So go easy with it guys and have fun. Social media after all is a place to have fun, something that I am doing right now.