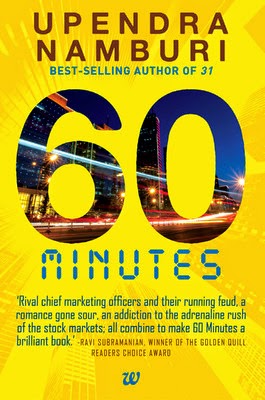 I told you I was going to be busy over the weekends reading books. I just finished this corporate drama called 60 Minutes by best-selling author Upendra Namburi. Now isn't the title itself intriguing?? That itself got me excited for this book. I like fast books. Anyways let's see how this one was.
As I told you it's a corporate drama and the story line starts at Mumbai at one of the biggest FMCG office BCL. (No guesses for which one it is really). So there is this new and important product launch for their latest detergent. The Chief Marketing Officer Agastya is all geared up for it and co-ordinating between their Global head and the head honchos. Just before the press conference he finds out their arch rival and competition Stark is launching a similar product the very next day at a lower price.
All hell breaks loose on the sales and marketing team at BCL. To add to it, Agastya has Maithili, his flame, demanding for merely some 15 crores, failing which she would expose about their affair and escapades (read sexcapades) to his wife Nandita. Now Agastya has 60 minutes to save both his marriage and his high profile job. Maithili, stung with betrayal seeks revenge and wants to turn Agastya's world upside down both financially and emotionally. She has 60 minutes in hands for it. What will Agastya do? Will he succumb to the crisis or come out? What does one do when your job, assets, marriage are at stake?
This book is a roller coaster ride. From the pressures of product launch and crisis management at crucial moment to an illicit affair and a breaking marriage, it offers quite a gamut of emotions and rush. Being in an FMCG sales and marketing division myself I totally could resonate with the rush of a product launch and the trouble that a competition product can pose on the day of a product launch. I thought it was a little too detailed though.
Everything is fair in love and war and these days it's not always ethics or morals that matter. Now coming to the title 60 Minutes I thought the entire story line would be within a span of 60 minutes, but it's not quite that. It goes into flash back often without any order that too. Maithili is the woman with the enigma. I quite liked how she meets Agastya at Geoffrey's and how they go in for a crazy drive in their cars. I somehow quite liked Maithili!!!
Now if you are quite aware of the FMCG situation in India then you would know this is a typical case of HUL & P&G fighting it out in the middle with below the belt punches. It's nice how you weave a story around it. Well, some places I thought it got dragged but otherwise it a nice breezy read.
As you would have guessed already Upendra Namburi is an ex corporate guy who has now taken up the pen. His debut novel 31 was a bestseller. He has done a good job to weave a story around the mean corporate world. You can read more about him here.
My Rating – 3 out of 5. It a nice weekend read.
BOOK DETAILS
Publisher
Westland
Publication Year
2014 June
ISBN-13
9789384030247
ISBN-10
9384030244
Language
English
Edition
1st
Binding
Paperback
Number of Pages
372 Pages