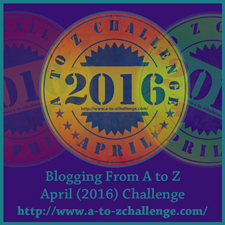 Hello Peeps… you all know how much I love to write. But there are times because of various reasons I am missing from the blogging sphere. I have been wanting to come back and write more often. But responsibilities, duties, parenthood has been keeping me away from my laptop. The little gets jealous of the laptop and the phone!
Now April is almost here, so I am thinking of taking up the April A to Z Challenge 2016. What say? Since I'll be participating I'll be focused and I'll know I'll be putting up at least 26 posts! You do know about the A to Z Challenge right?
You are seriously thinking about the challenge??? I'll tell you what you need to do.
1.

Select a theme for your challenge
2.

Write and Post everyday throughout April minus the Sundays – i.e. 26 posts
3.

Everyday the topic should start with the Alphabet from A to Z, starting from April 1
e.g. April 1 – is for A, April 2 – B, April 3 – C and so on.
4. Share, Visit, Read, Comment and you are all set to become a celebrity – (in the Blogging sphere!)
5. On Sundays enjoy a holiday!!!
And oh yes – if you don't post for 5 consecutive days then you'll be disqualified.
So tomorrow's the theme reveal and I am organizing my theme and posts so that I am prepared!!
Last time I participated in the challenge it was quite fun. I did that from two of my blogs. Sunny Side and my cook blog – Twinkling Tina Cooks. And believe me people, posting everyday from a cook blog is a mighty big challenging task. It involves, preparing, clicking photos, editing photos, writing posts, sharing and visiting other posts!! Phew!!
This time too I am being very brave and participating in the challenge from both of my blogs!!! So guys wish me best.
See ya tomorrow! Visit back for the theme reveal tomorrow. I promise it's going to be exciting this time around too.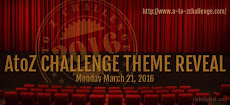 I am staking claim to A to Z Challenge along with Blogchatter community