Hello people, hope you guys are having a lovely Monday morning. So what are your plans for the day?? Like apart from the mundane stuff and going to work? You know sometimes I feel we are losing ourselves in the rat race of life. And if you are a working mama with an infant or a toddler I know exactly what your situation is. I don't want to be in that rat race and sulk and complain. I guess I need to be doing something that will give me joy even if it's a teeny tiny bit of joy. So I have decided I'll do something new each day. That could be random stuffs like reading something new, craft, some new recipe, a new story for my son.
Anyways, April's looking to be exciting and challenging. As promised I am back with my theme for this year's A to Z Challenge! I am thinking of not doing a series of micro fiction this time. I have done that in 2014 already. You could check my 2014 A to Z Challenge here. I was thinking why don't I share some of my experiences from life. Thirty years is enough to gather loads and loads of experiences I guess! [Are you thinking why I just mentioned my age??? I really don't follow those mentality of don't ask a girl/ woman her age!! I mean why should I be embarrassed to tell my age!! Absolutely silly].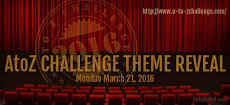 Okay coming back to the challenge – my theme this year is going to be ANECDOTES. Yes I am going to share little anecdotes from various incidents that have happened so far in life. These will be from childhood, to travel stories, to pregnancy and many more.
I am not listing down the A to Z now, because who knows I might come across something funny during the challenge as well!
So guys visit back every day in April and know a little more from my life!
People, I am also participating from my Cook Blog. Check the Theme Reveal there. Show some love to Twinkling Tina Cooks