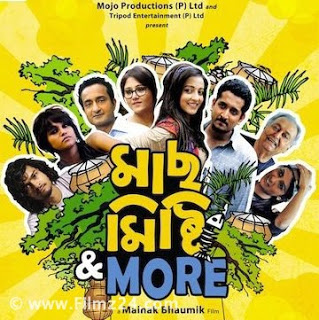 Hey lovely people, I am again back after yet another short break. I know it's insane the way I am blogging these days. When I get to see the Indiranks I get scared as if I am not getting marks in exam. My other blog
'twinkling tina cooks'
has gone down to a rank of 30!!! That's like suicide – have not posted there for 3 months now I guess. And I am thinking of starting another blog! These days I keep feeling I am losing market share! Hahaha another FMCG marketing funda, we keep discussing all the time.
Ok let's come back to the original post. I watched a few Bengali movies – seems like ages since I saw a Bong movie – forget watching at the theatre. So both will be up for review soon (and this time I'll make sure it will be soon and not S—-O—-O—-N!)
Mach Mishti & More by Mainak Bhaumik is a Jan 2013 release but I watched it late and so the review is late but nonetheless it's for the set of people like me (who are not in Kol and can't get to see a Bong movie). This Urban tale is about a typical Bengali household which has a fun loving dadu (grandfather), a caring & perpetually tensed ma, a retired baba (father), and three brothers with their own problems – both professional & love life crisis.
The cosmopolitan 'City of Joy' acts as a charm where people contemplate, fall in love, figure out their life's calling and get their partners. This movie is fun and very different from the movies that has been doing the rounds in the Bengali film industry recently (what I see when [and if] I switch through the Bengali music channels).
The story starts with the eldest brother Rahul(Shauvik Kundagrami) who lands up from US with his wife Reena (Swastika Mukherjee) with an undisclosed plan in his mind. He drops the bomb at dinner table and the family is stunned to hear that he left his high paying job in the US and has returned to fulfill his dream of becoming a chef! He wants to open a restaurant – 'The American version of Bhojohori Manna' [Any Bengali from Kolkata or who has visited Kolkata in last 5 years would know about this].
Rony (Parambrata Chattopadhyay) the second brother is trying to get a foothold to scale up the corporate ladder and is happy with his paycheck and Swatihis 'Marwari' girlfriend. His only problem is Swati's demand of getting married quickly and her pushy businessman father who wants only the best for his daughter (no harm there).
The youngest brother Raju (Anubrata Basu) thinks he is different from his family and is wiser than the rest. He likes his own space and doesn't like his mother to enter the room without knocking (read: he needs time to hide his 'male friendly' magazines) and he also doesn't believe in serious relationships. He aspires to be an actor.
But for me the hero of the movie is the dadu– Soumitra Chattopadhyay – (he still is effortless even at this age.) He is the most lively character of the movie who believes in 'living life king size' and doesn't bother about the doctors prescribed way – either in his diet or being confined in his room. He likes to visit a nearby tea stall and enjoy his 'singaras' (samosas) and observe the younger generation. He believes if the mind is in sync with the body one can lead a happy life. He doesn't think before helping a young girl Sunny (Parno Mittra) to get to the guy she admires, he helps with his tips on love and courting.
Now going back to the elder brother, Rahulfinds it difficult to get works done for his restaurant by the workers. He is helped by June (Pamela Singh) and associate of his friend but things doesn't work out much with delays thanks to the holiday and festival loving mindset of people there. And before he realizes he is in an extramarital affair with June. His wife Reena is bored and unhappy in the city alone away from the lifestyle she had in US. She moves back to her mother's place after finding out about this affair.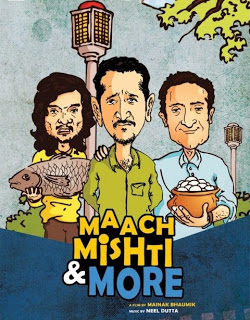 Rony on the other hand finds himself dumped by Swati for delaying marriage plans. He finds himself suffocating with the rich father-in-law-to-be gifting them flats, advancing hefty amount for a Satya Paul lehenga, booking their honeymoon to Pattaya (for some reason the actress pronounces it as Pa-te-ya !! I don't know why) and so on. He happens to meet his long time college friend Ishani (Raima Sen) in the city who works as a yoga instructor and reiki practitioner (some color therapy mumbo jumbo). Ishani helps Rony to find his true calling – whether he is happy with his relationship with Swati and over the time falls in love with him.
Raju on the other hand meets Neha – a young girl from Mumbai working with Yash Raj Films – who also happens to be a long distant family friend's daughter. She is the rock solid character who shows Raju the way – from his career to life.
Well I can't be telling you the entire story here. But there are few things that I have to mention. It's not the story which is extra ordinary or something. It's a regular story and that is what does the trick. It's the real characters from everyday life that makes all the difference. With the panic stricken mother lamenting "Ranna korbe bole oto boro chakri ta chere chole elo!!" to the Marwari businessman telling, "Bangalis toh sirf adda hi mar sakte hai" or him enquiring about Rony's salary "Forty five thousand after tax or before?"

Mainak Bhaukim you have done a good job and I am happy that I watched this movie. I liked the fact that the female star cast has been given meaningful roles. They are the people who are the pivots and change the outlook/thoughts of their counterparts. I am tired of watching females being portrayed as the docile girlfriends or being a second fiddle to the heros. Good story line, distinct characterization and good humor in places. There is no song dance sequence in exotic locations (which is the current trend in Bong movies I think) and the music is nice.
But Soumitra Chatterjee takes the cake with his small and delightful role though.
You will also have to watch till the end to figure out what is Maach Mishti & More
J
.
My rating – 4/5
The movie is already out in Youtube and you can watch it
here
. [No it's not a paid review and no one has asked me to market/advertise/propagate about it]
P.S. – If you are wondering that I know each actors good name inspite of not being a Bengali Movie enthusiast let me tell you it's all with the help of IMDB & TOI otherwise I am really out of touch Tollywood currently.
Image Source: Google Images