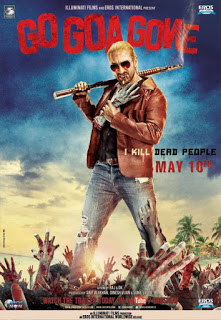 When do we watch movies? And why do we watch movies? I watch them either when I plan to go out for some entertainment or watch them when I am bored and don't seem to find anything to do. And one fine evening after work I decided to watch this new Saif Ali Khan movie –
Go Goa Gone
.
The evening though boring was a little better till I started watching this media-hyped "zom-com".
And the very next day I saw various reviews online and some even giving 4 stars (4 out of 5) for this movie [IMDB has a 7.4 out of 10!!!!]. Thus I can't help and am compelled now to put up a review – an honest review.
"Karma is a beetch" – and yes I can very well relate to it now. Either it is my karma or Mr. Khan's who is playing foul. All my last experiences of watching Illuminati Films (Saif Ali Khan's production house) produced movies have been bad (read – waste of money) with films like Love Ajkal, Agent Vinod, Cocktail. And this is not very different either. [You can read my review of Cocktail here].
The Plot (really was there a plot/story?)
Luv (Vir Das) just after being cheated by his girlfriend decides to take a much needed 'break-up break' to get back to his macho state. With his two friends Hardik (Kunal Khemu) & Bunny (Anand Tiwari) he goes on an impromptu trip Goa. They land up on a deserted island for a rave party organized by the Russian mafia which promises them fun, frolic, damsels and drugs. People are introduced to a new drug which is supposedly the mother of all drugs – more powerful than cocaine & ecstasy. After making love on beach, and spending time with firangi girls they wake up next morning to find everyone who consumed the new drug turning into a zombie. And with that their run starts to escape from the island alive. They are helped by the supposed Russian mafia biggie Boris (Saif Ali Khan) & his aide Nikolai (some other firang).
My views (yes I have lots of it)
Let's talk about the good things first. Kunal Khemu is the brighter one who stands out with his comic timings, dialogues and some good one liners. [He is also one of the dialogue writers, so I am assuming he kept the best for himself].
Vir Das I found him okay and not that funny. The other guy Bunny manages his comic timings well. There is also this girl Luna (Pooja Gupta) and the movie could have done without her or any female character. But yes of course you need a heroine (if she was that) in hot pants to show some skin as is the trend in Bollywood now. Her character doesn't contribute much apart from the leg show and keeping the hormone levels of the boys in control. Saif Ali Khan doesn't impress either with his blonde look or with his crazy Russian accent. I found him irritating.
Inspired (or copied) from bits and pieces from 28 Day Later, Resident Evil series I found the zombie logic very similar. People die from the overdose of drug and turn into zombies with only a little part of their brain functioning which recognizes the basic instinct of hunger. [This is not my logic, but was given by The Red Queen, in Resident Evil if you have seen some good movies].
All the three leads plays too dumb when they try to guess what are these creatures. "What are they called V…V.., who suck blood and are scared of sun light?" "Kya bolte hain unhe Z..Z… Zom…?" Are you kidding me? I would have understood if this movie was made with the mass in mind. I don't think the TG was the mass of India.
Touted as India's first zombie movie and blah blah I don't understand the logic behind saying Zombies are new to India. Duhh ahh!!! So what? What is so special that you are doing by bringing zombies in Goa? [I am not sure if its shot in Goa at all].
Music wise its okay, nothing too great. The tracks Babaji ki Booti , Slowly Slowly & Khushamadeed are likable.
Saif probably wanted to give a push to Kunal's career with this movie. It turns out to be a Khan family outing with Soha Ali Khan appearing in scenes when Hardik talks about his girlfriend. [If you don't read gossip magazine, or TOI for that matter, then the info is Soha Ali & Khemu are dating each other for a long time]. But again its only Kunal Khemu who scores the goal in the movie.
It makes you laugh at places but otherwise is boring. Comedy looks easy but is difficult to create. This to me was less comedy & more of a failed spoof of some other movies. Thank God it didn't have a song/dance sequence of the Zombies inspired from Thriller (though it had a scene of the 'Golimar' song playing in the TV – where Cheeranjeevi does a Thriller inspired jig in red leather pants!). [The 'Golimar' song from the Telugu film Donga however has been a rage on Youtube. You can watch it here.]
Coming back to GGG, the movie ends (again like Resident Evil) with an impending hint of a sequel [God save me from that].
So 'what do we know and what have we learnt'– that Zombies are slow and I am not watching a Illuminati Films produced Saif Ali Khan movie any more. Period.
Why 2?? For the one liners by Kunal Khemu.