These days I am driving to work, because it's getting too hot, and I don't want to get into a bus these days, mornings fine, but evenings sometimes it's a disaster. I have no idea when I will get over on any particular day I get late often. Getting into a local bus that time is tricky. Forget about space to sit, you can barely stand. Yes this happens in the AC Volvo buses (those are the ones that I take but still suffer in the evenings when I am late).
I absolutely despise the people who don't care about fellow travelers and have their sweaty armpits for display. I mean, please guys invest in a deo at least or the ones they tell about 'only perfume, no gas', but don't murder other passengers with the bad odour. Anyways that's precisely the reason I am giving myself some respite and driving down from Electronic City to Old Airport Road [yeah that far and for those who don't know it's about 20 kms, one side.]
The newest trends that I am listening to during my drives these days are the political radio ads. I will do one more post on them and link it sometime later. But believe me guys they are hilarious and then they get irritating. I mean how many times am I going to listen to the bullshit of "Jisne meri Zindagi Badli" and "I am development I am coming to India because he is coming"!!! It's not funny anymore.
Not when I see the condition of the roads that I drive through. Specially the one that is right in front of my house. The Neeladri Road in EC Phase 1 is the single most important road that connects Electronic City residential areas to all the corporate big wigs like Wipro, Infosys, HP, HLC and I don't know how many. You should look at the condition of the roads and you will know why I am writing this post. It's been like this and worsening by the day for about a year now and with complete Govt. apathy.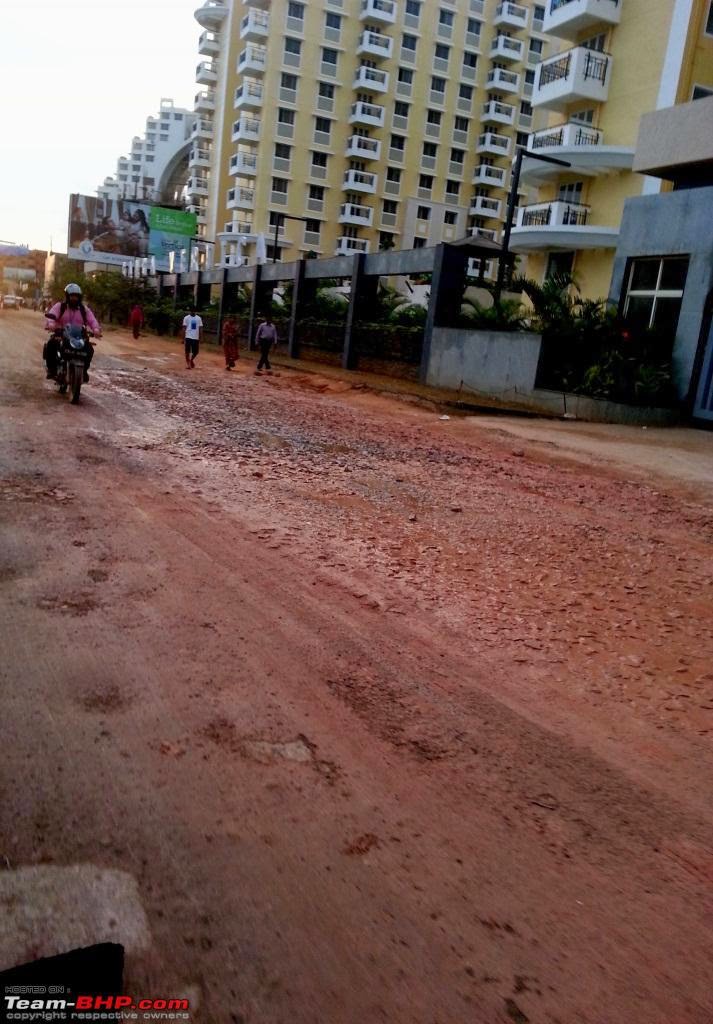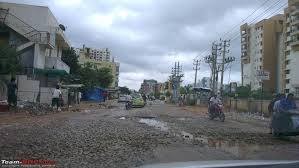 So definitely 'meri zindagi to badly hai nahi' and I have no idea how much 'development' Bangalore will see. These are some of the snaps before the start of the monsoon this year. And with the rains starting we need to invest in boats, I guess, and keep our cars locked in the garage!!!
This road connects Bannerghatta road to EC and you see many taking this route to avoid Jayanagar-BTM-Silk Board Route.
If you try to understand why no road repair has been happening here then you will get to the classic Indian case of 'it-is-not-under-me' syndrome and so no organization/board wants to take the responsibility. The residents and commuters instead face the brunt of this apathy every single day.
BBMP says they are not responsible, ELCIA (the body who is supposed to look after the development and infrastructure of EC) says we will maintain only till Wipro other than that they are not interested, local MLA says, we don't have money so a Pvt. builder will maintain the road. The builder wants some recognition and wants the illegal encroachment to be taken off first and the PWD says they have no idea how to take off the encroachments on road!
So you can see the loop is still not closed and it's like those elastics which you can stretch and keep going round and round till you forget what you were doing!
There are also these entities who are the so called individual small builders. You can see

two kinds of properties in EC – one by reputed builders (don't know how reputed but at least they have clear papers) and the second are the famous ones who doesn't pay any developmental fee to BBMP/BDA but rather pay bribe to get their project sanctioned. You can see these single building apartments mushrooming in every nook and corner and they neither have a proper drainage system nor have any clear papers. So the BDA says, they have not paid money we are not going to work there.
Now who the hell is going to lay the roads??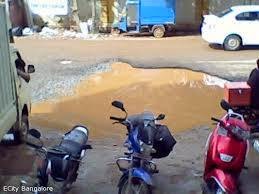 It has become an accident prone zone, there aren't any more potholes, they are craters and you have heavy trucks, construction trucks, cars, buses everything plying through them. I can't believe a road like this can exist in a city like Bangalore. What must be the situation in smaller towns in some other state! It is especially bad for all the expecting ladies to commute through these roads, if they meet with a tragedy it will be their loss not of any other organization/board and thus they are just not bothered.
And just before the election you will find all MLAs going from complex to complex asking for votes and doing hundred promises [like the one in the recent Idea Cellular Advert – yes that 'no ullu banaying' one]
So this time these guys better do the work first, do something good and then we can think on voting. I can see many things have already happened with Change.org, Bangalore Mirror reporting, I remember watching an episode on NDTV citizen journalist on this road issue, but that has been happening for more than a year. As usual NOTHING HAS HAPPENED. We have only wasted time and energy and have done rounds with MLAs, their secretaries, CM's office and god knows who all.
This time around we have decided on NO ROAD NO VOTE. Enough has been said and nothing has been done, and if you don't stand up to it nothing will ever happen. They better lay the tar road (which you can see now like some sprinklers, as they are hardly there). I am going to participate in this campaign, because truly, these guys don't deserve a vote.
The way things are going the Govt might want you to repair it yourself one day. Today the people on Neeladri Road are facing this, I am sure there are many more such cases waiting to see the light of the day.
If you are facing such a problem nearby don't wait for someone to listen to you, and if you are staying in Electronic City Bangalore join the movement. There is a demonstration on 27th March 8 AM to 10
AM
near Genesis Eco Sphere apartment one Neeladri Road. You can follow
#neeladriroadblore

on twitter or
https://www.facebook.com/saveneeladriroad
on Face book.