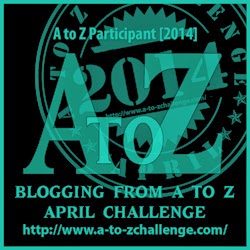 Its day 18 and only 8 more days left!!! So soon??? Really I still remember the day when I was sitting down to decide my theme and then contemplating if I'll be able to keep up with the challenge with both the blogs. And I think I am doing quite good specially from the cook blog. Some days when I am tired and sleepy after work I really don't feel like writing a fiction… I mean how do you think of something when you are half sleepy? Those are the days when I tried to finish of in like 7-8 sentences!! But I am quite happy with some of the works that I wrote in the last 18 days.
Okay I am going to go ahead with my R post. Its Regret for R today.
Only if she had Listened
She worked really hard… she had no other options, she had to provide for herself and secure her future.
She also had to save up for the little one on its way.
The hectic schedule on her job and the night school was taking a toll on her health, but she had to be on foot everyday without a miss.
She sometimes looked at couples at the café, where he worked, and thought about her times with Nathan. They were in high school together and were into each other like mad.
She was head over heels in love with him and ignored all the advice that dad had for her. She dropped out from school following him and took the garage job with him to be with him.
She was happy in her life and didn't realize what she was losing away, she didn't realize till the day she got to know he just left her and went away… and a month later she found herself expecting their baby.
She still regrets that she ignored all that her dad had warned about but mostly she regrets not completing her education. Thus attending the night school was very important…. Very important her her and her little champ.
————————————————————————————————————————
Linking this post to A to Z Challenge 2014 for Day #18 – post starting with R.
Visit
A to Z
and read awesome posts by bloggers.
I am also participating in this challenge from my cook blog. Visit
Twinkling Tina Cooks
for awesome indulgent recipes, and show some love.
——————————————————————————————
Leave a comment below if you liked the flash fiction and if you want me to write more. Your comments mean a lot to me.