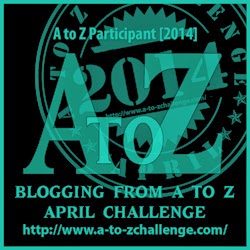 Day 19 and I am here with the word Sheepish. Isn't quite an emotion but still is good enough for being in my list!
There you go with this one. And for the earlier ones click here.
Rohan was glued to his phone most of the time. Sometimes his mum cursed the decision of buying him the new smart phone for his birthday. She never understood what was there to do in the phone entire day.
Earlier she was getting irritated with the constant ping sounds, but thank god it doesn't ring so many times these days.
Today Rohan, like all other days, was busy what's apping while slouching in the couch. It was like his daily routine after coming back from college when mum sat down with her evening cup of tea in front of the TV.
"Rohan, how was college today?"
"Good…"
"How was the physics class?"
"Okay…"
"What okay?"
"It was fine Ma…"
"This weekend we have to visit the Mehra's, they have a puja at home"
"hmm…"
"Will you wear a kurta?"
"aaa…hmm."
"You look handsome in Kurta Pajama"
"hmm…"
"Who's this girlfriend?"
"Preeti …"
"Ohhh", said mom with a chuckle
Rohan looked up from his phone when he realized he had just given out the name to mom! He gave a sheepish smile to mom and clarified "Nothing like that… we are just friends"
"Ohh.. I never asked anything…", mom had a hidden smile in her voice
"Mom… there's nothing…"
As Rohan got up from the couch and rushed towards his room, mom caught that sheepish look on his face. She knew her baby is in his teens now and this was nothing unusual… but she still enjoyed that look on his face!
————————————————————————————————————————
Linking this post to A to Z Challenge 2014 for Day #19 – post starting with S.
Visit
A to Z
and read awesome posts by bloggers.
I am also participating in this challenge from my cook blog. Visit
Twinkling Tina Cooks
for awesome indulgent recipes, and show some love.
——————————————————————————————
Leave a comment below if you liked the flash fiction and if you want me to write more. Your comments mean a lot to me.