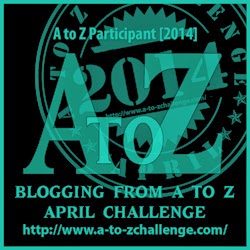 Did I tell you guys I'll keep the posts short?? Now forget that I told that, I am being pathetic in keeping the word count for sometime. Today was quite a hectic day and on top of that i am sitting now with two red eyes and pathetic burning feeling in them. I was writing my post and thought i'll finish it in five sentences, close the laptop and just sleep… and here I am writing it for last half an hour, actually writing and rewriting and it became long!!
Do you really mind if it's little longish? Please let me know… if yes I'll push myself to keep a stronger check on the word count!!
Today is J and what better that Jealousy for the emotion. Now the obvious thoughts for jealousy were girl friend boy friend kind or sibling rivalry kind or something to do with sports… but then i thought of this and i stuck to it somehow!
OMG its already Day 10 and I have not missed posting a single day… Power to me!!!
The Promotion
Some said don't do it, some said think before you take the next step and some said listen to your heart.
For Aarti Malhotra it was always using the mind before using her heart, but she had listened to her heart that time.
She was the quintessential go getter all her life. For this IIT IIM graduate climbing the corporate ladder was not a very big deal. She had worked in difficult situations and managed crisis with care. She had prioritized her work before everything – be it the family functions, cousin's marriages, festivals or anything else.
She had met Vivek Raizada in this company and known him for some time. They had a great working relationship and shared mutual feelings for each other. Aarti was not sure if she was completely in love with him or not but when Vivek proposed her for marriage she had promptly agreed… much against her family's wishes.
For her age, position or wealth didn't matter that much as was the educational qualification. She knew Vivek was highly qualified and he was a nice person, so what if he was younger to her by two years. She had listened to her heart and not thought about pros and cons while deciding to get married to him.
Life was good enough, Vivek was a good husband and a good father to their new born baby and he cared for them. When she joined back after her break it was fun to be in the same board room, which Vivek was part of now after his recent promotion.
But all hell broke loose on the day of the meeting with the chairman who was highly impressed with Aarti, her work and her dedication towards the company. He knew she was the go getter that the company needed to expand their international business. He named her the new CEO of their Foreign Business division much to her surprise and her delight. She felt her dream was turning true, she always had it in mind that she will be the CEO some day, just didn't know it will be so soon.
There were many happy faces in the board room who congratulated Aarti on her new elevation. One face among them didn't show much of a delight, for Vivek was eyeing this position for some time and had a good chat with the chairman over breakfast where he had sounded quite optimistic. Vivek felt he was a better candidate for the international business expansion with his foreign degree and felt he was much more deserving than his wife.
For few months he tried to console himself, but Aarti's now beefed up paycheck was not helping him to forget what he missed out on. How he wished she had stood down on the offer and endorsed him for the position. His outlook towards his wife started changing with this one announcement.
The little disagreements were turning into regular clashes between the two and Aarti didn't realize why he had changed so much suddenly. She didn't understand why he got upset before her business trips.
She didn't see what everyone else could see, jealousy had crept in between the couple and it was taking a turn towards worse. They had traveled great distances work partners to life partners but now they felt as rivals staying under one roof.
Aarti felt sad today while signing on the decree of divorce, but she knew she had no other option. She wanted a peaceful life for her daughter and she knew she will not be able to provide her that in that house which had become a loud, noisy and quarrelsome one… an environment which had only jealousy and hatred in the air.
——————————————————————————————
Visit A to Z and read awesome posts by bloggers.
I am also participating in this challenge from my cook blog. Visit Twinkling Tina Cooks for awesome indulgent recipes, and show some love.
——————————————————————————————
Leave a comment below if you liked the flash fiction and if you want me to write more. Your comments mean a lot to me.