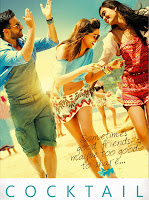 There are movies which you look forward to, watch and enjoy and there are movies which you sit through and think why you are watching this movie and repent afterwards when you realize you have wasted your time energy and money on it. Yes money because I watch in multiplexes who charge like insane on weekends. This was the very same situation I found myself in when I went for Cocktail last Saturday. And my only question is WHY… Why did I choose to go with the saucy marketing? Why did the makers plan to torture the audience? And why for God's sake Saif Ali Khan thought he will gel with actresses half his age?
The story in short: (There isn't much to it in any way.) Delhi girl Meera (Diana Penty) finds herself duped and stranded when she reaches London to be with her newlywed husband Kunal (Randeep Hooda). She decides to hang around in London with the 'rich-bitch' party girl Veronica (Deepika Padukone) who she meets at a rest room! And they happen to land upon flirt master Gautam (Saif Ali Khan) who tries to pursue any and every girl in sight. Within the no-commitment-only-pleasure relation between Gautam & Veronica he suddenly finds he is in love with Meera and she also gathers up similar feelings – and the boring love triangle begins. And throughout the movie there isn't much apart from discos, parties and booze!!!
In short: the entire movie is predictable from the word go.
The first half of the movie is fast paced everything happening in every frame and post interval it's boring & clichéd. The committed Gautam starts sleeping on the couch and the party girl starts partying harder and pushes herself towards destruction. There are enough tears and sobs to put you to sleep if you happen to watch the movie.
I quite liked Imtiaz Ali stories even if they were whacky – but this one is a disaster. The characters are weak and fail to create any impression. Apart from Meera none of the characters behave normal. Dimple Kapadia as the Punjabi mom creates a caricature of herself with weird pronunciations and stupid dialogues. Boman Irani though tries to be funny isn't funny at all even with his Tinku dialogues.
Coming back to Saif – what's wrong with him? He is looking like a hair receding uncle who is desperately trying to look young and tries too hard to pull up a Salman Khan like act. I don't know if everyone thought like that but I do… he definitely needs a reality check – either get more botox or work with heroines of your own age. As Veronica, Deepika was her brattiest best, even though over the top but still okay. I seriously don't know what Randeep Hooda was doing in the movie – barely there for 15 mins. I still need to figure out how & why he had a broken nose!!
Songs were forgettable. The only song which I looked forward to – tum hi ho bandhu – turned out sour – I think for playing it again and again in all music channels for last few months. There is a slow number sung by Amitabh Bachchan too! One liners were scattered throughout and were almost forgettable apart from few like – 'I am carrying his bun in my oven', 'you are lonely I'm, characterless'.
Only few good things in the movie were probably the fresh smile of Diana Penty and the ladies' styling in some good high street fashion. And for me the best part of the movie was another one liner 'you love me, I love her' apart from the tub of cheese popcorn we had at Fame. I don't even know what else I can like in the movie.
There can be only two explanations for this – when the writers were writing the story their drinks turned out to be some stupid mocktails or it's just jinxed because the movie was released on a certain Friday the 13th. Mr.
Homi Adajania
please keep the innocent audience in mind and have mercy on them next time.
This Cocktail didn't go down quite well with me – turned out to be a club soda without any fizz!!
P.S. – My yardstick for judging bad movies are Ra.One & Tees Mar Khan and Cocktail is little better than both so I am going to score it 1.5/5.
Leave your comments if you also felt the same or otherwise.