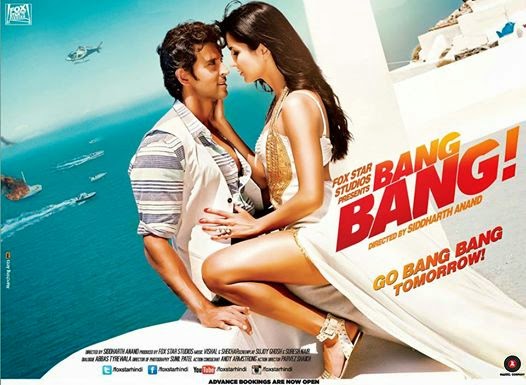 How can I not watch this movie First Day First Show and how can I not review it. I have been waiting for this movie like many others and I grabbed the first chance to book the tickets the day bookings opened. Now hold on I know you all know I am a big fan of Hrithik and am absolutely crazy about him, and you do not expect an objective review on his film from me. But hold on guys that is exactly what I am going to do – give a brutally honest review for the movie. So read on.
So let's get to the story first. ISS or Internal Secret Services of India is after the most wanted criminal Omar Zaffer (Danny Denzongappa) – who prefers to introduce himself as Zaffer, Omar Zaffer. With help of Hamid Gul (javed Jaffrey) he manages to escape from MI6 office in London after killing an ISS officer and practically destroying MI6 HQ. Zaffer feels the best way to disturb the impending extradition treaty, between the two countries, is by stealing the Kohinoor diamond and the thief must be Indian. And as expected it gets stolen by the mysterious and not-so-secret Rajveer Nanda (Hrithik Roshan).
Back in Shimla bank receptionist Harleen (Katrina) leads a monotonous life and lives with her over enthusiastic grandmother. Rajveer encounters Harleenand instant chemistry fly between the two. Harleenis unaware of the true identity of Rajveerand fate makes her tag along with him in this run for life. Who is this Rajveer Nanda? Why did he steal the diamond? What he does with it? How Harleen feels for him and helps him is what all Bang Bang is about.
If you follow Hindi films – potboilers that is you will get the story line in the first few minutes but hold on – do you watch a movie to analyze story or get an experience?
Now coming to the part that I like to write about – MY EXPERIENCES. Okay before anything – can I just say Hrithik – I love you. This movie is a Hrithik Roshan movie and you hardly require anything else in it to make you fall in love with him over again.
But there is a big BUT. The director does some grave mistakes which make a worshiper of Hrithik feel bad – a tad little bit. For a good 20 minutes from the start there is no sign of Hrithik in the movie! How can you digest that!!! Even in an Imax where girls are screaming, whistling just for one look of the hero he is kept away from the screen apart from a 1 second slow mo shot. That Mr. Anand was a heinous crime. In a Hrithik movie the only thing audience wants to see is Hrithik and not scores of other characters taking up all the screen space.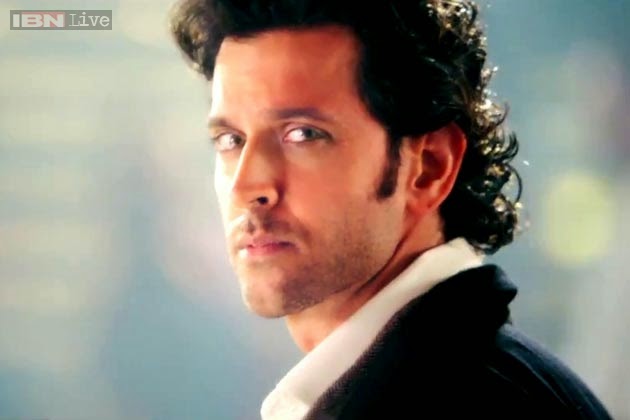 He could kill you with those eyes alone
The movie starts a little slow with numerous scenes establishing Harleen, Hamid Gul, Harleen's bank manager etc etc. but once Mr. Roshan gets in, he seizes the moment and all our hearts. He looks dapper, dances like dreams, kills like a terminator and charms everyone with his effervescent style. There is nothing that you can complain about once you look in those mesmerizing green eyes. Hrithik completely floors you with his charm and his performance. The film solely rests on his able shoulders. I can keep writing about how awesome he looks, how sexy his abs is, how poetic his dance is, but I'll do that a little later.
Coming to Katrina, she talks and talks and talks and yes she looks hot in polka dot bikini tops and dresses. Apart from that I didn't quite shift my eye balls from Hrithik throughout the movie. For her it's like any other of her characters. The songs were already a huge hit and the moment Tu Meri starts you hear whistles from across the theatre. I wish my whistles had some sounds though. But yes Tu Meri, Meherban and the Bang Bang title tracks are whistle worthy. Meherban shot in picturesque Greece looks like a dream and it is hotness personified by both. And when you realize that Hithik shot all of that with his bouts of severe headaches (when he was going through his health woes before his brain surgery) you feel how great the man is. Even in his worst times he looks like billion dollars. In the Bang Bang title track which is his tribute for MJ he almost reinvents the moonwalk. This song comes at the end of the movie and not a single person left the theater till the last shot of the song. So you can now imagine how nice it is.
The second half is what takes your breath away with stylized action sequences, car chases, a good amount of hero dosages and a breath taking kissing scene. I am in fact extremely J now to see HR kiss Katrina the way he did! It is one of the best on screen kisses that I have seen lately. It's neither a blink and miss as in Dhoom2 nor any cheesy cheeky type. It is, as I said, hotness personified.
Fly boarding, jet skiing behind a sea plane, F1 car, fast bikes, super action sequence it offers an adrenalin rush. High on gloss, high on glamour Bang Bang is an action packed Bolly flick. If you start dissecting the movie with story, logic, philosophy blah blah then you are going the wrong way. It's the official remake of Knight & Day and it fares quite nicely for me. I remember watching Knight and Day on a movie date with my husband – who was not my husband then. But I don't remember much about the movie but I will never forget my Bang Bang experience. An experience of loving the man on screen every second, an experience of watching poetry in motion, an experience of being starry eyed like a school kid.
If I have to rate the movie I will do it in several steps. Story – 3 /5, Action 4/5, Direction 3/5, Drama 3/5 Songs 4/5, Dialogue 3/5 and Hrithik – a ten out of 5, his Bang Bang MJ tribute is timeless. In all I enjoyed my 150 minutes and at the end of it I wanted even more and asked why did it end? I can have more of Hrithik any day anytime.
BTW coming to my verdict – overall it is not the finest performance by Hrithik, honestly, but he does great justice to the role and is a master in this space. He is meant for these larger than life roles and Im extremely happy watching him. For me his best performances still remain Jodha Akbar, Kaho na Pyar Hai, Koi Mil Gaya etc. But Bang Bang scores high only and only because of Hrithik. So it's a 4 star for me, including an extra star for my superstar! If you watch this movie you will fall in love with Hrithik – guaranteed.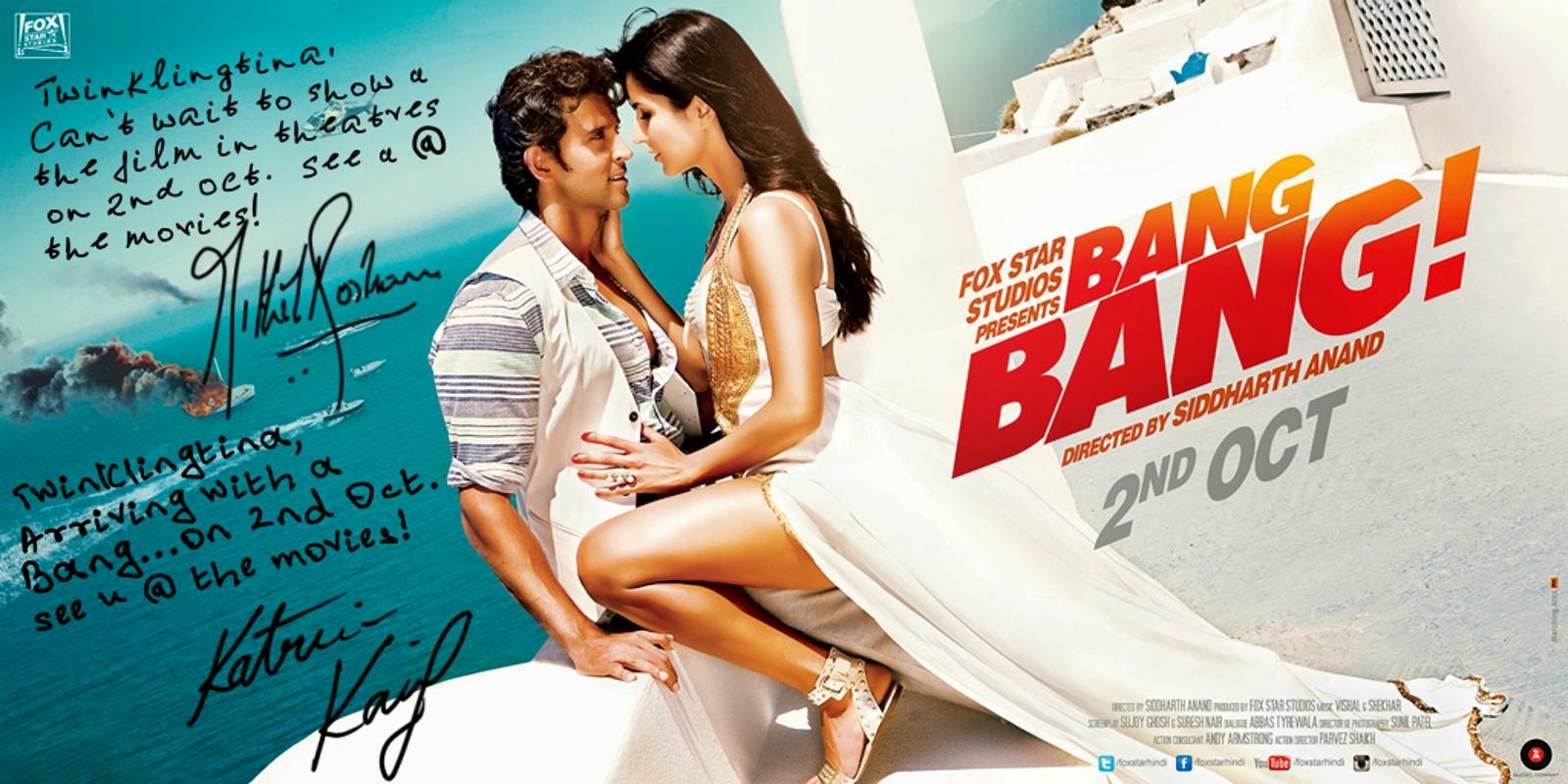 And look what i had got a few days back
Honest review I say and mind you I love him to death.