Hello People. I have been going crazy with work all this while, and last month I couldn't post as much as I wanted to. But this month I'll keep my promise of blogging everyday. Guess what Durga Puja is here and I can't wait to go out pandal hopping!
If you don't know what Durga Puja is let me tell you briefly. It's THE BIGGEST festival of Bengalis. We worship Goddess Durga and believe she comes to earth with her children – Lakshmi, Saraswati, karthik and Ganesha – during this time. It's a 10 day long celebration and celebration is a mere little small word for it actually – it's an extravaganza.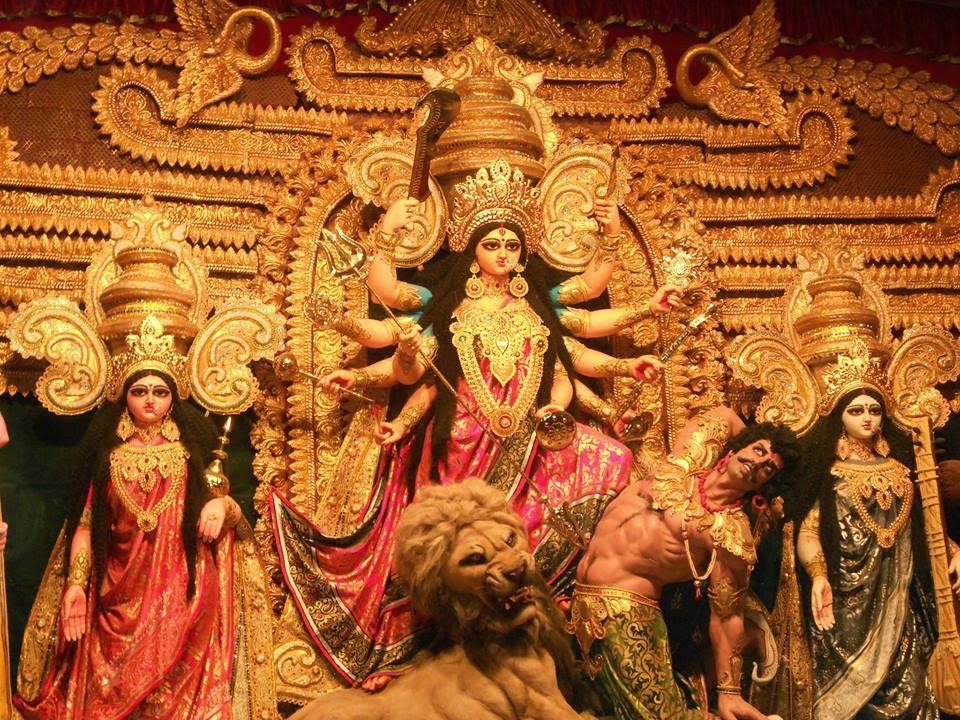 The city of Kolkata which is the capital of the state West Bengal is practically shut down for a week because everyone is participating in this extravaganza. It's one of its kind festival and if you do not experience it you will miss something. All Bengali's across the world try to get back to Kolkata during these ten days to experience the Pujo – as we call it.
And for those – like me- who are not going to Kolkata we celebrate Durga Pujo wherever we are. There is no dearth of Bengalis in any big city across the world. I had visited a Durga Puja in London some years back when we were visiting UK. Overseas the only difference is – they celebrate it over the nearest weekend and the delighting pandals are missing. Other than that in the heart of every Bengali across the world our Pujo is the same – fun time, bonding time and food time.
Bangalore, where I stay, is like half Bengal now with the ever growing population of migratory Bengalis. We have about 35 Durga Pujas which are being celebrated across Bangalore. So if you are a Bengali and missing home don't be sad there's lot over here to enjoy.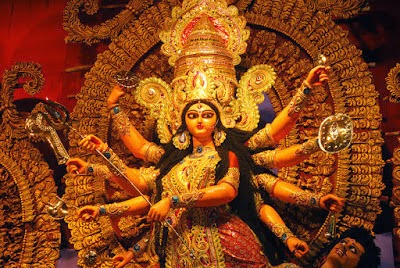 The only difficulty is managing leaves from work. Actual Pujo and the celebrations starts from the 5thday which is called Panchami. And Kolkata shuts down from that day. But guess what I have been working till yesterday which was the 6th day or Shasthi, as we call it. But today onwards I do not care I am on leave and I am just waiting to go out.
It's also a time when every Bengali lady is all decked up in her new ethnic clothes. I am taking out all my new sarees for am wearing only ethnic clothes for the next 3-4 days. This is the only time when you get to wear them. For a Bengali you start your year by marking the Durga Pujo dates and plan around it. Can you believe that!
We go crazy about everything during this time. Our kitchens also shut down and we tend to eat out. At this time there is no dearth of Bengali food around the city. Every big restaurant of Kolkata would have a stall in the Pandals. It's the love for food that keeps Bengalis going. My cook is on leave too and I am eating out for the next few days too!
So I am going to do a Durga Puja post everyday starting today and share my look and the Pujas I am visiting across Bangalore. It's 7 in the morning and I am trying to decide which one to wear for the mornings and which one to wear for the evenings – such a girly affair that is.
Okay now my FB timeline is now flooded with Durga Puja photos from all over the world. Everyone is in the frenzy. But wait guys I am joining the party soon – in a few hours to be precise.
Here are some awesome Durga Figurines and Pandals from Kolkata. Look at the creativity, lighting, decoration, crowd and food. It's something you do not want to miss.I will elaborate on them in my later posts.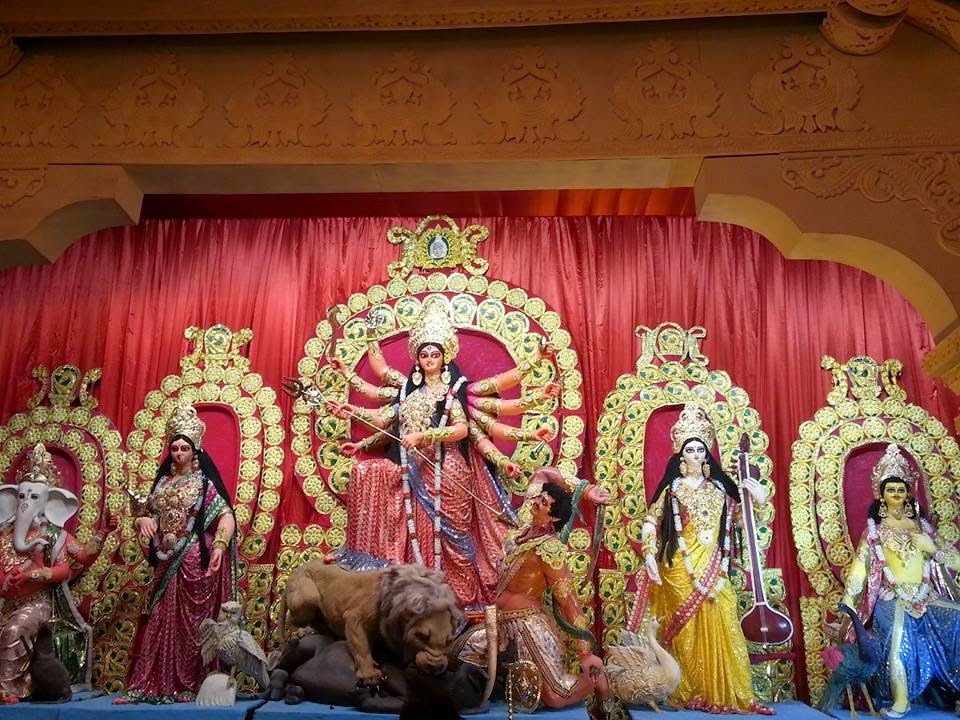 This is a very special Durga Puja in Kolkata called – Ekdalia Durga Puja. This year you can see the goddess and her children are all decked in 22 carat real gold jewellery sponsored by Tanishq – one of India's biggest jewelers. Isn't it amazing??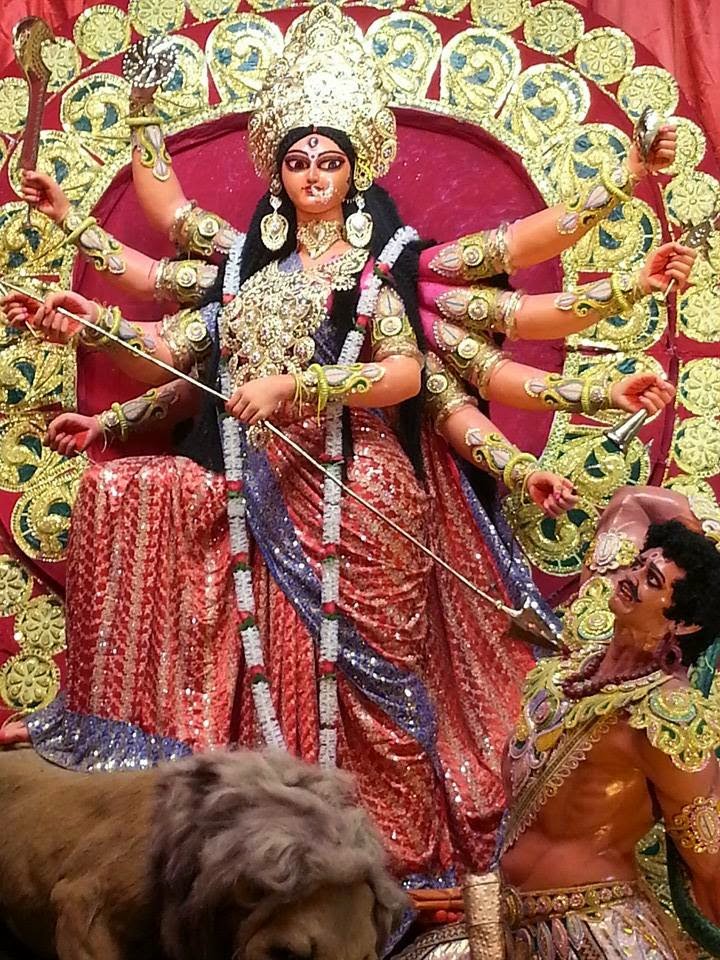 Here is the closeup, photos courtesy my friend Sukanta Sanyal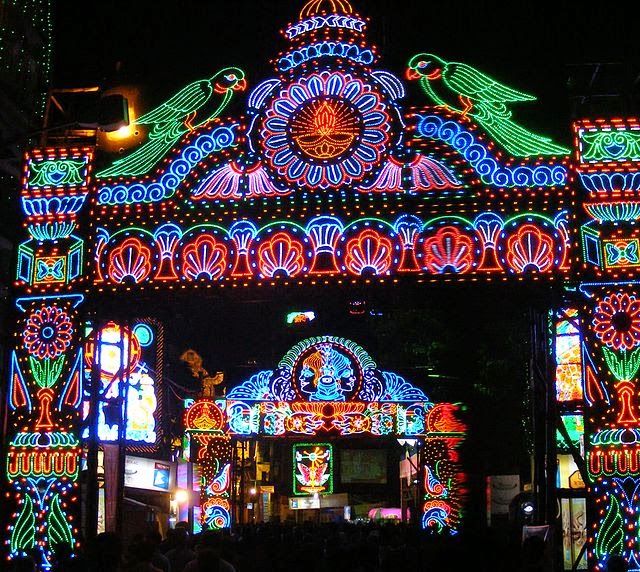 Look at the amazing Neon Lighting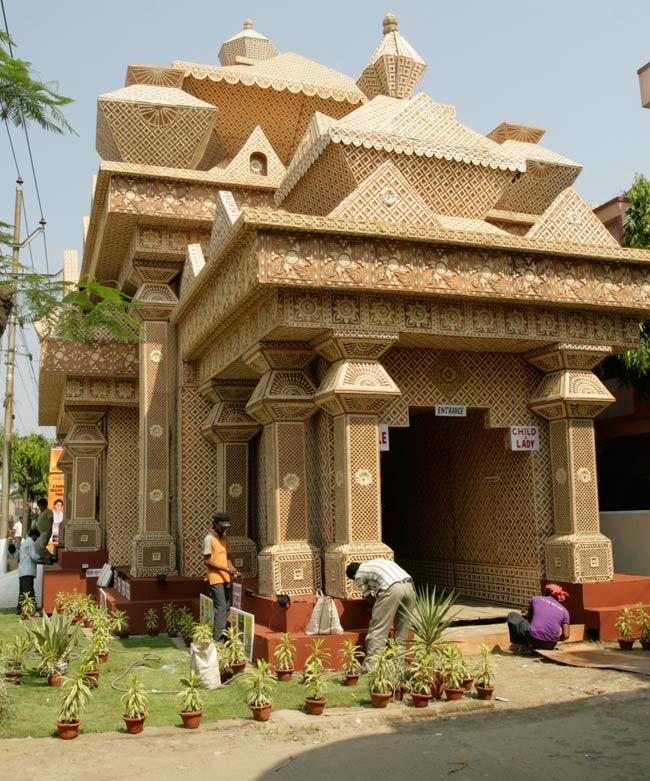 Eco- Friendly Pandal being put up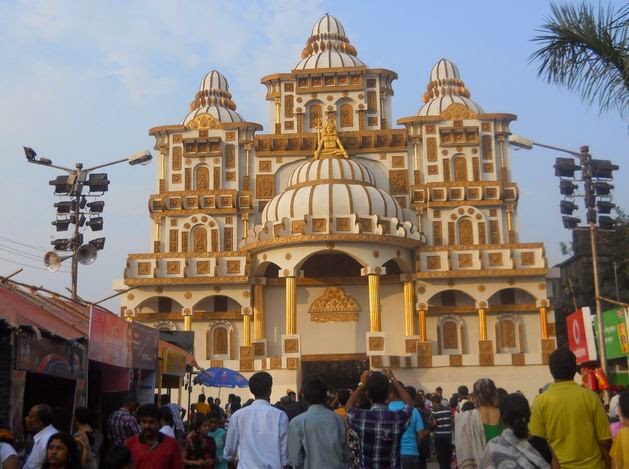 Pujo Pandal in Kolkata – These are all temporary structures created over 1 month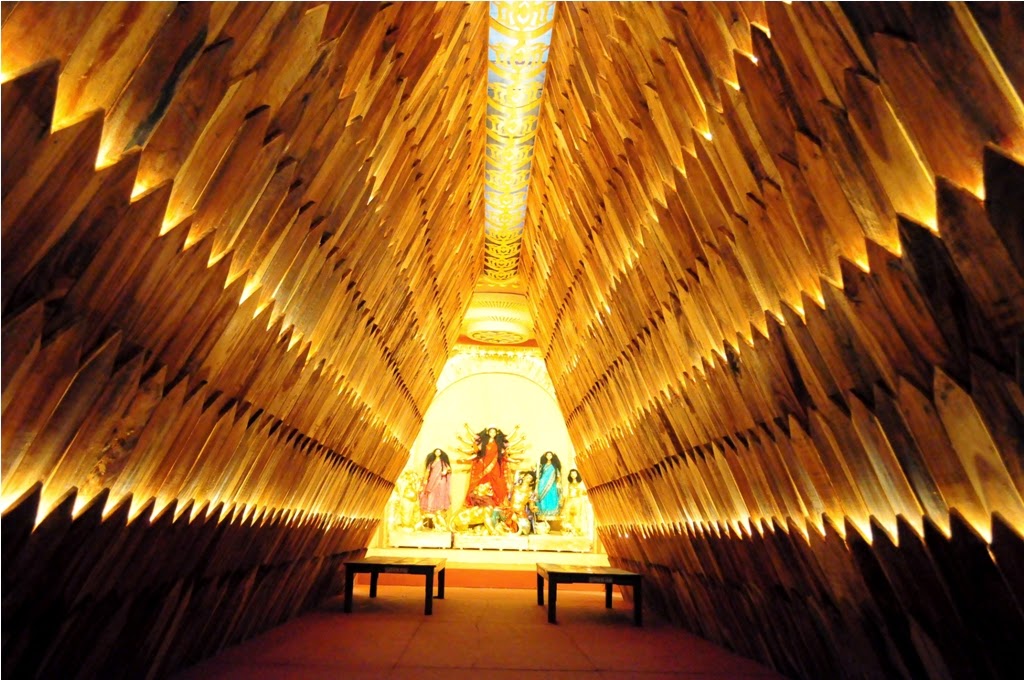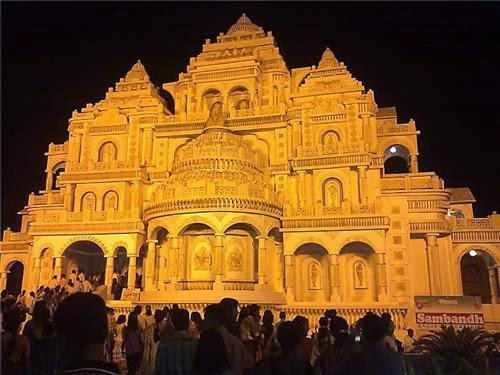 Pujo Pandal in Kolkata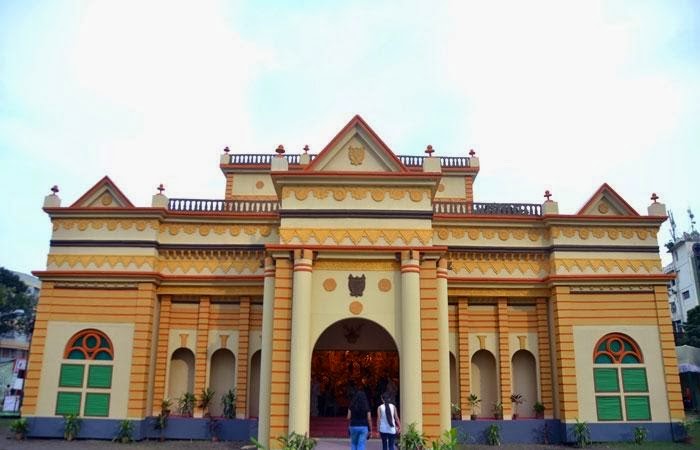 Pujo Pandal in Kolkata
AND here is the list of Durga Pujas being celebrated across Bangalore. Click the link here.
So how are you celebrating Durga Puja? Which ever city you are you will find at least one Durga Puja being held. Check them out if you can.
—————————————————————————————–
—————————————————————————————