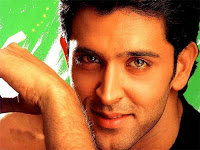 As the demi god turns 38 today, I am thinking of wishing the ultimate hunk in my own sweet lil way. It was back in 1999 when the first promo of the cult film Kaho na Pyar Hai was aired and I had gone weak in my knees and that remains same even after 12 years. The adulation, admiration, adoration, affection, love has not changed ever since (and I am sure it will never change). So here's wishing the Azeemo Shan Shahensha many many happy returns of the day. I hope he reaches the pinnacle of success and is in good health always. I have already Tweeted to him… let's see if he replies.
For me Hrithik is the ultimate versatile actor who can enact, I guess, any and every character. Be it a charismatic and sexy thief or a mentally challenged school boy. On this occasion, I am going to list down my top 10 Hrithik Roshan Movies and my stories attached with each one of them.
Warning: I think this is going to be a long post, can't restrict my words about HR.
Kaho Na pyar Hai (2000)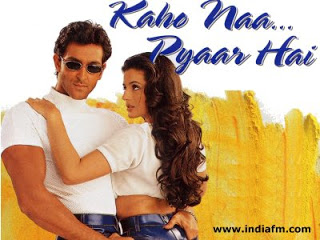 This movie took the entire country by storm, I am sure there aren't many people who have not seen this movie (if you have not then please see). In this dream debut of HR both the characters of Rohit and Raj made the ladies go crazy. And yes I am also one of them
J
. I was in school at that time in eight standard and there were two groups amongst the girls… the pro Hrithik and the anti Hrithik group. I almost cursed each and every one in that anti Hrithik group who dared to comment on his looks negatively! (It's better I don't write that here).
I remember a particular incident. It was a December evening when me n my younger cousin brother were watching TV and this teaser was aired on either Channel V or MTV where this dashing looking guy in specs walks away with a pink duppatta in hand ( a scene from the song 'kyun Chalti hai pavan') and my brother said, another new comer "koto to el oar koto gelo" [ so many new comers came n went] that was the time I had told him – this is the man to watch out for, he seems a different material all together and boy was I right.
That was the time when audio cassettes existed and I was happy to save my pockets money and spend that on the cassette. I will not right more on how I felt after watching the movie because by now you must have already guessed that I was completely blown over. I also bought the official DVD latter and till date I have watched in more than a 100 times!!! Yes… that's true and I can still watch it.
J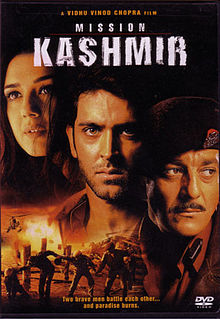 Mission Kashmir (2000)
I quite like action movies and if that had such a handsome terrorist then how can I miss it! I remember the day our final exams of 8th got over ever one rushed to the theatres to see Shahrukh's Mohabbatein. That time I guess I was among a very small number of girls in my class who went the other way and dragged my mom to watch Mission Kashmir. And I loved the movie – not only Hrithik but the story too. Whoever differs with me here please excuse me, I will never be satisfied with a negative review/ comment about this movie.
The lady who sat next to me cried each time Hrithik cried [ I remember this vividly because she was wearing something white and the light from the screen made her the brightest person amongst the crowd and her sobs were distracting me].
Kabhi Khushi Kabhi Gham (2001)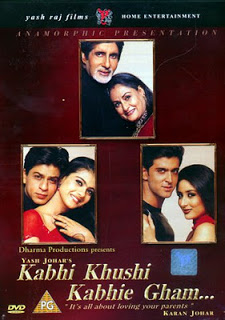 This was an out and out Shahrukh Khan and Amitabh Bachchan movie, but the brightest amongst them for me was the dashing and sexy laddoo (the grown up one)! If someone looks so handsome and dances like dream, then who cares who else is on the screen… at least I don't. When people were going crazy about Pooh and her 'attitude' I was going gaga about Duggu [if I write like what I felt on all those times then I should be writing 'My Duggu'
J
].
I had gone to watch this movie with a cousin sister and she was a [I don't know if she still is] SRK fan and we kept on fighting during the movie on SRK looks better, HR looks better, HR acts well and so on and faced the flak of some irritated fellow movie watchers… I apologise… But I still main HR is the Bestest (if I can take the liberty of putting some more superlative).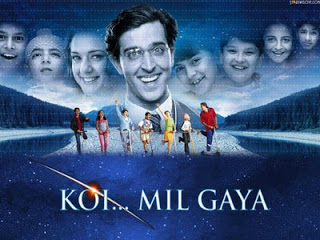 Koi Mil Gaya (2003)
When people had rejected HR as an actor and felt he was only a 'one movie star' and compared him to Kumar Gaurav etc, HR came back as India's first Science Fiction film. Who would have ever thought the demi god will play the character of a mentally challenged school kid with such an élan. I remember many people/friends who said he overacted and looked horrible etc, to them I have only one thing to say – get a life!
After my tenth exams we had gone for a vacation in Nainital. That was the very time when the KMG team were shooting around there. Some areas were closed down and only after enquiring did we get to know who was shooting. How I wish I could have gone and met him! Hmm… common I was just 15 or 16 that time…
J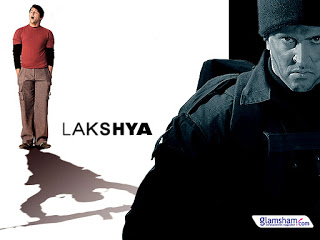 Lakshya (2004)
I fail to understand how this movie was not a success at the box office. Anyways I don't judge movies (specially HR movies) from box office success. [Warning: Please never ever think that this HR can ever stand for Himmesh Reshammiya (or however, he spells it), I would commit a harakiri before that].
The confused Karan with the weird hairstyle was as cute as the suave Captain Karan Shergil in his crew cut. And can anyone forget the 'Main aisa kyun hun' experience?? HR became HRBR – Hrithik Rubber Back Roshan
J
. I don't know how many times I have seen the repeats of this movie on Filmy, Zee Cinema etc.
Well now that its 11:30 at night I think I should stop here and write a part II tomorrow. I need to sleep, don't want to turn up late at work, again! So watch out for Part II tomorrow.
Here's, wishing Hrithik again – A very happy Birthday, have a blast, party hard and I am waiting for our rendezvous on 26th Jan… (at a theatre near me!!) Will try to catch a first day first show of Agneepath!
Good Night for now!