Mornings on weekdays are sad. I still feel half asleep as I walk up to my office. But this morning was different. Trudging through the lanes with my huge laptop bag I thought of taking out my ipod -on other days I am busy running to reach on time and almost forget that I posses an ipod! My playlist right now is full with the US billboard top 100 of 2009, 2010, MJ and some other soft numbers. Suddenly I was awakened from my sleepwalking with the strumming of electric guitar of 'I Like it'. (I hope I listen to songs in full volume every morning to reach office on time and get energised!)
But it was 'Telephone' which gripped me for a good 10 mins. Sometimes I get this music attack where I stick to one song for a long time playing it over and over again. Today that happened with 'Telephone'. I hope I am not the only one on Earth having such a weird habit. Not that I was listening to it for the first time but I kept on playing and grooving even when I had reached office.
After a while I realized the playlist in my laptop listed a number of hits of this unconventional singer. I know a lot of people think she is crazy because of her antics, but these days I am going gaga over Lady Gaga. She is crazy, her style is wild, she goes to the extreme level each time but that's what I like about her. For me she is avant-garde. I admit she goes over the top at times (in respect to her face masks, dresses and looks but her music is a different class).
I don't know if I am praising her too much here nor I am not a die-hard fan of hers as I am of Sachin, Hrithik or MJ. Somehow last few days have been reading and watching a lot on her maybe that's why I am writing out of overdose of Gaga. But whatever that be I am still listening to 'Bad romance' and 'Alejandro'. I love almost all of her videos as they are as outrageous as her.
The crazy singer is often in news more for her eccentric sense of dressing than her music but I am so happy she grabbed the grammies. I don't know how many people would have dared to walk the red carpet of the Grammies inside an egg carried by attendants! That was extreme and that's actually out of box. Or for that matter a bubble dress or a meat dress! I wonder where does these ideas come from! We all like getting crazy at times and keep getting wild ideas but how many of us actually go that extra mile to actually do that… very few… I know that I don't (have to think so much about people around)! She must be a designers' delight…someone who can wear anything that you give her and carry it well!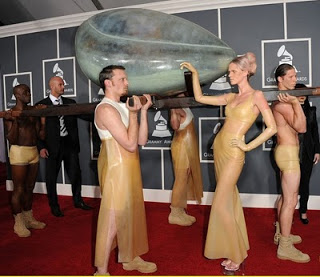 Lady Gaga's camp on Grammy Red carpet
I think any publicity is good for an artiste in the entertainment industry and all the media attention she is getting for her wild dressing style is doing well for her. I read somewhere she behaves crazy too at times. I was surprised to read she feels she is the loneliest soul on earth and is scared of ghosts! Overdose of public attention and media glare takes a toll on you I guess. But who is complaining, we are getting good music.
All I want to tell ya is – way to go gurl, we enjoy your music, your videos and even your dresses.

When Gaga goes gaga on her dresses