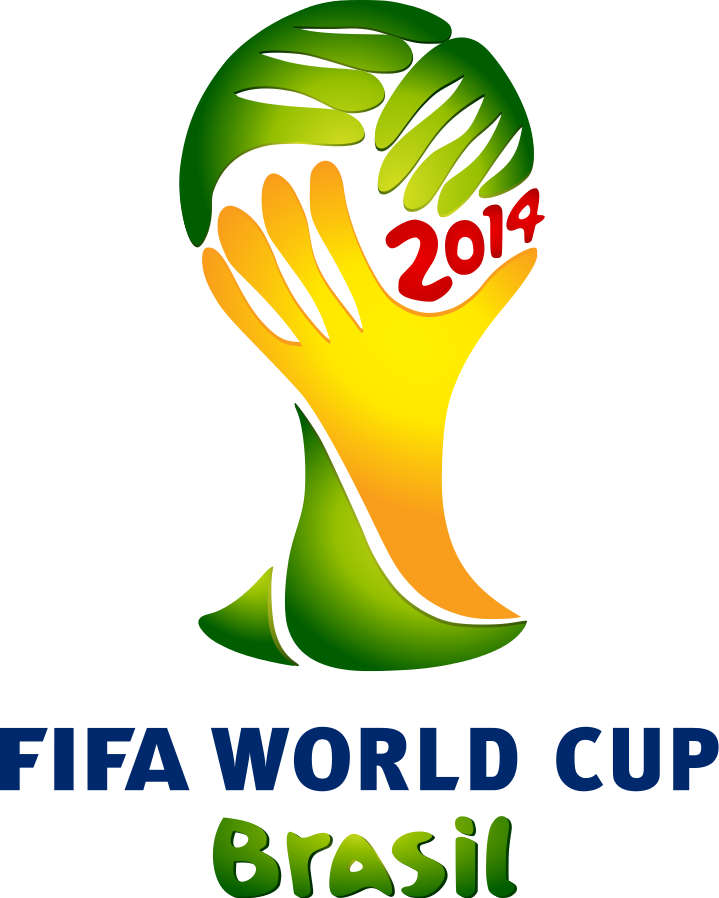 So the Spaniards had a rough season this time – only rough?? They actually had a bland season, a goal less world cup!!!

Well it's not only bad luck for the Spaniards its how it works in world cups, the defending champions are always jinxed – all on a lot of occasions.

You don't believe me, eh?
1998 champs France were knocked out in 1st round of 2002 World Cup.
2006 champs Italy were knocked out in 1st round of 2010 World Cup
2010 champs Spain knocked out in 1st rd of 2014 World Cup
So by now you know what I mean, well the above trivia is complied by my fellow blogger friend Vinay a.k.a. Leo who until now was supporting Spain.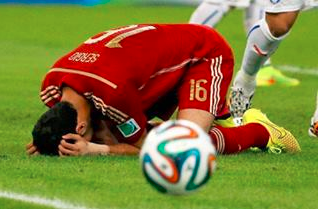 But better I say – Hasta la Vista, baby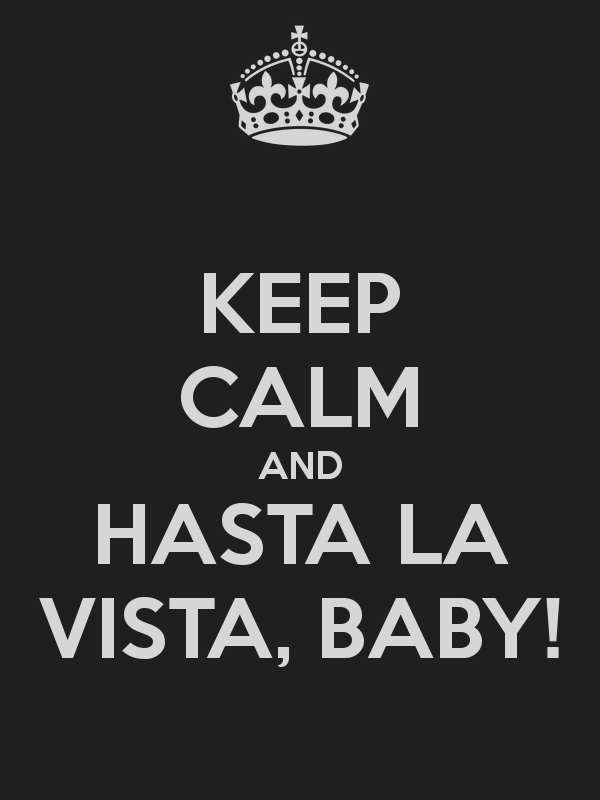 So, who all of you were supporting Spain and are completely disheartened now? I am not for sure, because I am rooting for Brazil, Germany & Argentina in that same order of preference.
If you are in India you are cursing Fifa for scheduling the good matches late in the night [IST]. The last Brazil match, DBY, was at 12:30 AM IST and it's a big deal when you have an office to attend the next day. I obviously missed the one between Belgium & Algeria and took a power nap within that time after an early dinner. And was up by 12:30 for the Brasilia encounter. Such weird things the World Cup makes you do.
All that was fine but to watch a goal-less match is like going to a buffet, watching the food on display and coming back without eating. I am not happy with such matches. But full credit to the fortress called
Guillermo Ochoa.
All the viral images of this goalie is not for any reason. If he decided you shall not pass, he will not let you pass. Period.
Some of the hilarious memes that I came across over the net on Ochoa and every single one is amazing and so true to Ochoa on field!! Have a look.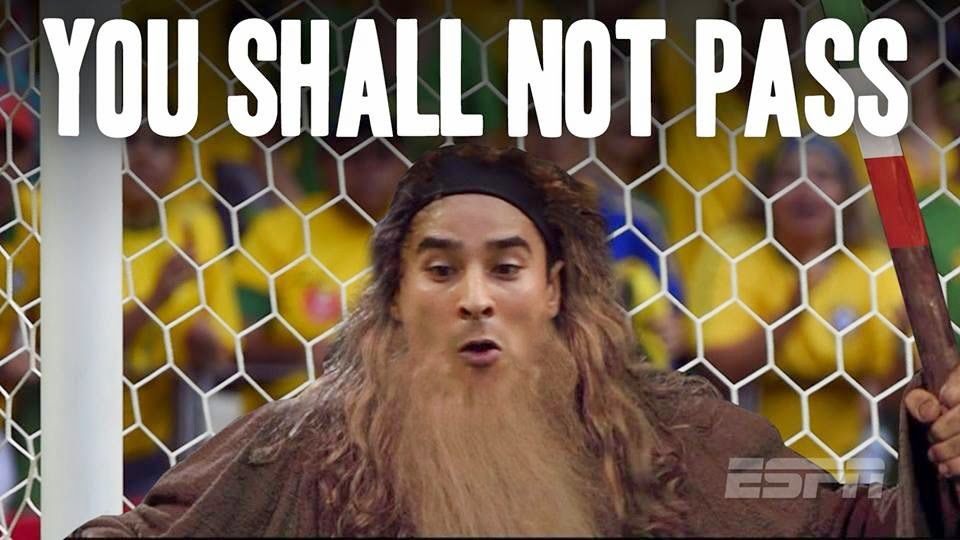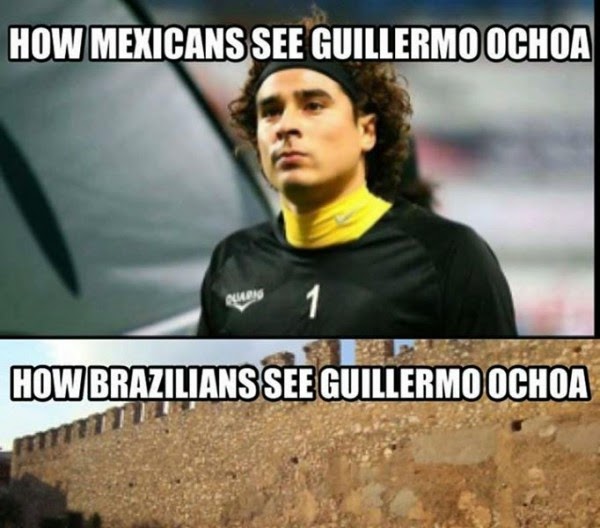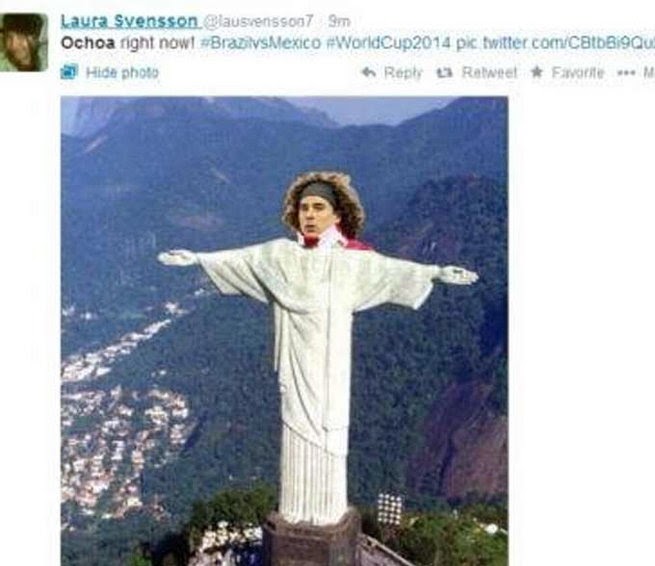 Source – Google
Okay coming back to the matches, I was up for a little time yesterday to catch the first match between the Aussies and the Dutch and felt I would be happier if the Aussies won for their sheer effort they showed on the field. They next match I am excited about is Italy vs Costa Rica tomorrow at 9:30 pm IST and obviously will be rooting for Italia and next is the big match of Saturday night between Argentina & Iran, and I don't think I need to tell again who I'll be supporting that day!
Did I tell you I got two jerseys of Brazil the other day? I looked through some economical versions but didn't like them, then saw some online and in the Nike showroom but they were way too expensive for just some fun. Then I happened to drop by

Max

and saw a whole lot of jerseys in the men's section. [Wonder why not a single for a girl!] So picked up two – one for the man and one for myself. I'll share a photo when Brazil plays next. It's in a good range – you get round necked graphic tees for 499 INR and collared ones for 1200 INR. Good deal I say. Check them out – you will get Brazil, Germany, Argentina, Italia and Espana [I doubt you would want that now!]
So let me know how you are enjoying the world cup & watch out for more Fifa World Cup Updates here
.