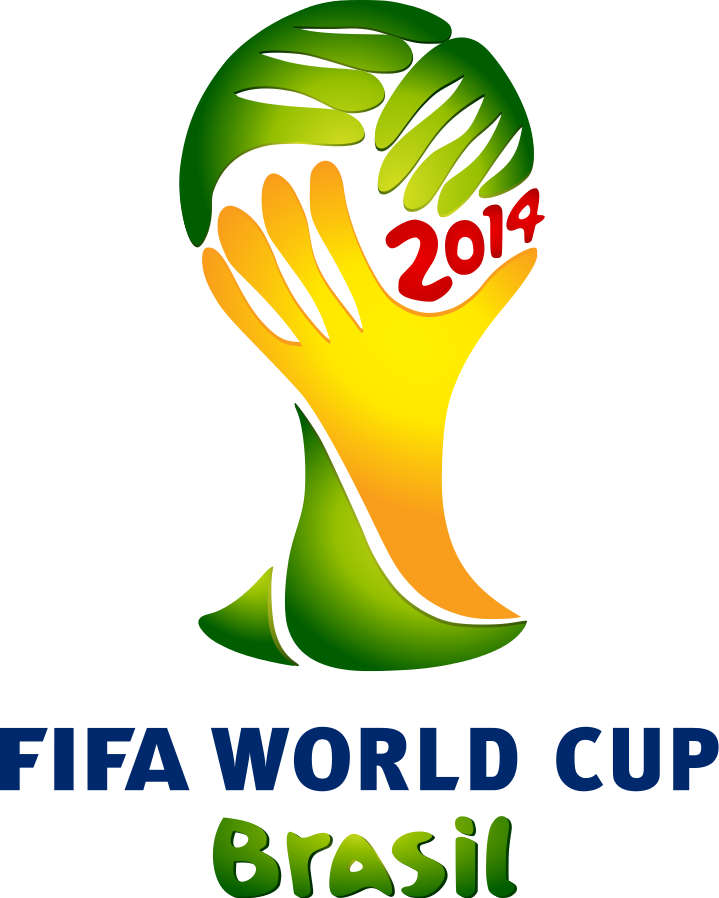 Are you guys all enjoying the Fifa World Cup? Believe me it's such an adrenalin rush to watch a good game. The living room is only enough, I have no idea what I would do if I was in a stadium watching a World Cup match!!! :O that's a distant dream.
Anyways are you guys also feeling as frustrated as me when you see the match schedule. In India we get to see all the good matches at weird time. 3:30 AM is a time when zombies are awake and not the poor souls like us. I missed Italy vs England, Argentina vs Bosnia and I don't know how many more I am going to miss. Specially when you work to attend the next day!!! Torturous World Cup this one.
There is such a derth of a simple schedule chart of all the matches at IST. So far Google has been saving me, but are we supposed to have two matches at the same time? This is what Google says.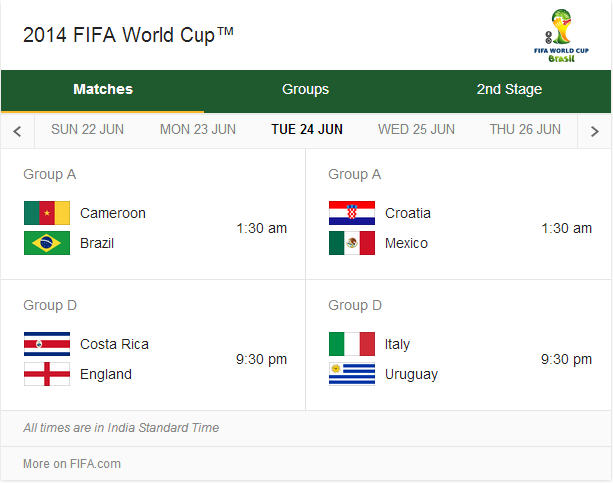 Now when you have something like this – which one are you going to watch? And how given that there is only 1 channel (a pathetic one, in this case) who has the rights to broadcast the WC in India? How can there be two matches at the same time? Or am I missing something here? I want to watch both England and Italy how do I that? Even if I have to flip channel how do I? Which is the second channel. Someone please explain this to me. Same is the case with many other matches.
Today, it's like a magic day with Germany playing their first match against Portugal and we can watch it at 9:30! Such a relief. Schweinsteiger, Podolski, Klose, Müller, Lahm I love you guys. I am definitely supporting Brazil this time but Germany remains my all time favorite and it has been that for a long time. Today is your day and make the most of it my hefty Germans. And with Schumi out today from hospital after ages you can definitely not do well today. Random Question in my mind: Did Schumi decide to watch the first German match in peace and that's why out of Coma? Perfect timing. Okay no more kidding, Schumi loads of respect for you.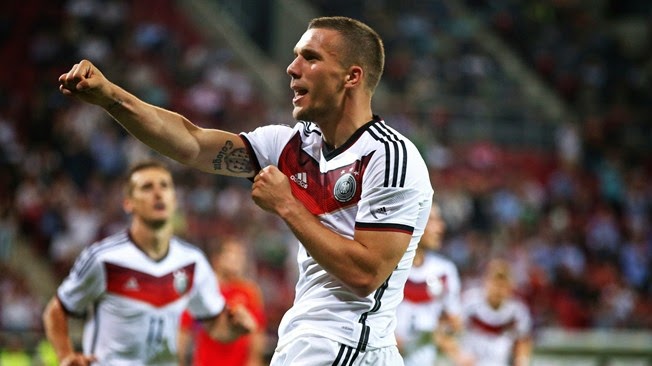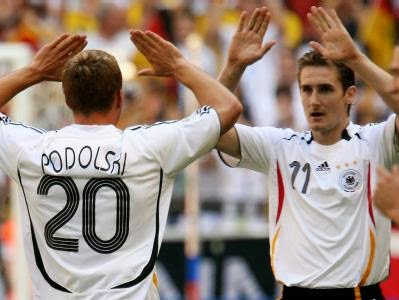 Absolutely love this combination – Miroslav Klose & Lucas Podolski – I need action tonight in Salvador
Anyways, I have all plans of bunking work on Thursday after a 1230 am match between Brazil & Mexico. I am not missing any of Brazil's match come what may. Period. Neymar I wish and I hope you bring all the glory, again, to your nation.
How about some Frankfurters for dinner tonight??? Yay, I am already happy.
Leave a comment below if you are crazy about Germany as well. Who do you think will win today? My bet GERMANY!!!!