Vacations are always fun. One should take time out at least once a year for a nice cozy vacation. They are even more fun when you have your family around. Exploring new places, travelling across countries, getting to know new cultures, new people – everything about a vacation is fun and exciting. The excitement starts a long time before the actual vacation in fact.
When I was a kid, my parents took a vacation twice a year – once in summer and once in October (we have a huge Puja Holidays). I don't even remember where the first few vacations were because my mum says I am travelling around since the age of 5 months. But I definitely have seen innumerable photos of our travelogues.
Well, I have heard many a times from my mom how I troubled them during their trips as a kid. From howling in flights to not waking up or not even wanting to eat. I always turned fussy while travelling! (I really don't know why – I love travelling now). But I always travelled with my most favorite companion whenever we travelled in train – my little teddy. As a kid I was inseparable from my teddy whom I called 'Teli' because I couldn't pronounce D that time.
But the most embarrassing story has been the in numerous times I have puked! Yeah you read that right. Every time we visited any hill station I had to puke, like every time we travelled through hills. I love visiting hills but I hate the long winding roads with hair pin bends. Actually even now ill prefer visiting a beach than a hill – but I still love hills.
As I grew up my tantrums lessened! I started co-operating a little more. I specially looked forward to the times when we planned a vacation for weeks – which country to visit, which tour operator could do bookings, what all we can do – and when to start shopping!!! Yeah there used to be these two distinct shopping times – one before the vacation and one during the trip! My dad always wondered why we wanted to load our bags with new clothes from here and then again buy another suitcase from the other place and load it again with all the shopping from the trip. But that itself is fun.
Before every vacation I automatically didn't have anything in my wardrobe – or didn't like what I had. And as far as I remember we have bought extra suitcases from all destinations that we visited except from some countries like – Egypt, Greece and some others.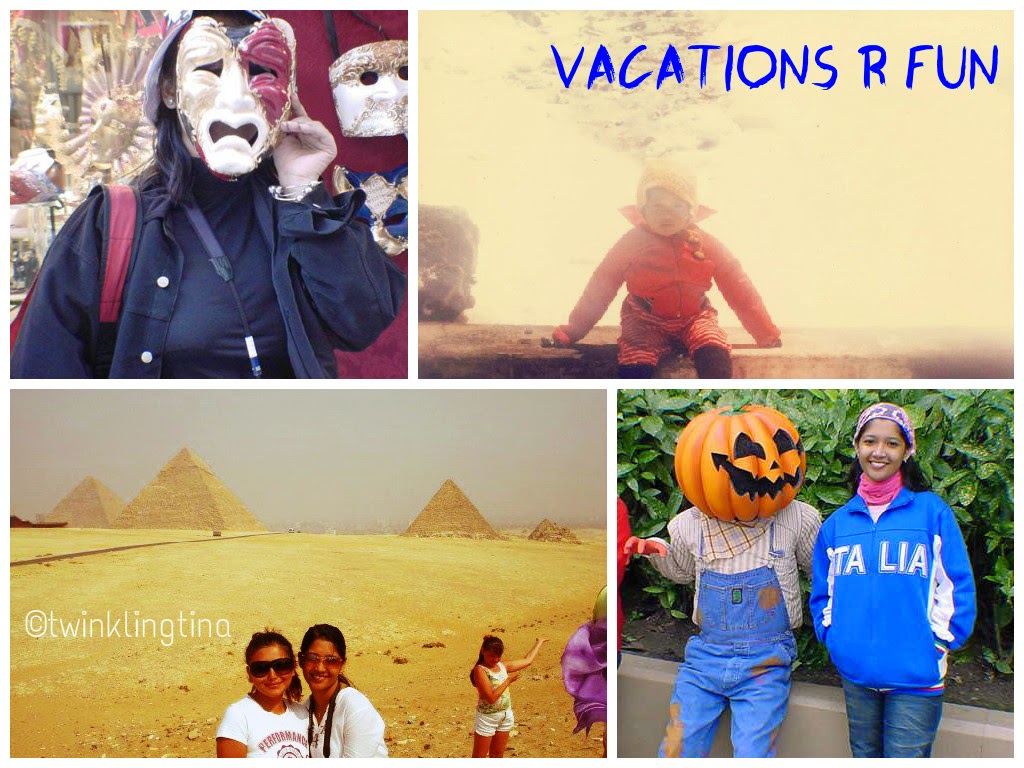 But that's all part and parcel of having a great vacation. Finally what someone wants out of a vacation – happy faces, happy souls. And family vacations give you just that. Happiness and love all around. Kids can be fussy but they are always fun, they too need time away from their school, studies, classes as much as we need breaks from the mundane work life. When I have my kids I would like to go on long fun filled adventurous holidays which they can enjoy and also learn. But I hope they throw less tantrums unlike me! LOL.