When Afifa gained back her consciousness she was on the cold floor of her mud house.
The pain in her body was unbearable. She could hardly move her hand.
Afifa gathered all her strength to sit up. The wounds on her hand were now dry and the blood dried up.
Was the Almighty so blind? Didn't He possess a heart? Couldn't He see how she was suffering?
Afifa always asked Him while she prayed – why did He give her life. Was this the way one is supposed to lead a life?
But she never got an answer. Life of this thirteen year old was as bad as any other girl in this land.
There wasn't a day when she was spared – she was beaten regularly by opium addict husband because that was the rule in the land – to keep the woman under control. She was not allowed to see a health care provider, nor did her parents care about her.
A half fed, and tormented Afifa was tired of her life.
Today she was beaten to pulp by the extremists while everyone watched because her ankle was visible under the burqua. Was there no one in the world who could save her and other women from these barbaric rules of this land?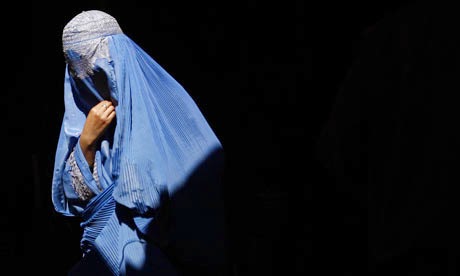 Source:
Leave a comment below on your thoughts.
————————————————————————————
Linking this post as my entry to the

ABC Wednesday

. B is for Barbaric.
————————————————————————————-