Hello people, here with my reading update again. Some books that I want to finish this month. It's quite a long list and I hope I can finish all of them off this month. All weekends this month I am going to read and not going for any more shopping trips. Well, that is a big statement let's see how long I can resist.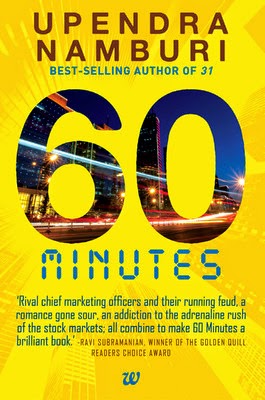 Ok right now I am reading this new thriller called 60 Minutes by Upendra Namburi. The entire story line is spread over a span of 60 minutes!!! Isn't that great. It has been a good start though I have not been able to read quite of it. I have been getting back home after 8 or 9 in the night this entire week. Thankfully weekend is coming by and I will finish it off by the weekend and post a review. This one has this character who's the chief marketing officer in FMCG and has a product launch and all… it's all my kind of thing and thus I like it already!
My next read will be Catching the Departed by Kulpreet Yadav. I had started with this one when 60 Minutes arived. now that I have to post a review for that within 7 days I have paused it now and switched over to 60 Minutes.
Then is The Last Man. This also is on pause. I hate doing these to good thrillers. But when you get a book for review you need to give that a little priority and your own books come only after them. But I hope to finish that off as well ASAP.
All of these are thrillers. I want to read this romance one Honeymoon Blues, by Lily Zanye, for a long time and still have not been able to start off with it. I want to start off with it soon. It's an e-book so i should be able to manage it. Lets see.
Now I have some more books that I bought last month but I have not even touched them. Next month, October I am reading all only my books which I have been pushing off for like ever.