Practical tips for new moms – don't forget yourself because you have a baby. Want to keep your sanity intact follow these tips.
New mom? Already feeling the heat of motherhood and thinking how to keep your sanity intact? I understand. I have been through that too. When you become a new mom, your bay becomes your world. You are feeding, changing diapers, singing, putting her to sleep and trying to rest while she naps. It is also the time when you get a lot of advice and tips from friends and family – "do this, it will be good for baby", "do that, baby will sleep more". There's no scarcity of these "new-mom-tips" but do they all work out? Here are 15 practical tips for new moms that actually work. And they will also help to keep your sanity!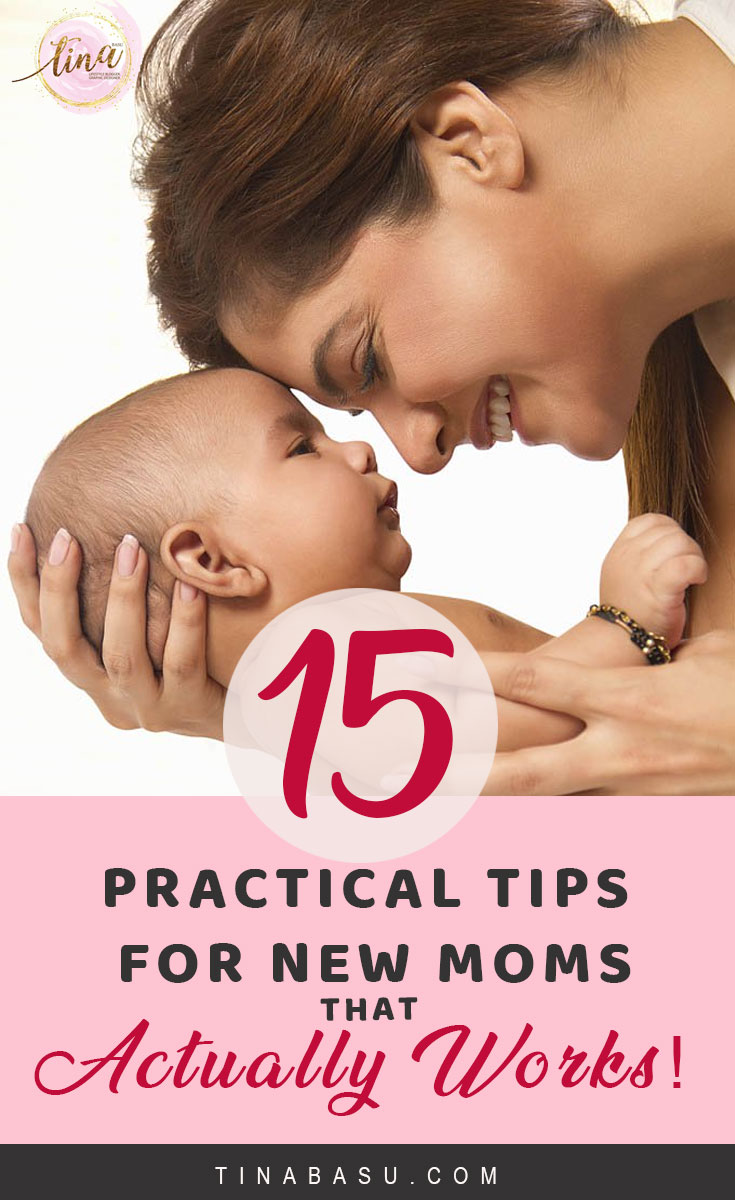 15 Practical Tips for New Moms that actually work
Have a balanced diet for new moms that includes Vitamins A, C, D, E iron, – all help in breastfeeding
Breastfeeding is the gold standard in child nutrition but in case it is becoming too much of a problem – supplement with formula – ditch the guilt.
Invest in gears that make the first few months easy – D pillow for breastfeeding, breast pumps if you have to express, try baby wearing to get your hands free, pram for taking baby out on stroll,
You WILL experience hair fall and skin pigmentation – don't lose your sleep over it. These are hormonal and will get okay on its own. And the mom bun will be your default favourite hairstyle!
Take care of yourself – if you are not fit and happy – the baby can't be healthy and happy. Go out for Spa days or call in the salon ladies home.
Make a diaper changing station and keep diapers, wipes, sheets and dustbin arranged. You will be changing a lot of diapers.
Keep baby wipes and box of tissues in every room – you will encounter lot of accidental puking, pooping and peeing throughout the first few months.
Do things as you want to do and as you are comfortable doing instead of taking in all the unwanted advice. It's your baby, your rules.
DO NOT Google everything – why the baby is sleeping for longer time, baby poop color – new moms can get paranoid with everything related to baby – I have been there – and reading up too much only stresses you out.
Show love to baby – even infants form brain synapses arising from emotional well-being. There is no such thing called too much love. Don't cut loose on hugs and kisses.
A decent first-aid training is always advantageous. Kids can gag, choke – it's always good to be informed and trained
Ask the dad to co-parent. Distribute work, child rearing is not just your job alone.
Make a routine, infants like routines have scheduled bath time, tummy time, feeding time, sleep time.
Take rest when baby sleeps. Baby's feed every two hours in the first month and sleep rest of the time. House work can wait – don't stress out yourself. Ask a family member for help, if required. Sleep deprivation can lead to unhappy mom and stressed baby.
Don't forget your friends. Socialize so that you don't feel alienated. Call your friends home or go out for coffee.
Now you can thank me for sharing some honest words! If you keep these practical tips for new mom handy then I am sure you'll keep your sanity intact. Motherhood is cherishing yet tough – so hugs to you!