It is important to practice thankfulness not for anyone else but for yourself. Living in gratitude is a way of life. Are you thankful that you have a family to love, are you thankful that you have a fan to switch on when it's too hot, are you thankful to have a good night's sleep. These are small things that we take in our lives for granted and never appreciate till we are robbed off it, may be. Over #ThankfulThursday today we discuss the small joys in life that you are thankful for.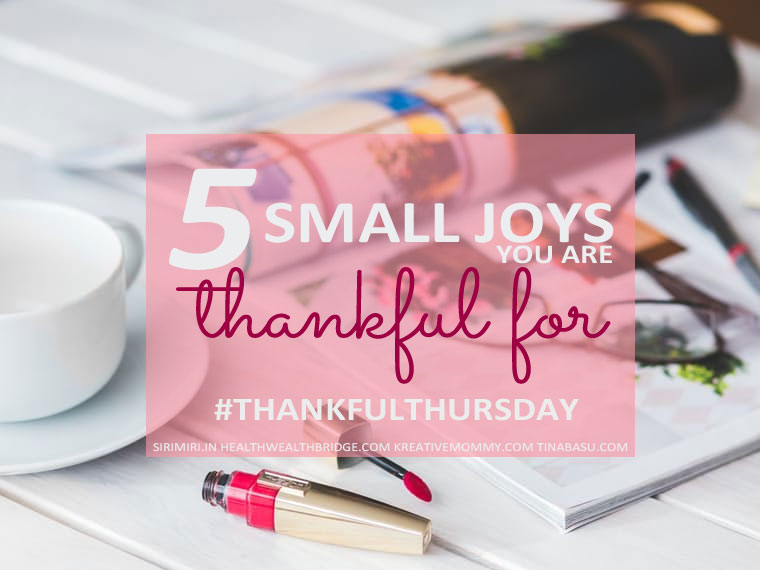 Appreciation can make a day – even change a life. Your willingness to put it into words is all that is necessary.-Margaret Cousins
Small joys in life #1 – WiFi
What the hell would I do if there wasn't internet or WiFi. I am logged in to my devices 24 x 7 and no not to just check Facebook and Twitter. The internet is the medium I earn and without connectivity I absolutely go crazy. My son is on You Tube almost all the time and has finished up my 102 GB high speed data already and now my WiFi is crawling like a snail making me go mad. But it is still bearable because it's there and I can finish my work – imagine if we had a power break down and don't have WiFi running for an entire day! I don't even want to think about it!
Small joys in life #2 – Resources on the Internet
Much like how I am dependent on WiFi I am also highly dependent on the resources available on the internet. I am self-learned blogger and I am the one who runs everything in both my blogs – shifting to self-hosting, clicking editing photos, making SEO rich content (okay, I am learning), Social Media and blah blah. The amount of resource available on the net is overwhelming but thanks to them I learn every day. I am forever a student I make it a point I learn something new each day even if that's as little as what are long-tailed-keywords!
Small joys in life #3 – Baby Talks
Bluey has been speaking a lot – in his own language which I can't make head or tails but I find it wonderful because of the unique tune he adds at the end of it. I wish I understood his language and join in the conversation. I have been panicking that he's not talking yet, but all this baby talk has sent that panic on the back seat.
Small joys in life #4 – Enjoying a night by myself
I like having my own time sometimes. Being awake entire night – reading, writing, enjoying a drink or going off on a drive – just like that. Well not necessarily after the drink! Early morning and late night drives are wonderful to think straight sometimes. But I am not a morning person at all! But I am thankful for such small joys in life where I can be care free and do what I want.
Small joys in life #5 – Work From Home
This has been one of the biggest joys lately – no boss, no wastage of time traveling, no gossip (do I miss gossip though?) being with Bluey and still work. I am happy being my own boss. When life throws a challenge accept it and master it. This is however, not just any small joys in life, currently it is the best joy in life.
#ThankfulThursday Week 20 Featured Blogger
Last week's Fetaured Blogger is Manisha Garg from Zara Hatke Blog. Read her winning post here.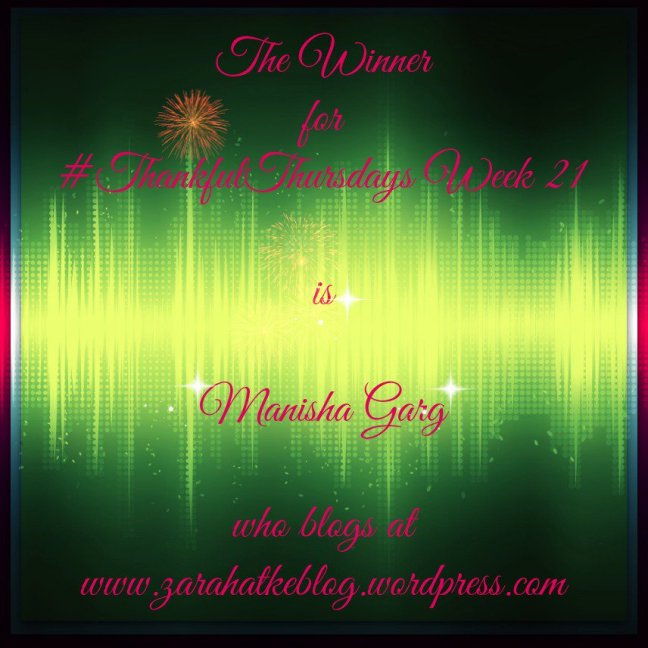 How to Participate in #ThankfulThursdays?
Follow @twinklingtina  @misra_amrita @Mayuri6 and @Deepagandhi1 on Twitter
Prompts will be announced every Wed 20:00 hrs IST
Read, comment, share on host and co-hosts posts and at least two more posts linked in the party Pro Tip – Networking and commenting is good for your blog's health and ranks.
Use #ThankfulThursdays in your post and share in social media using the same hashtag.
Every week we will have one featured blogger who is the best reflection of this community spirit
GRAB THE BADGE