Baby wipes are an essential for moms. The organic baby wipes are gentle on baby's delicate skin and don't contain parabens or bleach. Mamaearth Organic Baby Wipes are made from bamboo fiber which makes the fabric more breathable. Read on for a detailed review.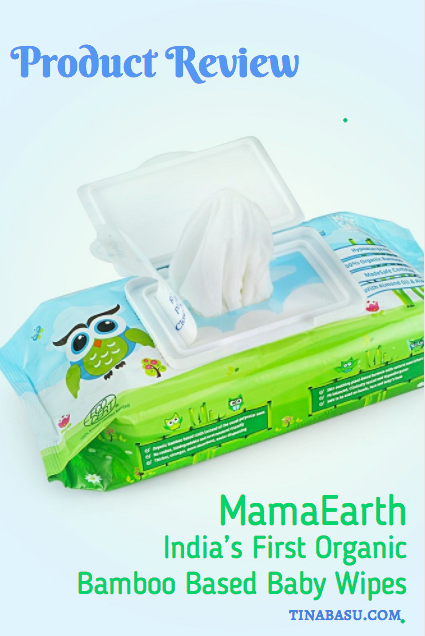 Have you seen a mom's handbag or diaper bag without the wet baby wipes in recent times? Most likely your answer will be no! Baby wipes are so useful and handy that you don't want to leave home without them. They are an essential for me. You never know when you will need them – to wipe baby's hands before food, face after food, body after spilling the food all over or during a diaper change. As a mom I want my baby to be safe and use some of the best baby care products. I am also one of those who check labels before buying – especially if they are for the baby. Whether the product is free of parabens, whether it's free of any harsh chemicals, whether the product will be gentle on my babies skin is always the first few things that come to my mind.
Read: Top 5 Online Shopping sites for a mom
Mamaearth Organic Baby Wipes
When I received the Mamaearth Baby Wipe the first thing I noticed was the label which mentions it's India's first Organic Baby Wipes. Then I thought of checking up what are baby wipes made up of. I was surprised to find what we use as baby wipes are actually polyester blends. These polyester blends are in fact less breathable and are not biodegradable. Which means these are pollutants of water bodies and takes tons of time to decompose.
Since we strive to get the best possible care for our kids and most gentle products for their delicate skin – I as a mother should I then choose a polyester blend wipe or an organic one? I used Mamaearth Organic Baby Wipes for a few days to find the difference.
Why Mamaearth Organic Baby Wipes
The Mamaearth organic baby wipes are made of bamboo fiber which makes the fabric more breathable. Since they are organic this product is biodegradable and doesn't fill up the landfills or clog water bodies.
The product is pediatrician-tested for its use and functionality. They are gentle on the skin and is certified by Made Safe Organisation. 
The organic wipes are not bleached, are 100% polyester free, pH balanced.
The product is made of Dermatologically tested Hypoallergenic Certified toxin free Organic Bamboo
There's no sulfates, parabens, mineral oils or synthetic fragrances.
What are the Key ingredients of this Organic Bamboo Fibre Baby Wipes
The Mamaearth Organic Baby Wipes are made with a gentle blend of Aloe Vera, Shea Butter, Almond Oil and Lavender Oil which helps in gentle cleansing of baby's delicate skin.
What did we love about the wipes?
If you ask my toddler and if he could answer properly he would say he loved the owl on the pack! The first thing he said when he looked at the pack was "Owl" – yes he knows names of many animals and birds now!
We loved the resealable pack with the lid. I find it very difficult to use wipe packs that don't come with the lid and you have to put the sticker back. It makes them dry very easily. This is a travel-friendly pack.
As a mom, I am relieved to know there isn't any synthetic fragrance in it – because my baby gets rashes with very fragrant products.
The wipes are soft and gentle and the presence of aloe vera and shea butter makes it better for the skin.
Read: Best Baby Care Products for your kid 
Price
This pack of Mamaearth Organic Baby Wipe contains 72 wipes and comes at a price point of Rs. 249 – which I feel is quite reasonable given its organic and toxin free. They are available online at several online shopping sites for baby products and on the Mamaearth website.
Would I buy again and use it for my baby – I think I will, because it's safe and gentle for the baby's skin.
Did you find the Review Helpful? Let me know in comments below.