The first big match of India in the world cup saw some high voltage drama being unfolded among two teams battling in the middle amidst thousands of excited supporters and crores watching through television. It's difficult for any cricket enthusiast to miss such a match. Being a huge Sachin fan, it's almost impossible that I would miss a match where he is scripting yet another dream like century.
Though was away from home for my little nephew's birthday I managed to catch the master blaster on his way to a milestone. We were with a busy bunch of kids hopping around in a gaming zone of a shopping mall. They were least bothered about this high profile match as they were busier in their shooting, biking, bowling and numerous video games (I realized I had very less knowledge on those than the 6-7 year olds). In between managing the kiddie party I came across this huge screen showing the match live and there could be no way I missed the match at that time. (So thoughtful of the mall management).
It was Sachin and Sehwag's batting brilliance which made the shoppers change their minds. Within no time there was more crowd in front of the screen than in the shops. Fighting to get a better place to stand people resorted to sitting down on the floor and enjoying the match forgetting about everything else. And they were being treated accordingly with the firecracker batting bejeweled with numerous fours and sixers. For me viewing this match was nothing less than watching it in the stadium, it was only the players in a giant screen which made the difference. As it happens in a stadium, people swelled up into loud cheers for every big shot and there was a pin drop silence in the mall when Sachin was caught out. I get tensed every time Sachin is in his 90s and yesterday was no different. When the crowd broke into cheers and screams as he scored his century I went inside some shop just to be away from the tension. I was back only when he was past 100. I wonder at time what his family must be going through on these times, I get too tensed or maybe I get superstitious at times! I know his wife doesn't leave the fixed spot she has while her husband is playing and his brother only watches recorded matches!
Finally with a massive total everyone seemed to be happy, notwithstanding the poor show by our tail enders. I thought, they could have easily added another 30 needful runs only if they had acted a little responsibly.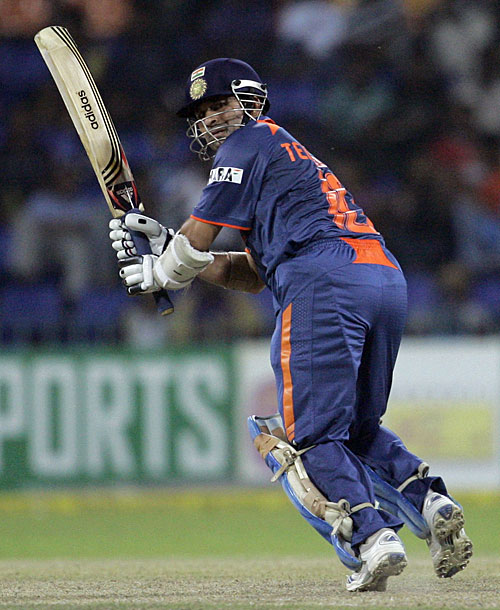 Now back at home we started watching the English chasing the total like soldiers with their heavy ammunitions of boundaries and over boundaries. I was surprised with our Indian fielders for showing such less energy and competence while fielding. It was raining pouring runs from all sides of fields. A well played 120 runs by the Little Master was almost being wasted out there. I felt it was almost like running out of currency situation!
Our captain somehow was more upset on this UDRS than the bowling/fielding. At one point I even told my husband lets change the channel thinking it might help India (I get so superstitious at times, when in a situation like this I almost try all sorts of things). But wasn't quite lucky on that as he was more interested in watching the action than being irrational. Our players made sure that they don't give respite to the whole nation till the very last moment. I even tried out sitting in different positions on the couch so that one more wicket falls. I don't know how long I prayed with my hands folded in the last three overs (I am sure I wasn't the only one doing it). Each time the English players lofted the ball I wished someone could catch it than it going the distance beyond the boundary rope. Yes, I also felt like going and blasting at Piyush Chawla, screaming 'go and learn how to ball in slog overs'! I have no clue why he had to bowl so many short balls! Why on earth didn't any one come and told him to bowl tight.
Last over was the apex of the tension all prayers and pressure (on me) heightened. Till the last ball I remember, I was stuck to corner of the couch in a single position and was only praying 'please god get him out, please make him bowled/ CnB/ LBW/ runout/ caught behind anything but please get him out, I don't want India to lose'. I think he just could hear only the last sentence, maybe he had signal problem – Abhishek Bachchan may ask Him also to get Idea, who knows! Tied in the middle with 1 point each, people were still happy. What I would say is I was a little less sad. The bowlers and fielders didn't do justice to the bank of runs the batsmen gave them. Thankfully Dhoni acknowledged that if 338 is not enough then what will be enough even he doesn't know. I hope we gear up better for our next matches with a better bowling lineup and hope the fielding is better, even the minnows are fielding better. But the true Indian fan, that I am, I can only think positive and believe in 'yes we can win, we will win'.