Getting a facial is commonly seen as something you do only when you want to treat yourself. It's an important beauty treatment for the good health of your skin. Now you have BelleWave facials and beauty treatments in India through VLCC. Here's the VLCC BelleWave facial review for you to decide on advanced skin care.
With today's lifestyle, an overwhelming amount of pollution, dirt and grime accumulates on the face and that is inevitable. After becoming a mom I hardly get any time for myself as I juggle between my son, my house and my work. I get a clean-up done often to keep my skin clean, but really pampering my skin is rare. Recently when I got an opportunity of a facial at VLCC through World of Moms, I grabbed it immediately. A good facial and pampering session is much needed not only to keep the skin good but to take away all the stress.
It's pretty hot in Bangalore at the moment and the dry heat makes my skin really weird. When I visited the VLCC Koramangala branch, the branch coordinator Rizwana and Beauty Manager Yojna did my skin analysis. I thankfully didn't have any white head or black head problem but had dull skin. Yojna suggested I should try a hydrating facial that will relax the skin, give it much needed moisture, glow and correct the dull and uneven skin tone! Now, who can say no to it! Read on for my VLCC BelleWave Facial Review.
BelleWave HydroWave Treatment
They upgraded me to one of their advanced facials from the International Range – BelleWave HydroWave Professional Facial. If you are aware of the beauty and cosmetic industry then the name BelleWave Cosmetics will make you do a happy dance.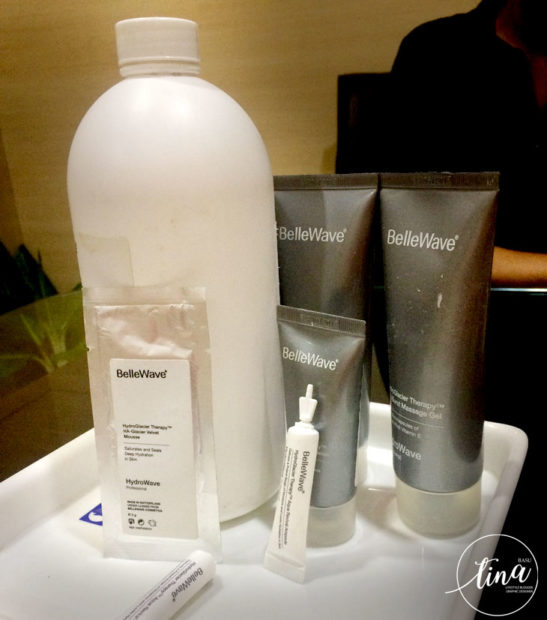 The VLCC BelleWave Facial range is a high-performance skin-care product made in Switzerland. BelleWave products use the finest blend of vitamins and natural botanical ingredients. Hydrowave products are formulated with more than 80% pure Marine Collagen which helps in skin's hydration mechanism. They are free from Mineral Oils and parabens and have not been tested on animals. I say wow to that! There are various BelleWave treatments for skin depending on the need. The one I did, HydroWave, was for my dehydrated skin for the much-needed moisture boost.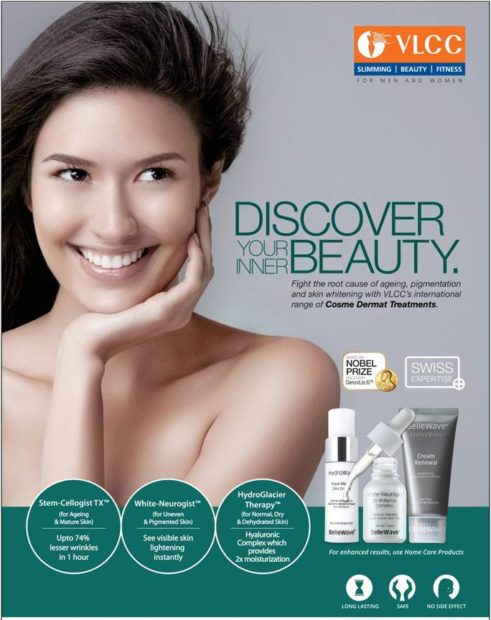 How was the Facial Like?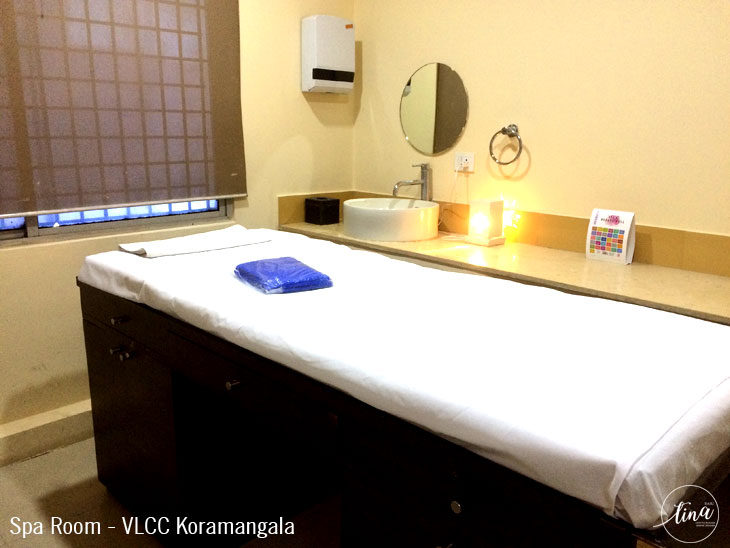 I was in for a pampering time. I love it when salons have private rooms for facials. I don't like sitting in a reclined chair for long, it gives me bad neck pain. The room in VLCC was spacious, aromatic and dimly lit – just to get you in the mood for a relaxing spa time.
This is not a regular cleaning-scrubbing-massage-mask kind of facial. It is little more advanced with several steps. It started with a light massage for relaxation followed by a cleansing with the Hydrowave cleanser that takes off dirt, makeup and every bit of grime on your face.
Next you have a toner that soothes your skin. Then you have a light serum applied and left on the skin for 8 minutes. That was followed by a light massage which works like a mild scrub. Since my skin is little acne prone I quite hate the entire scrubbing and steaming process. But this scrub was so gentle that you won't even feel the harshness. I love it when my skin behaves and doesn't have too many whiteheads (I hardly ever get any black heads) thus post steaming the whitehead removal was pretty painless and hassle free.
After some more toning there was a pack of the Aqua Revival Ampoule. This is something that you will never get in any normal facial however expensive it is. The ampoule delivers added moisture which locks hydration in skin. It was very cooling and relaxing.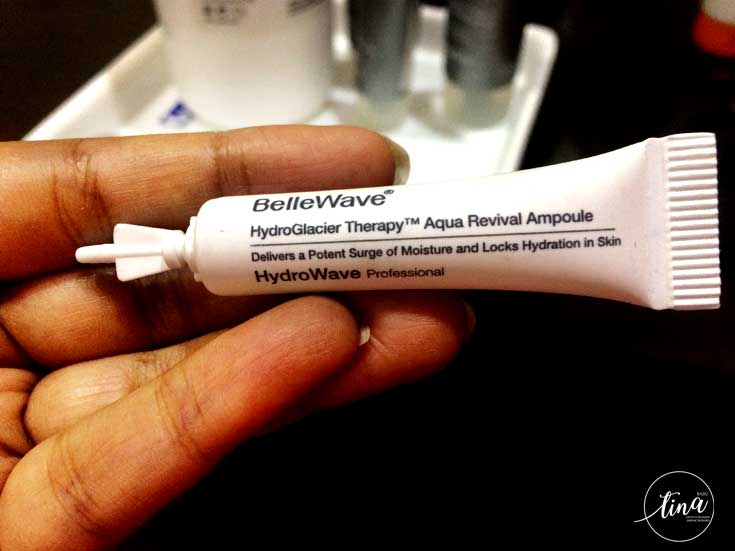 Yojna, my beauty manager for the day, took care to explain to me every step and names of the products and kept checking if anything caused any irritation while I was merrily drifting away in the zen mode.
Instead of a massage cream I got a massage with the Hydrowave Vita Burst Massage Gel which had microcapsules of Vitamin –E. I love Vitamin –E in anyway – it is great for your skin and hair.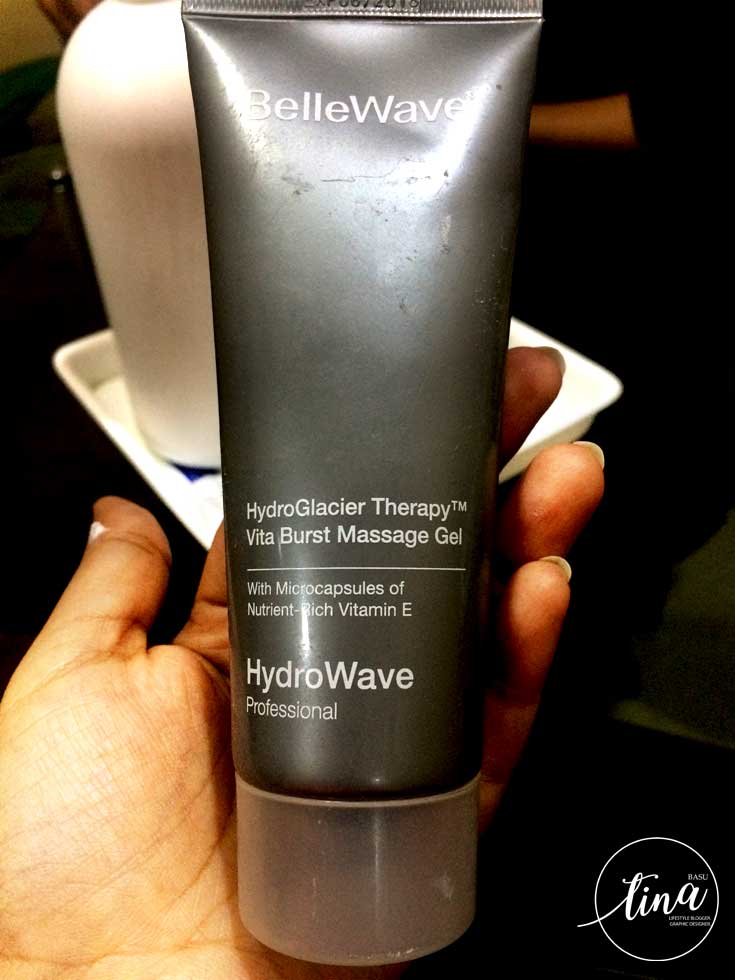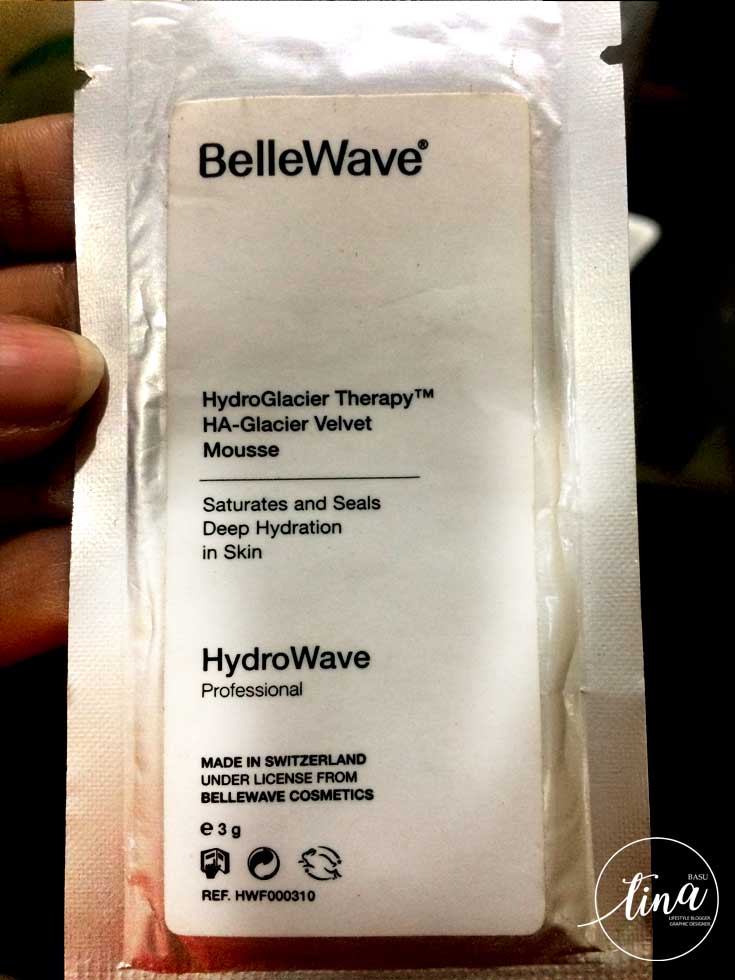 Post massage there was the facial pack. Now I have used a  number of packs so far in different facials. But this one was very different. Instead of a clay mask, or a peel off mask or a skin tightening mask it was a mousse mask. 
The HydroGlacier TherapyTM HA-Glacier Velvet Mousse is a very hydrating and cooling mask which saturates moisture and seals hydration in skin. It has an activator that is used to make this mousse mask. It doesn't dry off like other masks. I found this mask very cooling and calming on my skin. The mask was left on for about 20 minutes and I could feel it was making my skin soft. The VLCC BelleWave Facial Mousse Mask is a winner for me.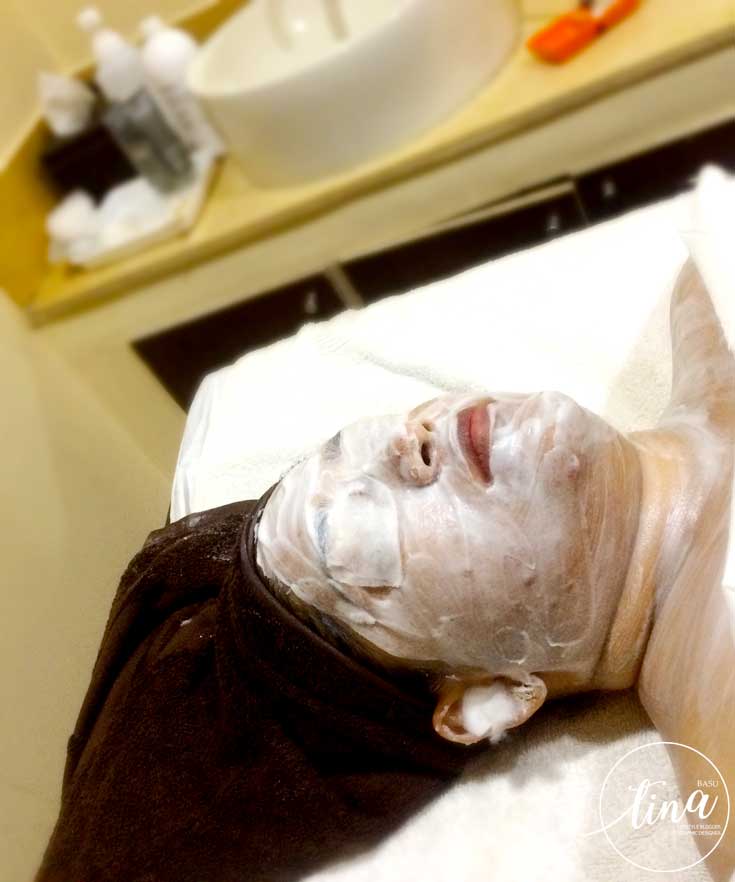 Did I notice a difference on my skin?
Hell yes, my skin became super soft and had a bounce like feeling. A normal facial would last for an hour or so this was almost two and half hours of skin pampering. My skin was well hydrated, much brighter and visibly even toned after the facial treatment.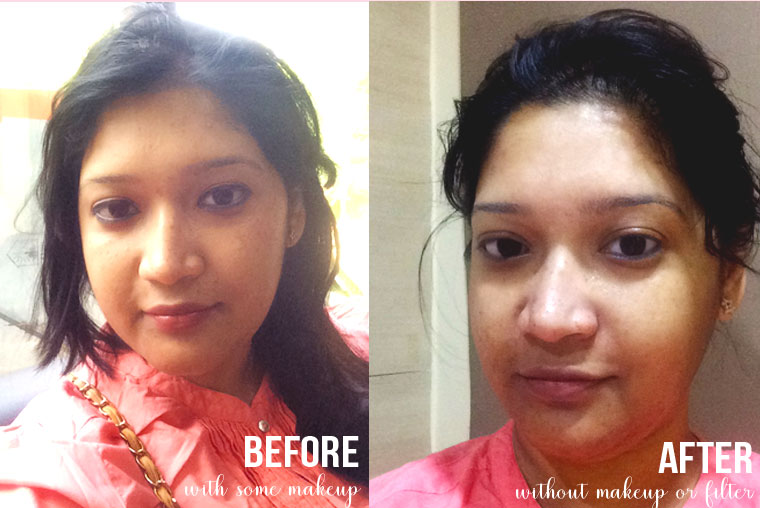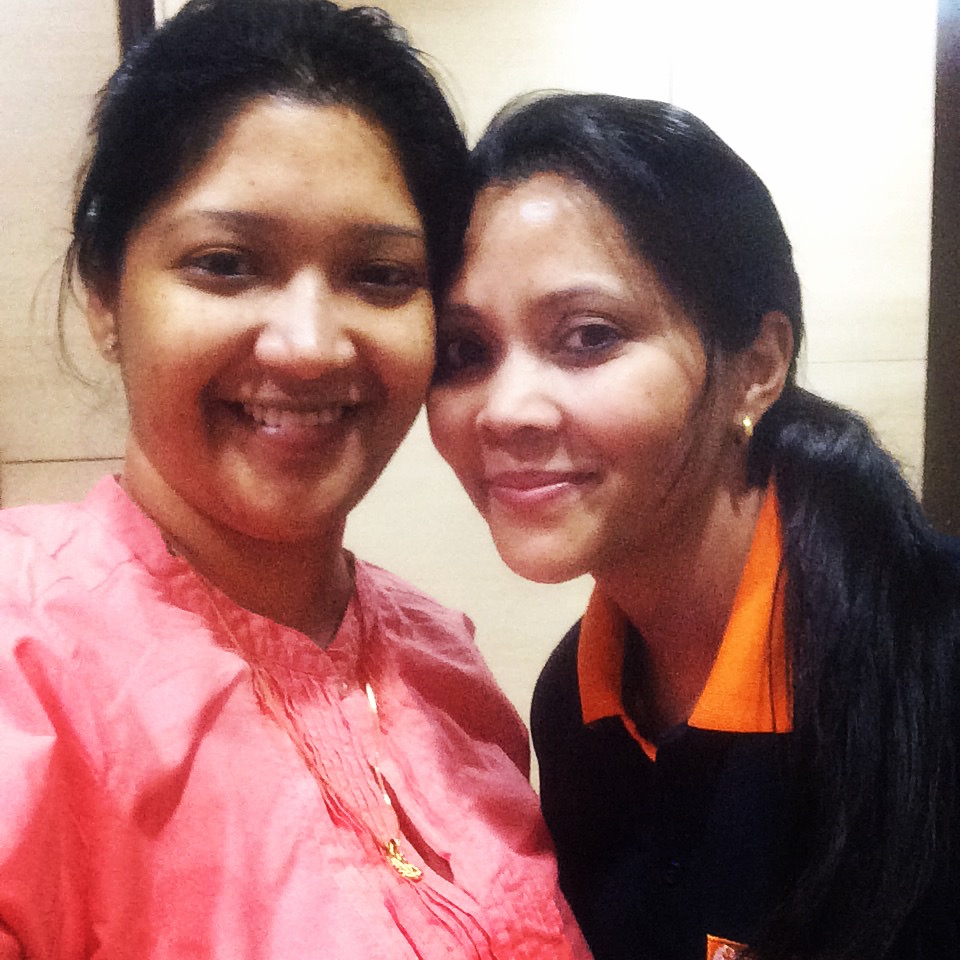 That's Beauty manager Yojna who did a fab job with my skin
If you are visiting the VLCC Koramanagal branch for a facial or any beauty treatment ask for Beauty Manager Yojna – she did a fab job with my skin. After a day my skin was glowing and still visibly brighter and even toned.
Who should take up the VLCC BelleWave Facial?
If you have a skin like mine, acne prone, dehydrated, dull due to heat and pollution then you must give the VLCC BelleWave Facial treatment a try. It costs about 3800/- per facial which including taxes comes to 4025 INR. If you are happy with the results – like me – you can get a few sessions done over a few months to see a huge difference in your skin. VLCC BelleWave Facial range has homecare products too that you can get from VLCC centers. I walked out with two of them!
What can you do to get some discounts?
You don't have to do much, thank your stars – the time is just right. Entire March you can avail a 50% discount if you book a treatment with VLCC across India. This offer is valid only till March end 2017. Then why should you wait?