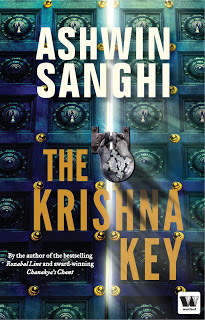 Blending mythological stories in modern day treasure hunt and unravelling ancient mysteries seems to be the flavour of many authors lately. The Krishna Key by Ashwin Sanghi follows a similar path to unravel the mysteries & secret of Krishna.
Murder, secret, mystery, and chase – The Krishna Key has it all for a perfect thriller but there is also a big BUT. As I kept reading I couldn't help but find it similar (or if I may say 'inspired') to some works of Dan Brown at many places. Nonetheless, it's all about Hindu mythology for a change.
Let's leave the Dan Brown element and judge it as an Indian fiction work by an Indian author about ancient Indian mythology.
Symbolist Anil Varshney discovered from the ruins of Kalibangan, four seals that lead to the secrets of Krishna. Varshney as a precaution had entrusted these four seals and the base plate, which forms the Krishna Key, with four of his close friends. Historian Ravi Mohan Saini – one of the guardian of the seal – is accused of murdering Varshney.
Tarak Vakil grows up believing he is the 10th incarnation of Vishnu – the Kalki Avatar. Under instructions from the mysterious 'Mataji', he murders the guardians in order to obtain the key and progresses towards the secret.
Aided with only his doctoral student Priya and her lawyer father, Saini starts his quest to discover the cryptic location of Krishna's most prized possession and find out the real murderer. As he advances for the other seals Saini finds these guardians murdered in similar gruesome manner. But he must collect the four seals to form the key and decipher the secret.
I should first start by applauding the author for the amount of research that he must have done before writing. That comes out evident through the pages. You need to keep reminding yourself that it's a work of fiction and not fact. But Sanghi manages to blend his exhaustive research and our oldest mythological epic.
Coming to the story telling its almost two stories being told – the first hand tale of Krishna from Mahabharata and the present day account of Saini. Mahabharata is known to probably every Indian so it holds the reader's interest. If one didn't know about the Mahabharata this simplified version by Sanghi will definitely help them. But this flashback method of writing could have been used in a better way. There is no real connection between these two tracks. It would have been nice to see both the storylines coming together in the end.
A thriller is at its best when you have fast pacing actions and well etched characters. Characterizations for many seemed blurred especially for the character of Priya. A better editing as well as proof reading is definitely required.
As I mentioned earlier you will find the book very similar to The Da Vinci Code – in terms of the plot. Professor falsely accused of murder, in quest of mythological secret – it's upon him to decipher the Holy Grail – only in this case it's the Holy Grail of Hindu mythology. Remember 'O Draconian Devil' or 'So dark the con of man' from DVC? You encounter something similar here too but with there's a lack of conviction or intensity.
Moreover, when the protagonist reaches a next level for the seals he finds bodies piling up – similar to Angels & Demons. As you proceed towards the climax you find yourself in an anti-climax situation like The Lost Symbol.
Sanghi must be really having a fascination over anagrams. His first book The Roazabal Line was published under his pseudonym Shawn Haigins. You can try unscrambling it a little! [Can't help my detective story inspired mind :)]
My Thoughts – It is a nice and easy read, with good descriptions and details. If you have interest in mythical mysteries you will like it. But I feel his previous work Chanakya's Chant is a better work.
Genre – Fiction, Thriller
————————————————————————————–