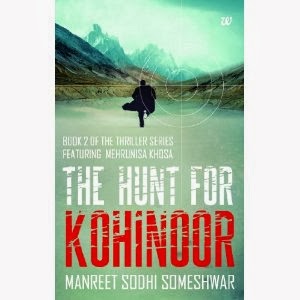 Hello people, it's a book review after a lot of short fiction writing. And this time it's a thriller. It is a sequel to the 2012 best seller The Taj Conspiracy.
Now I had not read TTC and now after finishing this book I think I need to get my copy of TTC. The Hunt for Kohinoor revolves around Mehrunisa It has just about everything to make it a good thriller, and you also have our neighbors in this fast paced thriller.
Mehrunisa Khosa the smart and witty protagonist has to save our nation from a catastrophic attack and she has only 96 hours for it after the Pakistani Army chief gets killed. The general dies leaving behind a Kohinoor and she has to figure that out as only that can help in saving the attack on India.
She is sent to Pakistan for the Kohinoor quest along with Raghav. Mehrunisa is an expert in Mughal history and artifacts and is the ideal person for this quest, which turns out to be a roller coaster ride. Will she be successful? Will she be able to save the nation? Where will the Kohinoor lead to? You will need to read this for sure.
The story unfolds various secrets, and twists and turns as any thriller would do. And the striking thing is an Indian author attempting a fast time track. I am a big fan of Mr. Dan Brown for his ability to bring in 3-4 tracks and a story spread across 24 hours. This one attempts something similar with multiple tracks and a 96 hour story line.
The detailing of the rough terrains and Mehrunisa working with RAW having the nerve to enter enemy terrain gives an adrenalin rush to you as you go on reading.
The storyline and the plots keep you hooked on to it, but there are few places which I felt could have been dealt better, things were getting dragged. But that's okay I guess, after all you get some very intense moments.
I read up a little on Manreet Sodhi Someshwar and it looks like this IIM-C alumnus did quite good to leave the corporate world to get into writing fiction. I read a lot of praises on The Taj Conspiracy and I have decided to pick it up soon. She has also written a novel called The Long Walk Home and Earning the Laundry Stripes. She definitely is an author to look out for. You can read more about her in her website.
My Rating – 3.75/5.

Quite a nice read
Book – The Hunt for Kohinoor
Author – Manreet Sodhi Someshwar
Publisher – Westland Publishing
Published in – October 2013
———————————————————————————————
This book was sent by the publisher. These are entirely my own views and I try not to be biased while reviewing.
———————————————————————————————