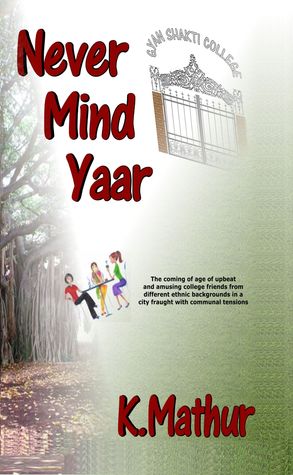 I am reading some different kind of books these days, very different from what I usually read and latest being Never Mind Yaar a fiction on young romance by K Mathur. Well If I call it only a fiction on romance then I'll be wrong – it gives you flavors of romance, college life, social concerns and communal riots. So let's see how the book is.
Set in the 1990s the story opens with the first day of college in the prestigious Gyan Shakti College in Mumbai. Luella, Binaifer and Shalini meet each other in college and become close friends over the time I to nspite of being from different religious and cultural backgrounds. Bhagu the regular college dude and Shalini develop mutual fondness for each other.
Like regular teens Luella is happy about getting her first moped, and girls share their excitements of joining Co-ed College after being in all girl's school, and their freedom on wearing anything that they wish to and not stick to one kind of uniform.
Bhagu is like our Bollywood hero who excels in debates, and is extremely brave. He doesn't think twice before handling the canteen-wallah (who sells cheap and stale products at high prices). The canteen-wallah also turns out to be the leader of a slum who does all shady things. From getting thrashed by the goons to becoming a hero within the college Bhagu is always in the limelight.
Shalini's Mem (as she calls her grandma) is a strong matriarchal character (much like our 'dadisa' from Balika Vadhu – if you have watched that is). Mem wants her grand-daughter to get married soon and relentlessly searches perfect matches for her. When she finally fixes the marriage Shalini elopes with Bhagu because she knows she can't make her family accept a guy from a not well-to-do background. But being true to his character Bhagu wants her parents to accept the relation and then get married with their relation (such a DDLJ moment).
For Bhagu his political ambitions start growing over marriage thoughts. Then happens the Mumbai Blasts and communal tension encroaches in. I don't want to giveaway spoilers and it's best if you read to find out the end of this riot struck love-story.
K. Mathur has successfully woven a little love story in the backdrop of the communal riots. The thoughts and dilemmas of young minds, the anxieties of entering college life first time is detailed out very nicely. It will take you back to your college life. It did to me!
I remember I had a similar experience myself when I joined college and Day 1 I made friends with two more girls and we were like inseparable all throughout the three years. We used to go everywhere together and that was a well known fact in college! And are still good friends (though 3 of us live in 3 different cities now). So when I read it, it made me nostalgic.
Few things that could have been I would have liked the story to have a little faster pace. And why is it called Never Mind Yaar? It could have had some other name.
But for a debutant K.Mathur has done a good job
About the Author
My verdict –
I will give it a 3/5
Publisher – Southpac Publishers Ltd.