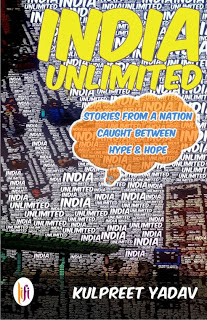 I have been reading books from various genres recently.
India Unlimited
is a collection of short stories by Kulpreet Yadav which I finished lately. So let's see how the book was.
About the book: India Unlimited comes with the tag line 'stories from a nation caught between hype & hope'. It has 31 short stories which range from violence murder, love, sex, to corruption and social problems. As you read it you get the feeling that the stories are inspired from real life incidents and are quite closer to you and earthy.
From children oppressed by the society to complexities of relationships, from corrupt politicians to a simple husband the short stories throw a mixed flavor for you.
However, I was expecting there would be stories from urban & rural India when I read 'hype and hope' but maybe I think too much.
The opening story – 'Not the Only Peanut Seller Who Hasn't Heard of Osama Bin Laden' is very touching when you think about the society from an innocent kid's point of view – how do you know who is good who is bad?
The stories that I liked:
'A familiar Stranger' which takes you back to the conflict between your moral stories and today's society. Are we always right with our perception of people in the society?
'The city of Mirrors' seems to be a very real story but has a 'bollywood-ish' twist to it at the end. Though I wish, in the same filmy way, the evil ones are punished at the end.
'The Fish and My Wedding' has an interesting story line and I'm sure you'll like it when you read.
'Faking it at the Conference' is hilarious and is a very regular everyday story can happen with anybody, well almost.
'The Beautiful People' is a very touching as well as hard hitting one and is my favorite among the rest.
'The Dream-Girl who loved me' – is again an earthy story with a touch of fantasy -feeling
Things that I wish were better:
And there are some stories which I couldn't connect with. I felt endings were abrupt and could have been better like in 'A pocket full of memories, The Spy Tuesday, The Shadow of Tomorrow …
I definitely wished he proof-reading was better – there are some spelling mistakes (or printing mistakes) and grammars which I don't prefer while reading. It somehow breaks my flow while reading. Hopefully the author will take notice of this for his next editions.
Kulpreet Yadav is the founder-editor of

Open Road Review

, a journal of short fiction, creative nonfiction, poetry and artwork. His writings have appeared in many journals. You can read more about him on his website.
The Verdict –

I'll give it a 3/5
Publisher – LiFi Publications Pvt. Ltd.
ISBN 13 – 978-93-82536-03-1
———————————————————————————————
This book was sent by the author. These are entirely my own views and I try not to be biased while reviewing.
———————————————————————————————