Durga puja or Durgotsav is an annual Hindu festival specially popular among Bengalis. Memories of Durga puja is always a bittersweet one. While you rejoice on all the five days, you are sad at the end because it's over and a year-long wit starts.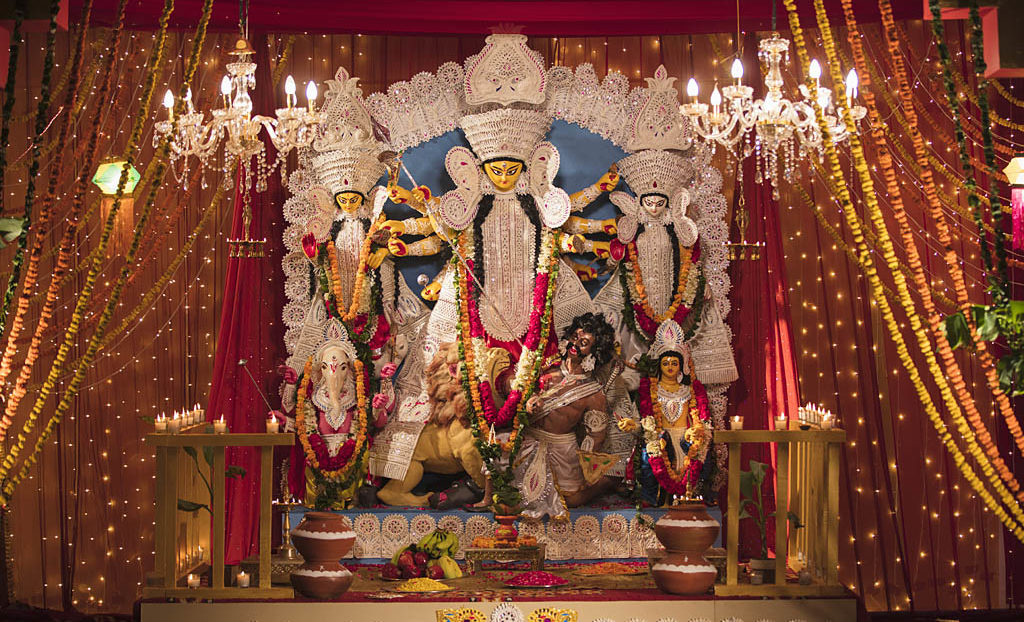 For Bengalis Durga puja is not just a festival, it is an emotion. We start our year by marking the dates of Durga puja. There is hardly any Bengali who doesn't revel during the Durga Puja. Durga Puja means new clothes, holidays, adda with family and friends, food, pandal hopping and loads of fu – something that cannot be compensated by anything else. Memories of Durga Puja, for us is always about fun and nostalgia.
Memories of Durga Puja – New Clothes
As kids we would wait to ask friends – kota jama holo ebar? [how many dresses for pujo?]. Gifting new clothes to family is a ritual that is seen in every family. All five days people try to wear new clothes. As kids we would get new clothes from every member of the family and have a change of dress twice or even thrice a day! Durga Puja is the time when you are seen in your finest clothes, new shoes, new accessories.
Memories of Durga Puja – Barir Pujo
We used to have a Durga Puja in our family, which unfortunately has stopped now, because half the family – speacially my generation – is scattered over India and abroad! There is a different flavor to barir pujo, or the puja that is specific to your family. You are actively participating in every process. When we were younger all of us (my cousins) were given the responsibility of decoration. From giant alpona or rangoli with color paints to decorating the pandal on terrace, we did everything. It takes three purohits or priests on all days for the Durga Puja.
When you visit only the public puja pandals – which we call baroari pujo – you don't get to see about the actual puja process. There are days of different pujas including time for donning the weapons on the goddess, sandhi puja when Goddess Durga had killed the asura – and many more, which calls for another post!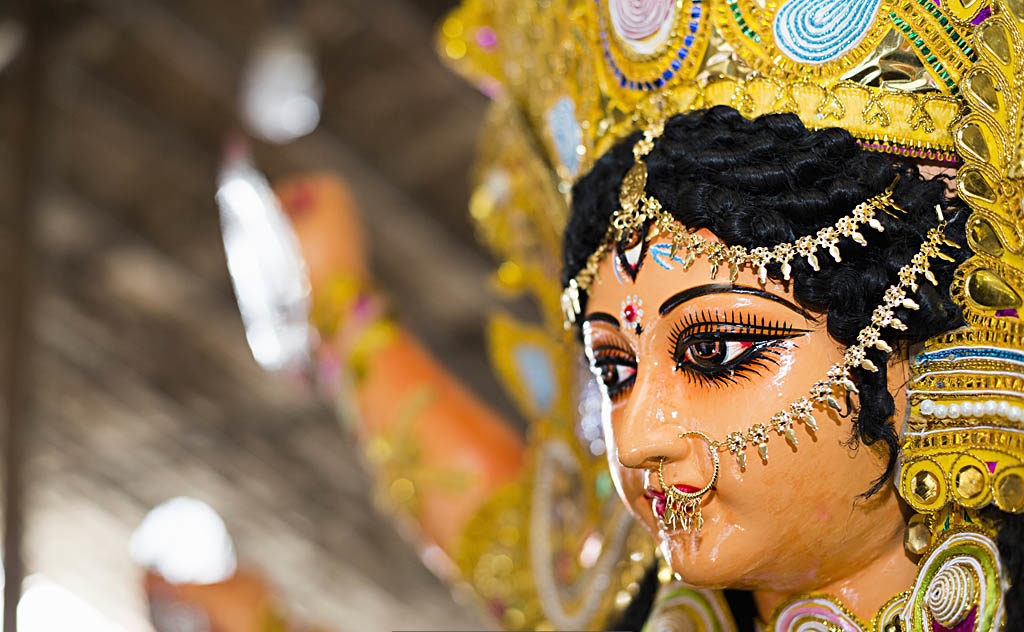 Memories of Durga Puja – Pandal Hopping
In Kolkata pandal hopping is a spctcular thing – you need to see it with your eyes to believe it. There are thousands and thousadnds of people out on the streets hopping pandals even through the night. Kids, elderlies, young no one skips it. We cousins have been to these whole-night pandal hopping sessions and got lost in the crowd innumerable times. Those days there were no mobiles that you would co-ordinate your location. But it is all nostalgia now.
Memories of Durga Puja – Probashe Pujo
Bengalis who stay away from Bengal or their home-town are probashi bangalis and our probashe pujo is no less extravagant like the ones in Kolkata. In Bangalore you have a good population of Bengalis, so that has resulted in multiple Durga Pujas across the city. Almost every big Indian cities have some Durga Puja being organized by the Bengali associations there.
But forget India, there are various Durga Pujas being organized these days across various cities across the world because a sizable portion of the Bengali population is settled abroad. You can be in the UK, US, places in Europe or Asia and you will find a Durga Puja almost anywhere. My Facebook TL is currently flooded with photos of Durga Puja in various states of US.
Memories of Durga Puja – Being ethnic
This is one time of the year when I ditch all other kinds of clothes and take out my sarees – which I don't get to wear as much as I want. These five days it's all about being closest to your roots – Bengali sarees, Bengali food, Bengali songs, pandal hopping. When I was working, I made it very clear – 'These five days I am taking leave' and I have always been around to see the Puja.
This year I took my son around the city to three – four Durga Pujas in Bangalore. I want him to form fond memories of this festival and our culture, even though I don't see myself going back and living in Kolkata in future.

He was in fact very happy to wear the ethnic clothes and gorged on some egg rolls, Mughlai parathas, sweets and phuchka of course! I took him to a dandiya night at our complex. I believe he should get a slice of every festival and know his cultures of his country from close quarters. There are no dearth of reasons to be thnkful for the Durga Pujas or Navratri.
Now that the Durga Puja is over it doesn't feel very nice. No more pandal hopping, no more having fun during puja. Now the wait's till next Oct 15th, 2018!
#ThankfulThursday Week 38 Prompt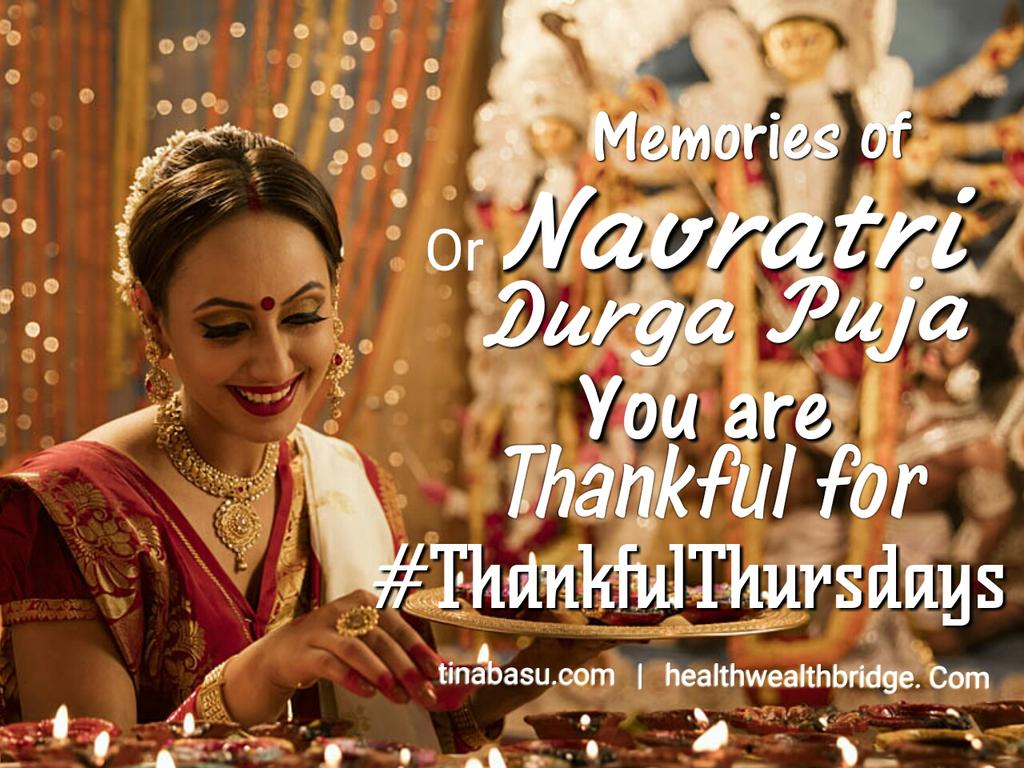 Announcement
We will be back to hosting #ThankfulThursdays every week from October!
You can also link up other thankfulness posts you have written.Tweets and Instagram posts are welcome too.Just spread #Thankfulness.
How to Participate in #ThankfulThursdays?
Follow @twinklingtina  & @misra_amrita on Twitter
Prompts will be announced every Wed 20:00 hrs IST
Read, comment, share on host and co-hosts posts and at least two more posts linked in the party Pro Tip – Networking and commenting is good for your blog's health and ranks.
Use #ThankfulThursday in your post and share in social media using the same hashtag.
Every week we will have one featured blogger who is the best reflection of this community spirit
Join the #ThankfulThursdays BlogHop