Bring the salon at home with VLCC Vanity Cube. Download the app, book your service, trained professional beautician visits your home, with world-class products by VLCC and equipment. Get pampered from the comfort of your home.
Welcome onboard to our Beauty Blog Train hosted by Wiggling Pen. This blog train will stop at various stations where you can read some great anecdotes and ways of enjoying the salon at home with VLCC Vanity Cube. Don't forget to collect the offers and codes! The train now has arrived from Ruchi's station to mine. Ruchi is a star fashion blogger from Mumbai and a wonderful mommy to two little cutie pies – Ira and Viraj. Thank you, Ruchi for visiting my station.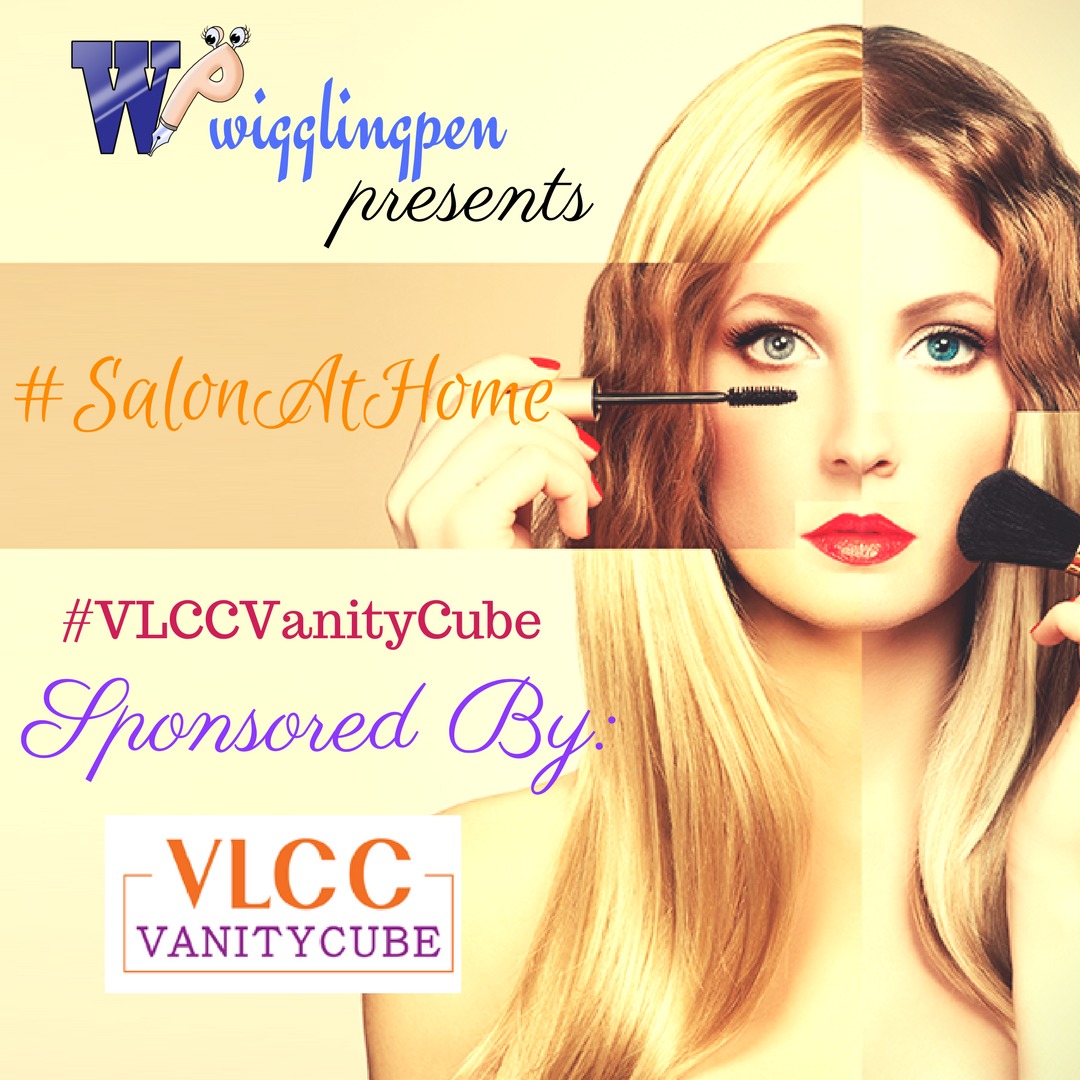 Being a mom means – NO TIME FOR YOUR SELF. I remember not being able to step out of the home in the first few months after my son was born. The paed had specifically told – No mall Hopping with the baby – unless you want him to pick up infections. From there to now, I still find it hard to make time for myself even for the little things like visiting a parlor. Have to ask the husband, (make that beg) please be home for some time, look after the kid I need a few hours break! He agrees to it reluctantly and every few minutes I get updates on Whatsapp!! But then I came across this concept of bringing the salon at home! That was a blessing! Isn't it wonderful to get pampered from the comfort of your home? Here's how I brought the salon at home.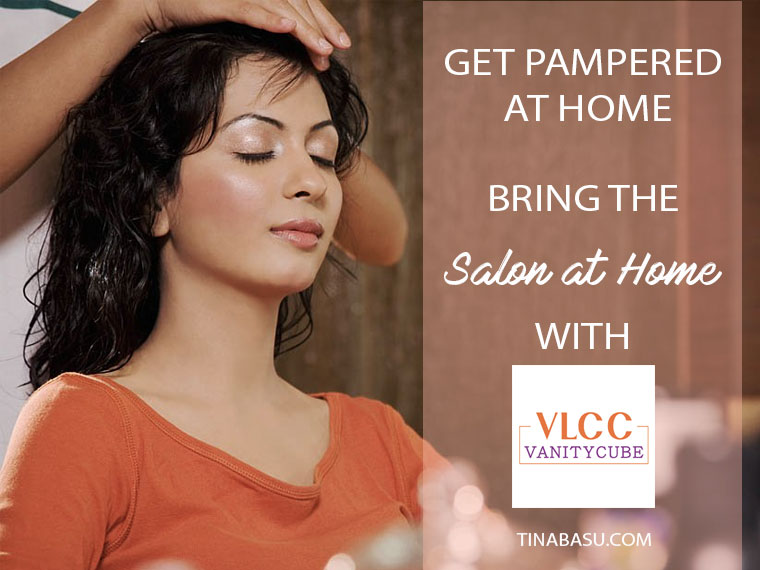 How I brought the salon at home with VLCC Vanity Cube?
VLCC Vanity Cube is like your personal salon that you can enjoy from the comforts of your home. Trained professional beauticians visit you at your given time with world-class VLCC products and pamper you. Now you can bring the salon at home at your convenient time, on your convenient day, no queues, no invasion of privacy and you can watch you kid playing next to you! How cool is that?
I had not had a pedicure in last one month and badly needed a good foot pampering. I ended up booking a Specifix Anti-Tan Pedicure, a manicure and a VLCC Ayurveda Haldi Chandan Facial.
My beautician Kavitha arrived with her equipment and in no time my living room was turned into a spa. I loved the fact, she got this electric multifunctional foot spa tub. It not only heated the water, but was a spa foot massager in itself. She even brought her own extension cord – which was so thoughtful, all my extension cords are occupied currently! It was 45 minutes long pampering with bath salts, scrubs, massage and an anti-tan pack.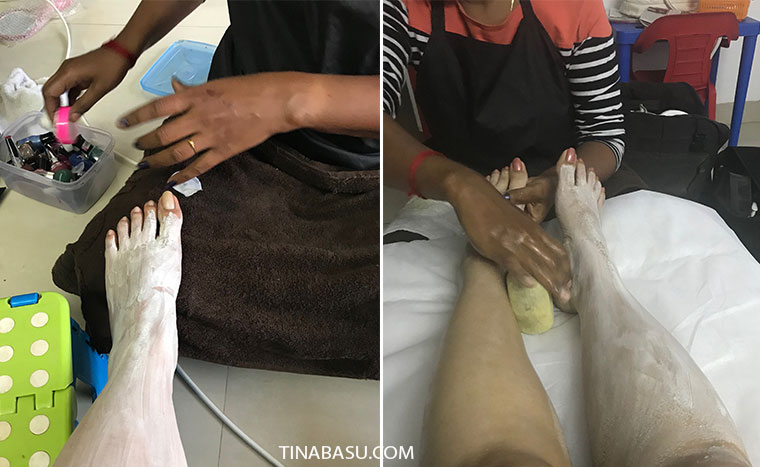 We moved on to a regular manicure soon enough which of course consisted of cut, file, scrub, massage, and beautiful nail paint. All that while my little slept beside me on the sofa!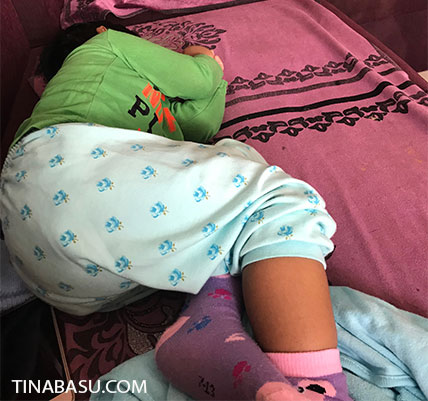 Within seconds, Kavitha turned my lounger sofa in a spa bed and we were ready for a VLCC Haldi Chandan Facial. It was 45 minutes of bliss with clean up, exfoliation, massage and a soothing face pack.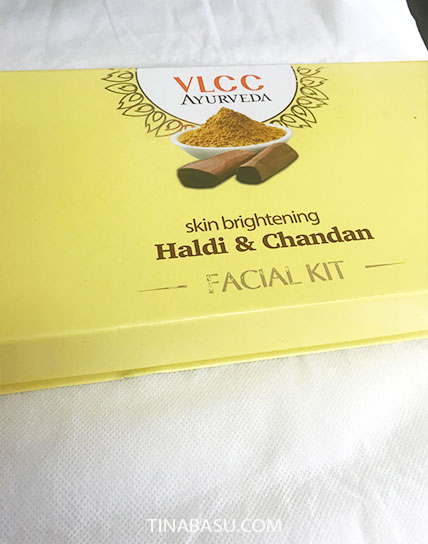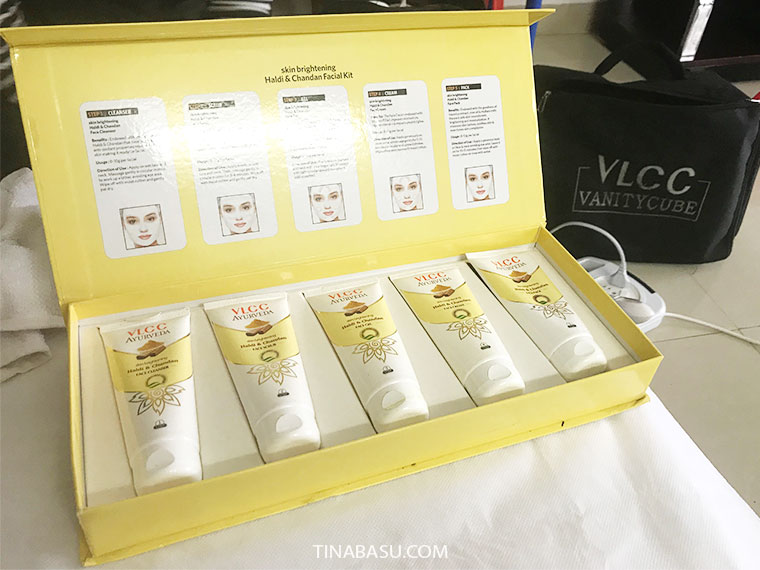 Bluey was up from his nap, while I was enjoying the facial and then we found these two wanting to get some pampering too!
Wasn't this just wonderful – all from the comfort of your home with the baby under your watch! I am a satisfied customer at the end of the day!
How to Book VLCC Vanity Cube?
You can do it yourself in very easy steps.
Install the app from Google Play Store or iOS App Store or call on 8010 8010 91 to book an appointment
Create your account with your name and address details
Select package or individual services
Checkout with payment option – you can pay in cash, or online once your service is completed also.
You will get a confirmation call on your number to confirm the booking details – time, address, date
Enjoy Services.
VLCC Vanity Cube services are available in Bangalore, Delhi, Faridabad, Ghaziabad, Gurgaon, Mumbai, Noida, Pune.
You can even book the BelleWave range of facials, hair blow-drying, party make-up, pre-bridal and bridal services right at your home on VLCC Vanity Cube. What are you waiting for? Time to get pampered and get the salon at home!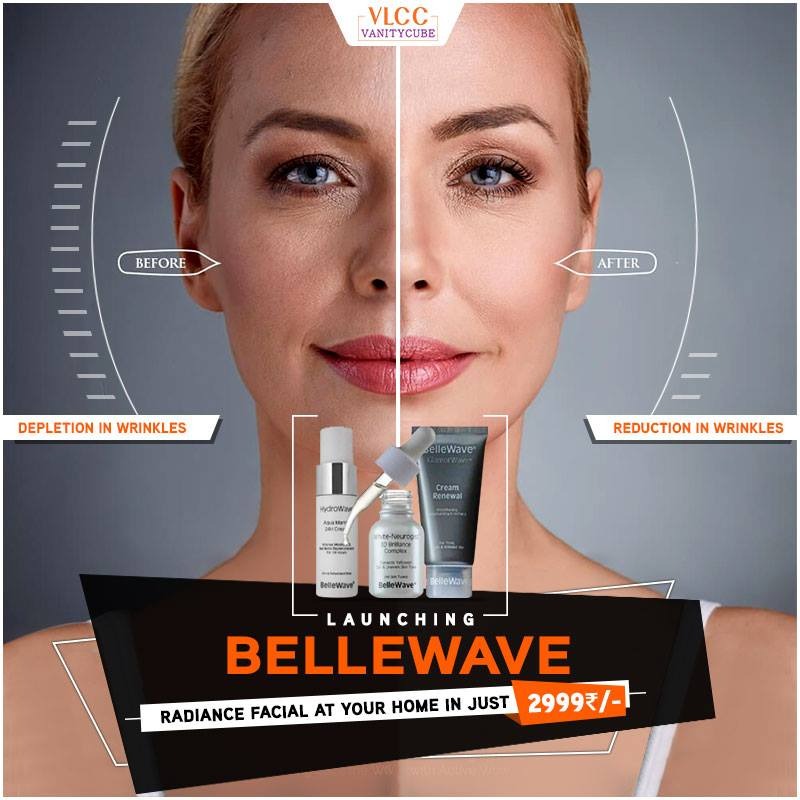 The Blog train will now move to the Gleeful Dipika's station. Dipika is a versatile lifestyle and mommy blogger who writes fiction, fashion, parenting and reviews. This ex-corporate girl is a cool mum to the cute Kavya. Hop onto the Blog Train and zoom towards her station.
This blogtrain is hosted by Wigglingpen and sponsored by VLCC Vanity Cube. You can follow VLCCVanityCube on Facebook, Twitter and Instagram