Are you enjoying the rains in Bangalore? Yes, the city is having a bout of shower almost every single day. I was dreading the IPL finals could be washed away but it didn't rain that day. The rain gods also wanted to see who will win Veer or Zaara or their selfless love will prevail! But hey, Veer and his team had a 'summersault-isious' win and we didn't have a drop of rain that day. I am particularly loving the morning cloudy weathers which Bangalore is famous for, the weather that makes you snooze your alarm little more, the weather that makes you curl up in your quilt for 5 more minutes. Thank god I'm not in school anymore nor have any morning classes! I would have bunked the classes anyway in this weather. I love this cozy weather that this city gives. This time it was late but nonetheless at least it is here now.
What else are you enjoying along with the rains? I'll tell you some that I am noticing lately.
Yesterday it was a long day at work. It started pouring 6 pm onwards and I was thinking to starting little late to avoid the unmovable static traffic that you get in this city during the peak hours and when it rains then you have to just forget about it. They are no longer traffic jams they are like traffic stones (rather traffic boulders), when cars don't move traffic lights don't work and so on.
When it was 10 I knew I had to start or I might not leave at all! My drive now is 20 kms a side so it's a long drive anyways. I was looking forward for a peaceful drive back home through empty roads in the rain. So 10 PM is supposedly quite late and people should be back home, finish dinner, spend time with family and yes it was. The cars and traffic were missing from the roads – and so were the streetlights! The long 20 km stretch from Old Airport Road to Electronic City was absolutely dark with not single street light working. You name it and it was dark – Inner Ring Road, Koramangala, Madivala, Silk Board and even the 11 km long Electronic City flyover!! How can the BBMP/BDA be so irresponsible with this I have no idea.
Rains and traffic in Bangalore are inseparable, and so are rains and power cuts. We don't quite get that side of the story much due to the power back-up systems that you have in the high rises these days, but get to see it when you are travelling through a locality. Am I to believe there were genuine load shedding happening in all these areas at the same time?
Can you imagine a long expressway without lights where the minimum speed in which people drive is 80 kmph [I am telling you this figure in a lower side!]?? And you have cars with their blinding headlights in high beam driving down from the other side.
Then you have these elements who are funny enough to drive with their parking lights on! What is that? It only makes me laugh to see such jokers on road. Did I mention road?? Well there are some parts of the city [not some, many] where you see little roads sprinkled amidst potholes and craters.
But still, if you enjoy driving then there's nothing better than empty roads and wonderful rains. I loved my 30 mins of happiness in the day and Mr. Figo doesn't disappoint me ever [Not so far]. By the time I was back home and checked my FB there were at least 30 status updates from friends complaining about power cuts every time it rains. Are we slowly turning like UP? [well only in the power cut way]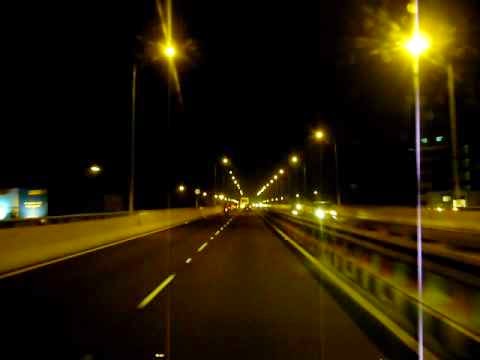 This is how we want our roads Mr. Siddu