It is raining bats and balls everywhere in the Indian sub continent now. After all it's THE sacred event of cricket which everyone (all cricket following nations and specially we Indians) waits eagerly for four long years. Apart from the seven official religions followed in secular India perhaps cricket is the eighth religion bringing everyone together. BTW for your info I am also an ardent follower of this faith and bow down to my god Sachin

J

. This relation of faithfulness started long back during the 1992 World Cup when as a 7 year old I thought Sachin looked cute with his charming smile and a cute mop of hair!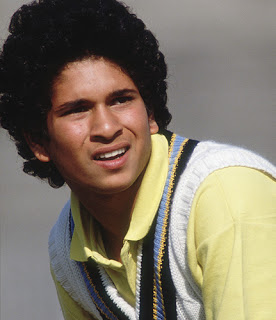 When he had the cutest mop of hair
At this time all FMCG companies are in full swing to share the limelight with this extravaganza coming up with various offers related to World Cup. I can see the newspaper flooded with ads from electronic companies with their offers on television – I saw an offer as crazy as a 'certain hour LCD TV shopping festival'! Then there are offers on Colas and wafers and on almost everything. My company is also coming up with something similar and I am designing the same right at this moment and scribbling here in between that. I quite liked Pepsi's 'helicopter shot' ad though. I trust all of this is done to make our world cup watching moments better (from the ideological pov and not the sales aspect – which is the only thing FMCG companies can think of).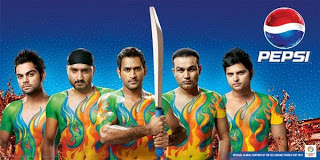 Change the Game campaign by Pepsi
But I have a very simple question to ask – how do I watch the matches when I am stuck with work and slogging in the office? I love the game of cricket and love watching almost every match for the sheer drama that unfolds within the 22 yards. For this same reason last Saturday we were ready in front of the TV well before the toss, keeping no appointments anywhere. Surprisingly organizers have been kind enough to keep almost all of India's matches on weekends (otherwise I am sure I would have gone crazy)! But I'll have to miss a South Africa – West Indies and an Australia –New Zealand match for sure

L

. I envy all who can bunk office/college for the matches

L

.
Being a Bengali and in love with Eden Gardens I felt bad when Kolkata lost hosting the India England match but somewhere I was quite happy that the match is shifted to Bangalore. But where's the ticket? No good blocks available, and I have to attend a family function which I can't miss, as can't see my 6 year old nephew sad who turns 7 on that very same day!
Everyone wants to enjoy and cheer for their team to win. I feel sorry for those who have to sit and study at this time for their exams. During the last few world cups I had to dig my face inside boring books as exams used to happen around this time, though eyes often peeped at the TV. When I was sent to my room for 'you-should-concentrate-on-your-studies' time, I remember running to the TV each time there was a four or a six as the whole colony used to burst into claps and cheers. It is so painful at these times to sit with theories and statistics, my sympathy goes to all those who are going through that now.
I came across a very interesting article in yesterday's newspaper and realized my plight is quite less than these unfortunate people. A number of prisoners of the maximum-security Nabha jail in Patiala, Punjab went on hunger strike for their demand of watching the World Cup. [I am not sure if I should call them unfortunate completely, otherwise they wouldn't have ended up where they are now. But I consider them unfortunate as in those who can't catch up with a world cup match.] These prisoners ended their 16 hour long hunger strike only after they were assured that their demand, of providing cable connection, would be taken up. Don't know how much that would be done. You can read the full article
here
. But these poor fellows only want to watch the game and cheer for India (hopefully). This gives me one more thought. Crime rates should go down on the days India is playing. Hopefully all crime monsters will be busy watching the match than robbing someone else, but yes bookies will up on toes for sure.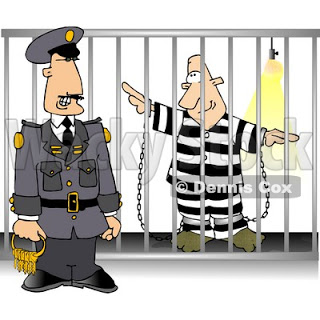 Go and get my cable connection for World Cup
Anyways I am eagerly waiting for all the matches to come and keeping my fingers crossed to bring home the celebrated cup. And of course praying for Sachin!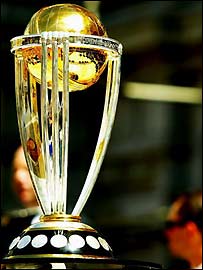 We so want this